2011 Bowl Predictions: Military Bowl Presented by Northrop Grumman
December 27, 2011
Otto Kitsinger III/Getty Images
Every year, there are bowl games that have a reputation of being offensive showcases.  Even though this is only going to be the fourth Military Bowl, the game in the nation's capital is becoming one of those games that is just fun to watch.  The first three contests have had at least 48 points combined between the two teams and last year's game had 71 points scored.  This year's edition of the Military Bowl features two very potent offenses and there is the potential for a lot of yards and points at RFK Stadium.
Air Force, as usual, has one of the best rushing attacks in the nation.  While the offense is very productive, that did not translate into wins in the first half of this season.  They started the year 3-4 with the wins coming against FCS teams South Dakota and Tennessee State and they just got by Navy by a point in overtime after blowing an 18-point fourth-quarter lead.  But things came together in the latter part of the year.  Air Force won four of its last five games with the only loss to bowl-bound Wyoming.  That got them to seven wins and playing in their fifth consecutive bowl game.
Toledo has a very potent offense as well.  But they got off to a worse start than Air Force did this season.  The Rockets lost three of their first four games with the only win against FCS New Hampshire.  They were much better in Mid-American Conference play, winning seven of their eight games.  Unfortunately, the one conference loss was a wild 63-60 loss to eventual MAC champion Northern Illinois that prevented them from winning their division.  Regardless, Toledo racked up eight wins this season and is playing in their second consecutive bowl game.
So, will this be the highest-scoring bowl game of the 2011-2012 season?  Read on for the preview of the 2011 Military Bowl.
Air Force Offense vs. Toledo Defense
As mentioned above, the Falcons had another great year running the ball.  They finished second in the nation in rushing averaging with just over 320 yards per game and they have a great senior leader running the attack.  Tim Jefferson has been the focus of this offense since he took over as the starter.  Asher Clark and Mike DeWitt are the other major contributors in the rushing attack.  When they throw the ball, Jonathan Warzeka and Zack Kauth are the main pass catchers this season.  It will be an interesting battle because the Toledo defense is much better at stopping the run than the pass.  The Rockets finished 28th in rushing defense, but 109th in passing defense this season.  They'll have had time to look at the Air Force attack, so we'll have to see how much the Falcons could throw early to try and loosen up the defense.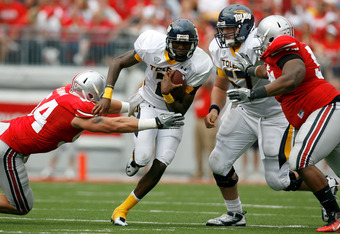 Kirk Irwin/Getty Images
Edge: Air Force
Toledo Offense vs. Air Force Defense
As potent as Air Force's offense was this season, Toledo's was even better and they did it with balance.  They averaged over 220 yards rushing and 270 yards passing per game this season which led them to have the eighth-best total and scoring offense in the nation.  The Rockets are led by the QB tandem of Terrance Owens and Austin Dantin.  Both of them averaged more than 150 yards of total offense and have kept defenses guessing all year.  The skill positions around them are loaded as well.  RB Adonis Thomas averaged 107 yards per game on the ground and WR Eric Page averaged more than nine catches and 93 yards receiving per game.  This offense is loaded and will be a big problem for the Air Force defense.  The Falcons were mediocre at best all season and will have a tough challenge trying to keep these Rockets grounded.
Edge: Toledo
Special Teams
Neither special team unit has been stellar as a whole, but one player could prove to make a big difference in the game.  In addition to being Toledo's leading receiver, Page finished in the top 20 in punt returns and averaged more than 23 yards per kickoff return.  He can turn the momentum in a game in a hurry and could make a big impact in this contest.
Edge: Toledo
Coaching
This will be a heck of a debut game for Matt Campbell.  The interim head coach for Toledo after Tim Beckham left for Illinois, he had the interim tag lifted on December 9th and is now the youngest head coach in FBS at 32.  This is his offense that is on display this year and he'll get a chance to continue to build from a solid season this year.  Troy Calhoun has done a fine job in his five seasons, winning at least eight games in each of the first four.  This is also the fifth straight bowl under Calhoun and they have won two in a row.  He will be in line for a job in a BCS conference if he ever decides if he wants to make that type of move.
Edge: Air Force
This and That
I'll be curious to see how full RFK Stadium is for this game.  Neither school is close to the bowl site, so that will probably hold down attendance.  The magic number for Toledo in this game is 30.  They were 1-2 when they scored less than 30 points this season and 7-2 when they scored over 30.  Amazingly, Air Force is 10-10-1 in its bowl history after winning the last two bowl games.
So, What Will Happen in the 2011 Military Bowl
This has got an offensive explosion written all over it.  It's two of the best offenses in the country against a couple of mediocre defenses.  This could be a classic case of who has the ball last wins.  Toledo has the balance on offense and the versatility of Eric Page to pull out the victory.
Line: Toledo by 3
The Sports Mac Prediction: Toledo 52, Air Force 48