Purdue vs. Western Michigan: 2011 Little Caesars Pizza Bowl Preview
December 26, 2011
Jonathan Daniel/Getty Images
The Little Caesars Pizza Bowl is supposed to start the Big Ten's bowl season as one of the lower-echelon teams is to be featured against one of the best teams from the Mid-American Conference. 

This, however, is more the exception than the norm. Only once in the last seven contests has a Big Ten team actually participated in the game. The Little Caesars Pizza Bowl has had teams from the Big East, Conference USA and Sun Belt conferences over the last few years with nary a Big Ten team in sight. That is going to change this year.
Purdue is making its first bowl appearance in five seasons, since playing in Detroit five years ago. The Boilermakers were never really able to find consistency this season.

They traded wins and losses through the first seven games before they got to the tough part of their schedule. Back-to-back losses to Michigan and Wisconsin sent them spiraling downward again, but they managed to pull off an overtime upset of Ohio State. They still needed a tight win over arch rival Indiana to end the season to get to six wins. But it is a step forward and it will benefit the team with the extra practices.
Western Michigan had the same kind of inconsistent campaign as Purdue in 2011. They started off by winning four of their first six games, including a good road win over Connecticut. But they then proceeded to lose three of their next four, including a 29-point thrashing at the hands of MAC champion Northern Illinois. The Broncos were able to win their last two games and get to seven wins to make the trip to Motor City.
So, which of these inconsistent squads will play the most consistent and end the season with a victory?  Read on for the preview of the 2011 Little Caesars Pizza Bowl.

Purdue offense vs. Western Michigan defense

Even though the Boilermakers were only able to produce 370 yards of offense per game, they were pretty balanced in doing so. Purdue averaged 175 yards rushing and 197 yards passing.  Leading the offense is QB Caleb TerBush, who has thrown 12 TD passes and just 6 interceptions. He'll spread the ball around as no Purdue receiver averaged more than 4 catches this season.  Ralph Bolden is the leading rusher, but he had just over 56 yards per game this season.

They may be able to find some success in this game because the Western Michigan defense has been one of the worst in the nation. They've given up 28 points and more than 430 yards per game and that should be good news for a Boilermaker offense that scored just over 26 points per game this season.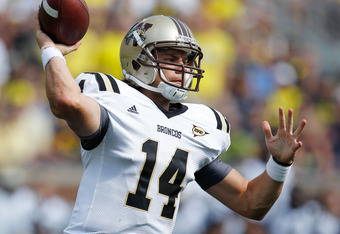 Gregory Shamus/Getty Images
Edge: Purdue

Western Michigan offense vs. Purdue defense

As bad as the Western Michigan defense has been this year, the Broncos offense has been just as good. This is a team that loves to throw the ball all over the place, and finished eighth in the country in passing at more than 328 yards per game.

QB Alex Carder leads the attack and he finished seventh nationally in total offense. His main target is one of the best receivers in the country this year. Jordan White led the nation in receptions and receiving yards per game and you'll be seeing plenty of him during this game. 

The passing attack will be going up against the strength of the Boilermaker defense. Purdue gave up just over 200 yards through the air, and they will surely be tested on a fast surface at Ford Field in Detroit. Western Michigan averaged over 35 points a game this season. They should get very close to their average in this game.
Edge: Western Michigan

Special Teams

A couple of return men are the highlights in this matchup. Purdue's Raheem Mostert finished eighth in the nation averaging 31 yards per kickoff return. Jordan White has been just as good returning punts as he is catching the ball. He finished eighth nationally, averaging over 13 yards per punt return. While most areas are even here, the advantage goes to Purdue which was second in the country returning kickoffs, and that can be a game changer in a contest like this.
Edge: Purdue

Coaching

While Bill Cubit has never had a 10-win season at the helm of Western Michigan, he does have a winning record and this is the third time he has taken them to a bowl game. They have improved by one win each of the last three seasons, from five to six to seven this season. Danny Hope is only in his third season and he has already gotten the Boilermakers to their first bowl game in five seasons.  It's progress for a program that is trying to rebuild from the Joe Tiller era.
Edge: Western Michigan

This and That

This has been a very tight game the last four years with a margin of victory of three, three, four and two points. It has led to some exciting finishes, including the last time Purdue was here in 2007, when they beat Central Michigan 51-48. This is an easy trip for Broncos fans, just two and a half hours east on I-94, so it should be a nice crowd to support the Broncos. We'll see how excited how Purdue fans are about their first bowl trip in five years.
Edge: Western Michigan

So, what will happen in the 2011 Little Caesars Pizza Bowl?

This game usually has a good amount of scoring, usually getting at least to the 40-point mark by both teams. Expect more of the same this year with Carder and White hooking up frequently against an average Boilermaker defense. Purdue will keep it close most of the way, but will run out of steam late.
Line: Purdue by 2.5
The Sports Mac Prediction: Western Michigan 34, Purdue 24