Army vs. Navy: Grading the Black Knights' Loss Against Navy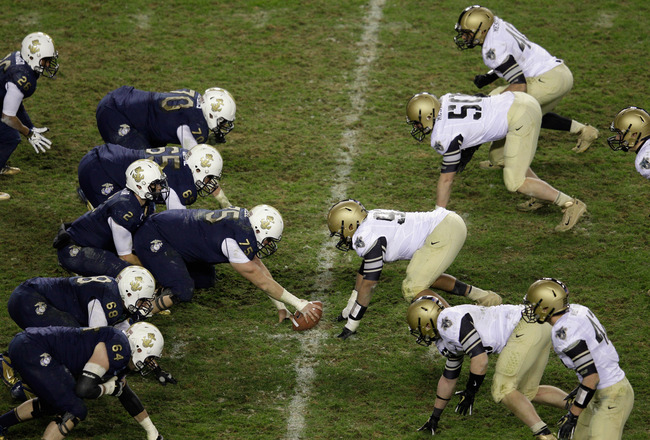 Rob Carr/Getty Images
For the 10th straight time, Navy defeated Army today. This time by a score of 27-21. It was a great game for the fans to watch but another heartbreaking defeat for the Black Knights.
If the game was won on paper, Army won this game. However, despite winning the battle in the stat box, they lost the game on the field because of a handful of errors.
In this article I will grade the various units for the Black Knights. It should be noted that while the Black Knights were defeated on the field, we're all winners because of their dedication...
Army Special Teams Unit-- Grade: C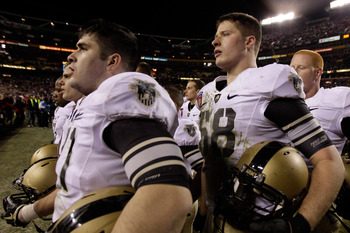 Rob Carr/Getty Images
The Black Knights special teams unit garnered mix results today in their game against Navy. While their punter was able to pin the Midshipmen inside their 20-yard line twice and their place kicker did not attempt a field goal, their kickoff team gave up too many return yards.
Navy returned four kicks for 125 yards (31.3 YPR) but Army only had 106 yards on six returns (17.7 YPR).
While this does not seem like a major difference, it in fact is because of the lack of big plays in both teams offenses. Their lack of passing game leads both teams to have to fight for every yard.
Army Offensive Unit-- Grade: C+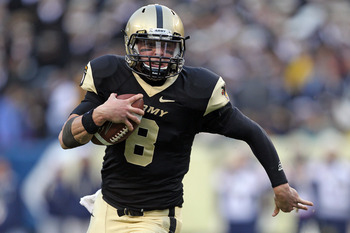 Hunter Martin/Getty Images
On the stat sheet, Army did pretty well. Quarterback Trent Steelman has only completed three passes since the Black Knights game against Vanderbilt on October 22nd. Yet, he was able to complete four of six passes for 77 yards and one touchdown.
Army was also effective on the ground rushing for 298 yards on 50 carries for a 6.0 yard per carry average. The Black Knights had four players rush for over 62 yards.
However, they were marked down because they had three fumbles lost and a failed fourth-down effort. Had they not had these turnovers they likely would have ended Navy's win streak against Army.
Steelman had 139 offensive yards and Malcolm Brown had 107 offensive yards to lead the Black Knights
Army Defensive Unit-- Grade: B-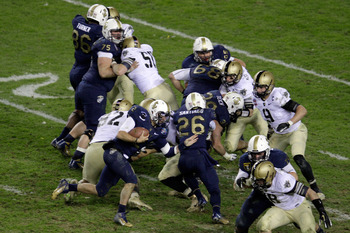 Rob Carr/Getty Images
The Black Knights held Navy to 100 yards under their total yards average coming into this game. They were not great but they were still pretty good.
The most damaging stat for the Black Knights defense was allowing two fourth down conversions in the game. The most notable was a ourth-and-one playon the final drive of the game. Navy gave the Black Knights a hard count when and an Army linebacker was drawn offsides.
Army did force two turnovers but just couldn't make the biggest play of the game.
Army Coaching Grade: B+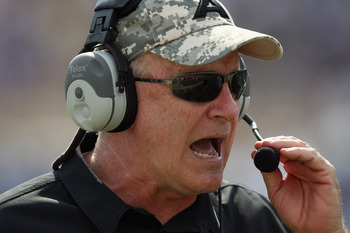 Streeter Lecka/Getty Images
Head coach Rich Ellerson came into the game with a good game plan and made good in game adjustments. However, his players just did not execute the biggest plays of the game.
I gave him a higher grade than many people might. However, it is not Ellerson's fault that the fumbles transpired and the players did not full execute.
In the end, the Black Knights were defeated for the 10th straight time. It should be noted, however, that this was the first time the Black Knights finished within two touchdowns during this streak.
This game will be more painful because this is one they should have won.
Keep Reading