TicketCity Bowl 2012: TV Schedule, Live Streaming, Radio, Game Time and More
December 10, 2011
Patrick Smith/Getty Images
The Penn State Nittany Lions and Houston Cougars each contended for their conference championships as well as a BCS bid, only to fall just short.
Instead, both teams will have to settle for squaring off against one another in a classic battle of supreme offense vs. dominating defense, the Nittany Lions being the latter as they must contend with the Houston Cougars' stellar quarterback Case Keenum and his dangerous receiving corps.
This is an opportunity for the Houston Cougars, as well as head coach Kevin Sumlin, to showcase just how good a unit they were this season, while Penn State and interim head coach Tom Bradley try to succeed in Penn State's first bowl game without Joe Paterno since 1962.
Where: Cotton Bowl, Dallas, Texas 
When:  Monday, Jan. 2 at noon EDT
Where to Watch: ESPNU
Listen:  PSU Sports, 1450 AM, Penn State; 790 AM, 1420 AM, Houston
Betting Line: N/A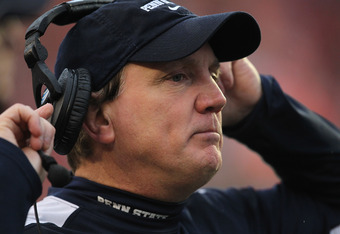 Jonathan Daniel/Getty Images
Key Storyline
Still fighting with the continued allegations against former defensive coordinator Jerry Sandusky and the subsequent firing of legendary head coach Joe Paterno, the Penn State Nittany Lions enter the TicketCity Bowl with uncertainty surrounding the program's future.
Despite some awful distractions in the second half of their season, the Nittany Lions finished second in the Leaders division of the Big Ten Conference and have earned an opportunity to capture a much-needed bowl victory for the Penn State community.
Meanwhile, the Houston Cougars enter this game coming off a heart-breaking loss in the Conference USA championship game, which shattered hopes of the school's first ever BCS bowl bid.
Still, the Cougars field an exciting offensive attack led by record-holding redshirt senior quarterback Case Keenum. The Cougars have an opportunity to show just how good a team they truly are when they go up against one of college football's premier defenses.
Penn State's Biggest Concern
Despite their uncertain future, the Nittany Lions must stay focused on the task at hand. The Houston Cougars showcase an unforgiving offense, but the Nittany Lions' defense is one capable of handling the difficulty presented by the Cougars.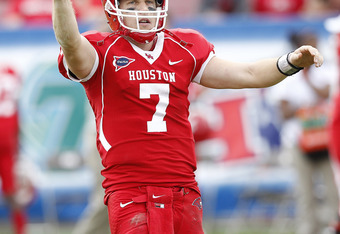 Bob Levey/Getty Images
Interim head coach Tom Bradley has continued to do well handling the Nittany Lions despite the ever present distractions and may have earned the permanent position as Penn State's head coach. The Nittany Lions' performance against Houston will likely decide whether Bradley stays or goes.
Houston's Biggest Concern
The Houston Cougars displayed a highlight reel of offensive onslaught in 2011. They also showed in the Conference USA championship game that their offense could be stopped.
Penn State fields the nation's 10th-best defensive unit in the nation and could give the Cougars problems offensively. Coach Kevin Sumlin must take his team into this game with their heads held high, optimistic for similar play to what they presented in the first 12 games this season.
If the Cougars wish to prove they were a legitimate team this season, a victory is a must for Sumlin and his players.
Penn State's Key Player: Silas Redd, RB
The Southern Mississippi Eagles rushed for 207 yards on 39 carries—an average of 5.3 yards per carry—en route to their 49-28 upset victory over the Houston Cougars. Though Silas Redd's numbers slowed down toward the end of the season, Redd finished with 1,188 rushing yards for the Nittany Lions—good enough for 23rd in the nation.
Penn State will need Silas Redd to be on the top of his game in order to give Houston any kind of trouble offensively. Redd's contributions will be vital to opening up the Penn State passing game and putting points on the board, something very important against a team like the Houston Cougars who led the nation with 50.8 points per game.
Houston's Key Player: Case Keenum, QB
It's hard to argue with Case Keenum, college football's record holder for passing yards, passing touchdowns and passing completions in a career. The sixth-year senior did all he could and more in leading the Houston Cougars this season and hopes to cap off a historically successful collegiate career with a spectacular performance vs. the Nittany Lions.
Penn State did not face a quarterback like Case Keenum throughout their 2011 season and could have a hard time stopping Keenum and the Cougars' offensive unit. Keenum struggled somewhat in the Cougars' loss to Southern Miss and accounted for two costly turnovers in that loss.
If Keenum can avoid similar costly mistakes against a dangerous Penn State defense—the Nittany Lions tallied 14 interceptions this season—Keenum and the Cougars could have a field day in what is essentially a home game in Dallas at the TicketCity Bowl.
Prediction: Houston 31, Penn State 19