2011 Little Caesars Bowl: Complete Preview for Western Michigan vs. Purdue
December 5, 2011
The Western Michigan Broncos (7-5) face off against the Purdue Boilermakers (6-6) in a matchup between MAC and Big Ten teams in the 2011 Little Caesars Bowl.
The high-powered Broncos led by Jordan White will look to open up their seventh-ranked passing attack against the Boilermakers 69th-ranked defense that gives up 388.5 yards per game.
They will also look to break their winless streak in bowl games, which currently stands at 0-4.
Purdue, on the other hand, hope to use this as a step back towards dominance in the Big Ten.
Where: Ford Field, Detroit, Michigan
When: Tuesday, December 27th at 4:30 p.m. ET.
Watch: ESPN
Live Stream: ESPN3.com
Key Storyline

The major highlight here is that Purdue has lost three of their last four bowl games and haven't made a bowl appearance since 2007.
On the other hand, Western Michigan is 0-4 all-time in bowl games and last appeared in a bowl in 2008, losing to the Rice Owls 38-14 in the Texas Bowl.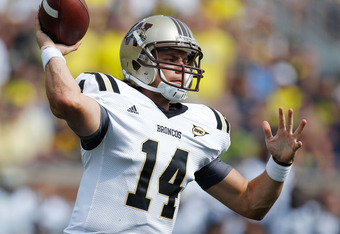 Gregory Shamus/Getty Images
Both teams are in a huge bowl drought and fortunately it will end for one of them.
Who Might Not Play for Western Michigan
Quarterback Alex Carder has a minor shoulder injury and is listed as day-to-day, but should be plenty rested and ready to go come game day.
The Broncos may also be without their starting tight end, Blake Hammond, who is currently suspended for violating team rules.
Who Might Not Play for Purdue
Starting running back Ralph Bolden suffered an unfortunate torn ACL in the last regular-season game against Indiana and will miss the upcoming bowl game.
Backup RB Akeem Shavers suffered a mild concussion the week before against Iowa and missed the Indiana game. It's not certain whether he'll be ready to go, but all signs are pointing to him playing.
Linebacker Dwayne Bedford is awaiting his possible suspension after being ejected for throwing a punch in the game against Iowa.
What They're Saying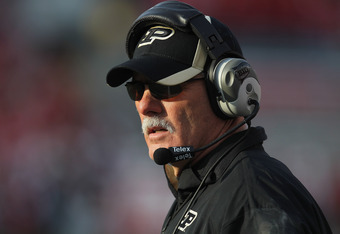 Jonathan Daniel/Getty Images
The Western Michigan Broncos are geared up and excited for this game. David Goricki of the Detroit News caught up with head coach Bill Cubit on his way to the team banquet and he had this to say:
"We're really excited with the opportunity. Ever since I've been here we've been trying to get there, so we're thrilled. And it gives us another chance to beat a Big Ten team. Danny's (Purdue coach Hope) done a great job with his kids. They went out and beat Ohio State. It's just going to be a great experience for the kids to play in such a great venue. Really, we expect this game to be one of the most well attended of the whole bowl season."
On the other side, head coach Danny Hope views it a bit different. Pete DiPrimio of The News-Sentinel had a chance to speak with him and he said,
"We have a chance to still be champions, and return our program to a championship standard...I still don't think we're the team we can be."
Purdue beat Ohio St. and Indiana over the last three weeks of the season to sneak in and become bowl-eligible.
Broncos Player to Watch
Jordan White leads the nation with 10.58 receptions per game, 1646 yards and 137.2 yards per game; he's also second in the country with 16 TDs.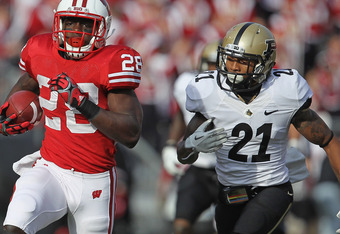 Jonathan Daniel/Getty Images
He simply cannot be covered one-on-one and should wreak havoc on the Purdue defense all game long.
He's far and away the most talented player on either team and will look to light it up early.
Boilermakers Player to Watch  
Kawann Short leads the team with 6.5 sacks and 17 tackles for loss and is their best defender. He's also one of the Big Ten's best all-around defensive players.
In order for Purdue to have any chance of slowing down this offense, he needs to put constant pressure on Broncos QB Alex Carder.
Key Matchup: Jordan White vs. Ricardo Allen
Cornerback Ricardo Allen shouldn't lose too much sleep over having to face Jordan White, because he's going to get help over the top most of the time.
However, there will be a small handful of plays where he'll be left one-on-one with White. It's those plays that he needs to come up big or it will be a long day for him and the rest of the Boilermakers.
Prediction: Broncos win pulling away in the second half, 37-24.