LSU vs. Alabama Rematch: LSU Will Be Greatest Team in History with 1 More Win
December 4, 2011
Kevin C. Cox/Getty Images
Are you there, 1995 Nebraska Cornhuskers? It's them, the 2011 LSU Tigers.
No other team in history has proved, beyond a shadow of a doubt, that they deserve to be at the very least in the discussion for the best college football team of all time.
All time. Ponder that for a second.
The Tigers are going up there with '95 Nebraska, '71 Nebraska, '01 Miami (which was more scandal-ridden than anyone ever realized) and all of those Army/Notre Dame/Michigan teams only referred to by stalwarts like Lou Holtz.
For the past five years running (and six assuming LSU vs. Alabama happens in the 2012 BCS Championship), the SEC has dominated not only the championship game, but the NCAA in general. No other conference boasts as fearsome a defensive mindset, filled with quality players from a region of the country that breathes football almost to a fault.
The South has always had a certain reputation; suffice it to say, that reputation by itself would be shut out of any club considering itself either "academic" or "elite."
But the one thing the South produces on a level far greater than any other region is football, and this year, the Bayou Bengals of Baton Rouge have earned the right to be called the greatest.
Going into the SEC Championship Game against Georgia, media pundits all week talked about how LSU's place in the title game was secure even if they lost to Georgia.
A trip down championship-resume lane tells the tale of the Tigers.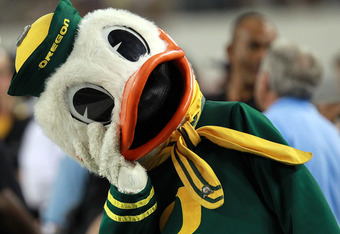 Ronald Martinez/Getty Images
Opening the season with a huge victory against then-No. 3 Oregon at a neutral site, the Tigers have amassed a perfect 13-0 record. LSU has already faced eight top 25-ranked teams, and with the national championship game making nine (as well as LSU's fourth game against a top-five team), the Tigers will have faced as many top-25 schools this year alone as Boise State has in the past four years combined.
For the record, Boise State went 7-2 against top-25 schools in the past four years. LSU, so far, is a perfect 8-0, looking for nine presumably against Alabama.
Their schedule would look more historically well-rounded were the Tigers to face Oklahoma State in the title game, the Cowboys having obliterated No. 10 Oklahoma 44-10 in the final week of the season. After the Tigers defeated the No. 2 Crimson Tide of Alabama in overtime by a score of 9-6 (or 5:51, because that's what time it is if it's 9 to 6), LSU would later destroy No. 3 Arkansas at home to complete one of the toughest schedules in recent memory without a single blemish.
To put that in perspective, the 1995 Nebraska Cornhuskers—widely considered the single best football team ever—only faced four top-25 teams in their magical season, and only one in the top five, No. 2 Florida in the 1996 National Championship Game in the Fiesta Bowl.
Granted, no one touched the Cornhuskers that season. As the old saying goes, "when your smallest margin of victory is 14, you've got a pretty good football team right there" (OK, I made that up, but it sounded good at the time).
Another point one would make about the 2011 Tigers is that they technically don't have a quarterback, despite having two veteran seniors with big game experience in Jordan Jefferson and Jarrett Lee. According to that logic, no team that can only manage 30 passing yards in a championship game (as Jefferson notched against Georgia), you can't really be called the greatest.
This is where college football distinguishes itself from the NFL.
In college, quarterbacks aren't necessary, despite what Heisman voters and media pundits would have you believe. In the SEC, an elite running game and stout defense makes a championship, and neither have been played as well as those Tigers. LSU has four running backs that could start right now at most every other school, and did I mention they are three sophomores and a true freshman?
In addition to the fearsome foursome of Spencer Ware, Michael Ford, Alfred Blue and Kenny Hilliard, the Tigers have what might be the best defense in college football history. To those from Alabama who yelp and squeal about leading in points allowed, you should know that Oklahoma State played more ranked games than you, so I would keep quiet about points allowed.
We'll know as January 9 comes to a close whether LSU truly can be called one of the greatest teams. But regardless of who LSU plays in the National Championship Game, they will have earned a spot at the very least in the conversation, in a way few have seen in the last decade.
A final point against the '95 Cornhuskers: As I recall, Nebraska didn't have a Honey Badger.