Geoff Burke/Getty Images
December 2, 2011
The winner of the ACC Championship Game between Clemson and Virginia Tech will have an automatic bid to the Orange Bowl, but the loser might have to accept a lesser bowl.
The Atlantic Coast Conference has never received an at-large bid to a BCS game, something that would give the conference prestige and a large sum of money. This season would be the best chance for this in a long time.
Virginia Tech comes into the game at No. 5 in the BCS rankings. The Hokies have put together an 11-1 record this season, with its only loss to Clemson. At the time, the Tigers were a national title contender, so the loss did not hurt them too much.
Since that point, Clemson has lost three of four games to end the regular season. The team had built up enough of a lead to secure the Atlantic Division, but the Tigers no longer look impressive on a schedule.
Therefore, it is very tough to judge the season for Virginia Tech. 11 wins is impressive for any school, but it can be argued that none of the wins were quality. The Hokies have not defeated a single team in the current BCS top 25.
As a matter of fact, if Clemson does upset the Hokies to win the ACC, Virginia Tech will have lost twice this season to the only team it faced in the final BCS rankings that come out on Dec. 4.
At that point, how will the committee of the Sugar Bowl rate a team that is sure to be still in the Top 10 against some other programs?
With the current system, there are only a few schools eligible for an at-large bid. Assuming there are no other upsets, Stanford and Houston would automatically go to BCS bowls based on their respective standings in the BCS.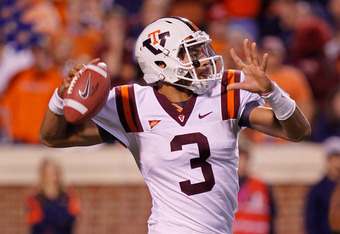 Geoff Burke/Getty Images
This would leave only one spot for a bowl committee to choose from a group of schools, taking into account the team's ability, as well as the program's prestige and ability to draw fans. This group of schools would include Virginia Tech, Boise State and Kansas State. Depending on how the weekend plays out, you can also add Oklahoma, Michigan State and Michigan.
The problem for the first three teams is that those second three teams have been successful for a longer period of time. If a school like Michigan becomes eligible (in the Top 14 of the BCS), it will be hard to imagine a committee passing up that opportunity.
It seems that the odds are stacked against Virginia Tech reaching a high-quality bowl following a loss on Saturday. The ACC does not have enough credibility among the NCAA to warrant two teams in the BCS.
Luckily, the Hokies can avoid this whole mess by defeating Clemson and winning the ACC.
Like the new article format? Send us feedback!