Fans of BCS Chaos Will Don Georgia Colors This Weekend
November 29, 2011
Scott Cunningham/Getty Images
For fans of chaos in the BCS, the task is simple: root for Georgia to beat LSU in the SEC Championship Game this Saturday.
Although it appears likely that LSU would still secure a spot in the national title game were they to lose to the Bulldogs, the controversy created by Georgia knocking off the current number one team would occur regardless.
A loss by LSU to Georgia would nearly guarantee that two one-loss SEC teams would get the nod over several other one-loss teams, simply due to their "overall body of work" that is deemed superior. Whether or not one agrees with this sentiment, there is almost no argument that this is the case.
So, teams such as Oklahoma State, Stanford, Virginia Tech and even Houston for good measure will be rooting for the Bulldogs come Saturday afternoon. Without an LSU loss, even potential controversy is pushed aside in favor of discussing a rematch of the "Game of the Century."
Georgia has a very difficult task ahead of them. Some would argue that it is nearly impossible, considering the gauntlet that LSU has already run through in order to remain undefeated up to this point.
However, the Bulldogs are as underrated as they are untested. That's right, you can be both.
It all starts with the rise of a young play-caller. Aaron Murray has quietly become the best quarterback in the Southeastern Conference. He leads the conference in touchdown passes, and is second in total yards, yards per game and quarterback rating.
Were he not also the conference leader in number of times sacked, chances are that his numbers would be even better.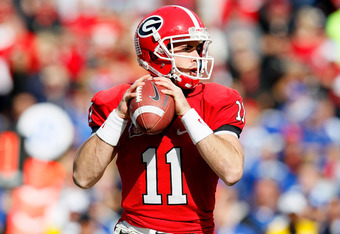 Kevin C. Cox/Getty Images
Murray will likely have to play the game of his life in order to shock the Tigers, but at this point in his career he has shown the ability to step up to this type of challenge. He has become extremely poised in the pocket, throwing at least three touchdowns in six games this season.
Last weekend, the decision making of Arkansas quarterback Tyler Wilson helped contribute to the unraveling of the Razorbacks in their 42-17 defeat at the hands of LSU.
This weekend, the Tigers will not have the luxury of relying on opposing quarterback mistakes. Murray is without a doubt the best quarterback LSU has seen this season.
As good as Murray has been for the Bulldogs this season, the defense has been the reason Georgia has risen from an 0-2 start to become the champions of the SEC East Division.
Georgia's run defense has been stifling, allowing just 94.8 yards per game on the ground, and features a monster at outside linebacker in Jarvis Jones.
Although the knock on the Bulldogs is that they have played weaker opponents, they have actually been more opportunistic on defense than both Alabama and LSU. Their 29 forced turnovers on defense leads the conference, and will come into play on Saturday if Georgia wants to win this game.
Statistics won't faze an LSU squad that ripped apart an Arkansas team that put up gaudy offensive numbers and pummeled an Oregon offense that was deemed too fast to stop. Yes, it is clear that the Bulldogs will need to benefit from some good luck to win this game.
But fans that want to be able to yell until they are red in the face, they'll take it however they can get it.
If LSU wins this game, handily or not, there will not be nearly as much complaining about the impending BCS title game matchup as there could be.
For the sake of competition in college football, we need that complaining.
It would be one thing if LSU and Alabama were to rematch in a championship game that was set because each team won in a playoff format. It is something else completely to set a rematch without seeing what the other teams have.
This isn't to say that LSU and Alabama aren't the two best teams in the nation. They very well could be. But we have already seen this game, and quite frankly, it wasn't all that exciting.
There should never be a case in the current system where two teams that played each other earlier in the season are granted the right to play again while other one loss teams sit on the sidelines.
Unfortunately, that is probably what will happen this season.
So, the best case scenario would be for Georgia to make it as difficult as possible for anyone to rationalize why two one-loss SEC teams are more deserving of a national title spot than any other team in the nation.   
Georgia, fans of BCS chaos urge you: plant the seed of doubt in people's minds this weekend.