Bowl Projections: Ohio State and Bowl-Bound Teams Awaiting New Head Coaches
November 28, 2011
Kirk Irwin/Getty Images
The college football coaching carousel has already begun to pick up steam, and not just among teams totally in the tank. As it happens, there are even a few teams, like these three, headed to bowl games with head coaches who are more likely to be replaced than have their interim tags taken off.
Ohio State
Poor Luke Fickell. The guy deserved better treatment than what he got from the Ohio State athletic department.
Sure, he was never really a legitimate candidate to replace Jim Tressel in the long run, but the school certainly owed him a bit more respect than conducting talks with Urban Meyer during the season, distracting the football team and drumming up a needless media firestorm in the process.
For all the hullabaloo and the fallout from Tressel's cover-up, Fickell nearly led his beloved Buckeyes, for whom he played under John Cooper in the 1990s and coached as an assistant on Tressel's staff, to a win over No. 16 Michigan in The Game on Saturday.
Things only figure to get worse for Fickell, too, as 6-6 OSU may well be matched against 6-6 Florida in the Gator Bowl, or the "Urban Bowl" if you're into kitschy rebranding, for Fickell's overshadowed swan song from Columbus.
Penn State
There's still some question as to whether Penn State will get a bowl bid, considering the unspeakable fallout from the Jerry Sandusky scandal, or if the Nittany Lions should even accept such a bid if it were to come by mail to College State.
Jonathan Daniel/Getty Images
In purely football terms, Penn State is more than qualified to play in the postseason, having won nine games overall and six in Big Ten play alone.
But, obviously, the repercussions of what appears to be a rather extensive cover-up of harrowing cases of child sex abuse trump anything and everything that happens on the gridiron.
In any case, once permanent replacements for the departed university president and athletic director have been found, the search will be on to find someone to fill the tainted shoes of Joe Paterno. Current interim coach Tom Bradley will garner some consideration, but those in charge figure to prefer an external fill-in, someone whose hands haven't been sullied by the scandal in Happy Valley.
So whether the Nittany Lions play in the Outback Bowl, the Gator Bowl or no bowl at all, don't be surprised if Bradley isn't back stalking the sidelines at Beaver Stadium next season.
Arizona State
Speaking of non-surprises, Arizona State wasted little time sacking Dennis Erickson after the end of the regular season. His Sun Devils were supposed to be the cream of the crop in the Pac-12 South, especially after trouncing USC in September.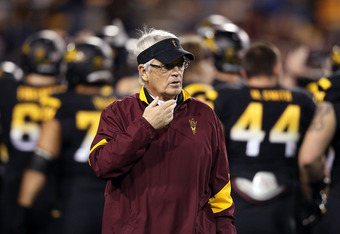 Christian Petersen/Getty Images
But a 1-5 finish ultimately doomed ASU, leaving lowly UCLA to back its way into the inaugural conference championship game with the Trojans disqualified from postseason participation on account of the Reggie Bush fiasco.
AD Lisa Love has yet to announce who will serve as Erickson's replacement in the interim, though its entirely possible that she won't need to.
Unless, of course, the New Mexico Bowl or the MAACO Bowl Las Vegas come calling.