BCS Bowl Predictions: Who Will End Up Where?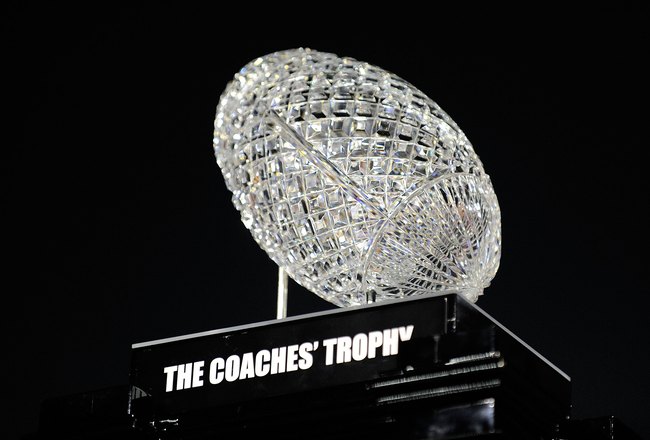 Kevork Djansezian/Getty Images
The mess we call the BCS system is once again set to create controversy throughout the college football world.
With the latest BCS standings just released, we have an opportunity to narrow down who will end up where with the ever-changing BCS bowl possibilities.
Is a rematch in the works for the national championship? How about Houston—will it get its shot at a BCS Bowl? Here are my predictions and possibilities.
Orange Bowl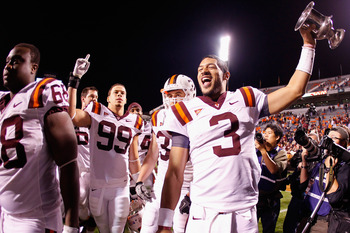 Geoff Burke/Getty Images
The Orange Bowl looks like it's going to be the bowl with the least attractive teams. This year, the Orange Bowl has the last pick of BCS eligible teams, so it will likely get stuck with the winner of the Big East Conference.
This will most likely come down to West Virginia, Louisville or Cincinnati.
Whoever comes out on top will play the winner of the ACC Championship game between fifth-ranked Virginia Tech and 20th-ranked Clemson.
My Orange Bowl Prediction
No. 5 Virginia Tech vs. No. 23 West Virginia
Other possibilities: Clemson, Louisville or Cincinnati.
Fiesta Bowl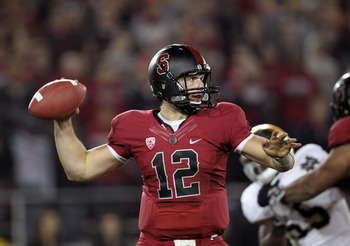 Ezra Shaw/Getty Images
The Fiesta Bowl could turn out to be the most exciting BCS bowl game this season.
With Stanford missing out on its shot to play in the Pac-12 Championship by losing to Oregon, it also misses out on the Rose Bowl. The Cardinal should, however, make the Fiesta Bowl as an at-large team, as they are probably the most attractive team out there that will be eligible and the Fiesta Bowl gets the first choice of at-large teams—not to mention Andrew Luck's ability to draw big TV ratings.
The other slot will go to the winner of the Big 12, which will come down to Oklahoma State vs. Oklahoma. I think Oklahoma State will handle its in-state rival and cruise into the Fiesta Bowl.
My Fiesta Bowl Prediction
No. 3 Oklahoma State vs. No. 4 Stanford
Other Possibilities: Oklahoma
Sugar Bowl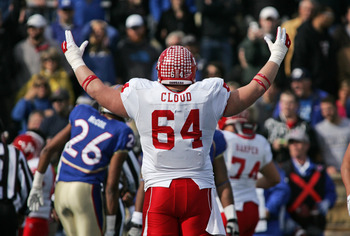 Brett Deering/Getty Images
The Sugar Bowl will be the most interesting to see who gets in and who doesn't.
With LSU and Alabama likely playing for the national championship, the Sugar Bowl will consist of two at-large bids. This is where things get interesting. Teams like Houston, Michigan, Oklahoma, Kansas State and Boise State can all potentially get in.
If Houston wins its next game against Southern Miss, it will be in.
The other spot is then up for grabs. Michigan is the most likely choice with its fan base and ability to bring in the most money, but it needs to finish in the BCS 14th or better, which I don't see happening, as it currently sits at No. 16.
I don't see Oklahoma getting in if it loses to OK State, so it would come down to Boise State and Kansas State. I think Boise State will come out of the dark and get into the game as an at-large.
My Sugar Bowl Prediction
No. 6 Houston vs. No. 7 Boise State
Other Possibilities: Michigan, Oklahoma or Kansas State.
Rose Bowl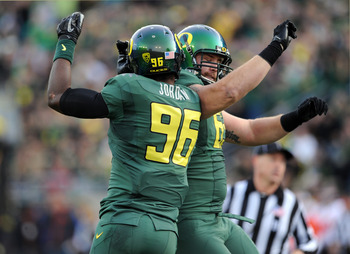 Steve Dykes/Getty Images
The Rose Bowl will go to the Pac-12 champion and the Big Ten champion.
This is the only bowl that is a pretty sure thing.
For the Pac-12, Oregon and UCLA will play for their shot, and for the Big Ten, Wisconsin and Michigan State will battle it out for their opportunity to make the trip to the Rose Bowl.
My Rose Bowl Prediction
No. 9 Oregon vs. No. 15 Wisconsin
Other Possibilities: Michigan State, UCLA.
National Championship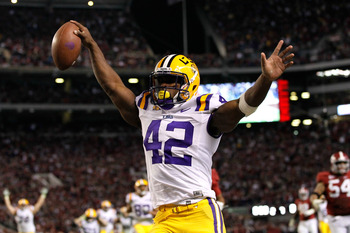 Kevin C. Cox/Getty Images
The BCS National Championship game will most likely come down to No. 1 versus No. 2, LSU versus Alabama.
A lot of people don't want this because of how boring the first matchup was, but they need to understand something: The national title game isn't supposed to be a matchup of the two most exciting teams in college football, it's supposed to be the two best in college football.
Regardless of how exciting they are to watch, LSU and Alabama are the two best teams in the nation; therefore, they should be playing for the title, hands down.
My BCS National Championship Prediction
No. 1 LSU vs. No. 2 Alabama
Other Possibilities: Oklahoma State.
Keep Reading