NCAA Football: The Unsung Heroes from the 2011 Season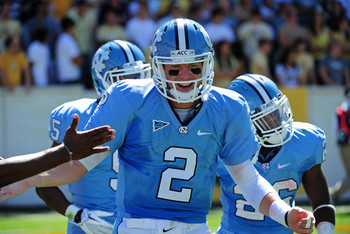 Andrew Luck, Trent Richardson and RGIII get all the attention, and while they'll likely get the big NFL paychecks, they're in no way, shape or form the top statistical performers of the 2011 college football season.
Instead, those honors go to players with names you likely don't know...names like Bernard Pierce, Bryn Renner and David Amerson.
Each of those three players, as well as the other seven on this list are all in the midst of career years or on the verge of doing something historic.
Even kickers get some love on this list, and it all wraps up with one of the finest defensive performances from a team you wouldn't expect.
So, without further ado, I present to you, the true stars of the 2011 college football season.
Tyler Shoemaker, WR, Boise State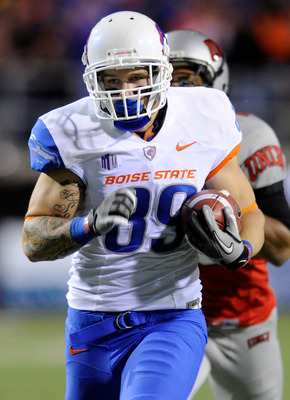 Ethan Miller/Getty Images
Of all the players with 11 or more touchdown receptions, Boise State's Shoemaker has the smallest number of total catches.
He's caught a whopping 14 scores in just 52 total receptions, an astounding average of roughly one TD every three catches. This isn't an entirely new phenomenon, however, as Shoemaker caught one score every 6.5 receptions last year, and one every 11 the year before.
In addition to becoming Kellen Moore's go-to guy in the red zone, Shoemaker has also become a touchdown machine.
On five different occasions, Shoemaker has caught multiple touchdowns. He's caught three scores twice. And he's done it all despite averaging less than five catches per game.
Goodbye Cris Carter, hello Touchdown Tyler!
Bernard Pierce, RB, Temple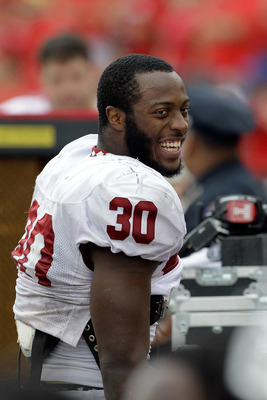 Rob Carr/Getty Images
Little attention has been paid to the fact that despite losing head coach Al Golden to Miami, the Temple Owls are still 8-4, the same exact record that they posted with Golden in charge last year.
But with him gone, somebody has to take credit for the great season (by Temple's standards). Enter Bernard Pierce, the team's top rusher. Pierce, a junior, has rushed for 1,570 yards this season, good for a top-10 ranking in all of college football. He's rushed for over 100 yards in all but three starts, and has actually missed two games, meaning he's averaged 142 yards per game. That's a higher average than some of college football's top backs.
He's also scored 28 touchdowns, or an average of 2.5 per contest. He's scored at least three TDs six times and entered the end zone a whopping five times in a stunning upset over Maryland. He also rushed for 149 yards in that game.
He's clearly heating up at the right time for Temple, rushing for 346 yards and six scores in his past two games, averaging nearly eight yards per carry.
Bryn Renner, QB, North Carolina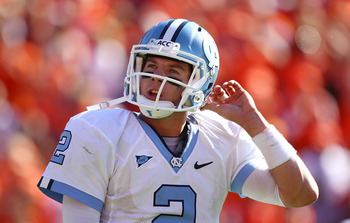 Scott Halleran/Getty Images
Despite being one of the most-sacked quarterbacks in the country, UNC sophomore Bryn Renner has quietly put together one of the best seasons of any Tar Heel QB in recent memory.
Entering the team's bowl-game, Renner has thrown for nearly 2,800 yards and 23 touchdowns. He's completed almost 70 percent of his passes and he currently ranks inside the top 10 in the nation in passer rating, ahead of such highly regarded names as Landry Jones, Aaron Murray and even Matt Barkley.
One of the most dangerous parts of Renner's game is the deep ball. His game-high long has exceeded 38-yards in nine of UNC's 12 contests and his yards-per-attempt average of 9.0 is one of the best in college football.
Just imagine how high he would rank if he didn't have a complete stinker (9-for-17, 76 yards, 2 int at NC State) on his resume.
Dan Persa, QB, Northwestern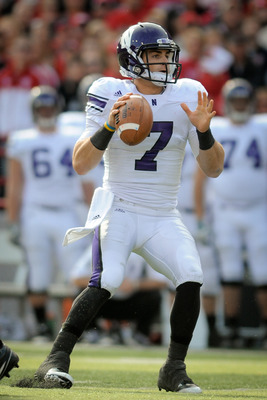 Eric Francis/Getty Images
Remember when it used to be a big deal for a quarterback to complete 70 percent of his passes? Yeah, me neither, but it did used to be a special benchmark. To Northwestern QB Dan Persa, it's become quite a common achievement. For the second consecutive year, he's poised to lead the nation in passing accuracy.
He completed 73.5 percent of his attempts in 2010, and has upped his total to 73.8 percent this season, more than half a percentage point ahead of the next closest QB, Kellen Moore (73.1 percent). Persa has completed more than 71 percent of his passes in every game but one, with his high-water mark (80 percent) coming in a blowout against Indiana in late October.
Unfortunately, Persa's completion percentage hasn't helped Northwestern win too many games. He went 4-5 as the starter this year after going 7-3 last year.
A.J. Fox, K, Akron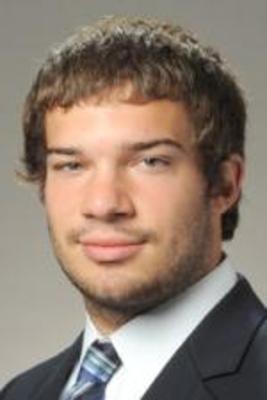 Akron players and fans haven't had too much to cheer about this year. The team is 1-11, with that one victory coming over an FCS school, and riding an eight-game losing streak in which they've been outscored 307-117.
Luckily, it hasn't been all bad for the Zips. Their losing ways have allowed them to find a real gem in freshman kicker A.J. Fox. Fox didn't make his debut until the sixth game of the season, which means he's never known a victory as a member of the team, but he's been perfect ever since.
And I mean perfect.
He's kicked nine perfect extra points in nine attempts and has gone eight-for-eight on field goals. And these aren't just cheapo, short yardage attempts either. Half of them have come from 40 yards or more.
Twice, field goals off the leg of Fox have been the team's only points.
Here's to hoping he can kick a few more meaningful ones next year.
Randy Bullock, K, Texas A&M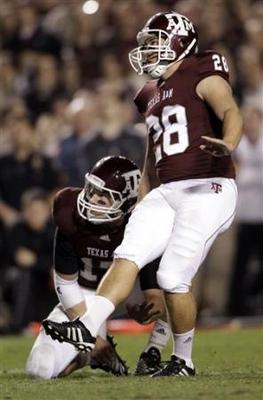 If you're looking for a kicker worthy of being drafted in 2012, look no further than Texas A&M's Randy Bullock.
No place-kicker has consistently shown as much leg as the senior, who is a nation-leading 25-of-29 on the season. In addition to pacing the nation in field goals made and points (127), he also leads all kickers with 10 made field goals in the 40-49 range. He's missed only two from that range this season, good for an 83 percent success rate.
He's also hit 1-of-2 from 50-plus range, leaving him with a combined 78.6 percent success rate from 40 yards and further, the best number in NCAA this year.
In all of his shorter field goals, Bullock has been nearly automatic, missing just once from under 40 yards, nailing 14-of-15 (93.3 percent).
David Amerson, CB, NC State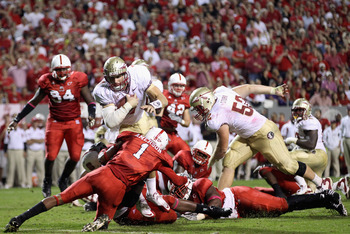 Streeter Lecka/Getty Images
As impressive as Andrew Luck, Robert Griffin Jr., Montee Ball and Justin Blackmon have been this season, none of them can hold a candle to NC State cornerback David Amerson.
Amerson, a sophomore, recorded zero interceptions as a freshman, but exploded for 11 this season. He's picked off passes in all but four games in 2011, including the Wolfpack's most recent contest against Maryland. He's picked off multiple passes three times.
Amerson's total of 11 is the highest number posted since FSU grad Terrell Buckley picked off 12 back in 1991, and with NC State bowl-eligible, there's a good chance he could top that mark.
Zach Line, RB, SMU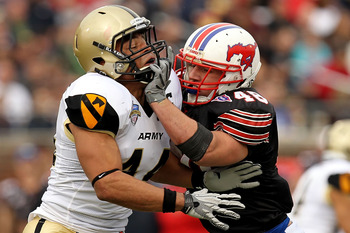 Ronald Martinez/Getty Images
You wanna talk about consistency?
For the past two seasons, no running back has been more consistent with his efforts than SMU's Zach Line. He gained nearly 1,500 yards last year and is well on his way with 1,224 this year. He still has a bowl game remaining as well.
This season he has rushed for at least 100 yards in all but two games, and in both he still topped 80. He has performances of 135, 136, 143 and 163 and has also racked up 17 touchdowns on the ground.
This season has just been a continuation of last year for Line, who topped the 100-yard barrier seven times, including a 202-yard effort.
For his career, Line is drawing close to 3,000 yards, which would put him one really good senior season (at least 1,700 yards) from cracking the top-15 of all-time career rushers.
Tim Jefferson, QB, Air Force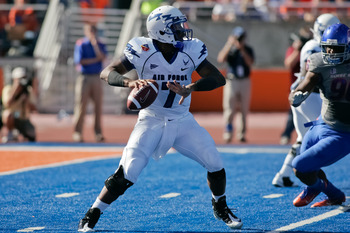 Otto Kitsinger III/Getty Images
Despite having a middle-of-the-road passer rating (142.5) and a sub-par completion percentage (59.7), Air Force QB Tim Jefferson has something that no other college quarterback can claim.
He has two of the top-10 performances of the year in terms of passer rating.
Case Keenum can't claim that, nor can Kellen Moore, Andrew Luck or top-overall passer Russell Wilson.
Jefferson posted the second highest rated game of the year on November 26th when he completed 9-of-12 passes for a whopping 221 yards and three scores. A 75 percent completion rate and 18.5 yards per attempt were good enough for a 312.2 rating, six-tenths of a point less than Georgia Tech's Tevin Washington, who posted the top mark of 312.8.
Two months before that effort against Colorado State, Jefferson posted a 275.78 rating, good for eighth. He completed 11-of-13 passes for 178 yards and three TDs.
Temple Owls Defense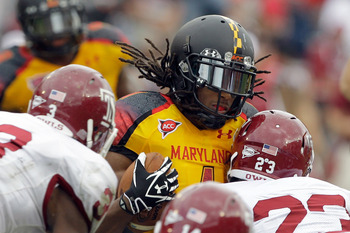 Rob Carr/Getty Images
Temple has had three different quarterbacks see significant playing time this season. Their top receiver has 33 catches. And somehow these Owls are 8-4, riding a three-game win streak and reaching the eight-win mark for the third consecutive season, the first time in school history that the feat has been accomplished.
So who's to thank, other than running back Bernard Pierce, of course?
Look to the Owls staunch defense, which currently ranks third among all units in terms of scoring defense. They have allowed an average of 13.8 points per game, and rank behind only LSU (10.6) and Alabama (8.8). I'd say that's pretty good company.
Twice Temple has shut out their opponent and on three other occasions they've held them under 10 points.
In terms of total defense, the Owls rank 15th while they check in at No. 17 in sacks. They rank 13th in first-down defense and 17th on third-down.
Keep Reading