Virginia Tech vs. Virginia: The Most Important Game in Rivalry's History?
November 23, 2011
Kevin C. Cox/Getty Images
This weekend Virginia and Virginia Tech will do battle for the Coastal title in Charlottesville, Virginia.
On one hand, that is nothing new. Including this weekend, three of the last four meeting between these two teams in Charlottesville have determined who would win the Coastal title.
The problem is that since Virginia has not won in this rivalry since 2003, people quickly forgot just how high stakes these games have been in the past.
The Cavaliers have done their fair share of helping Virginia Tech reach their lofty national prominence.
Former Cavalier coach Al Groh abandoned recruiting in the Commonwealth of Virginia, giving the Hokies their pick of the litter and building strong pipelines that current coach Mike London is beginning to make more competitive.
Virginia helped lobby for Virginia Tech to be in the ACC in the first place. After all, originally expansion plans called for the Syracuse Orange and not the Hokies. The University of Virginia and then-Governor Mark Warner pushed for the admission of Virginia Tech and the results speak for themselves.
Virginia Tech's 2008 title came when they tied Georgia Tech but advanced on a tie-breaker, having beat them head-to-head. The Hokies can thank Virginia for an upset victory that season over the Yellow Jackets to make them tied. Just a year prior to that, Virginia honored a Hokie, Bruce Taylor, during halftime of their own home game.
The Cavaliers have given way too many favors to the Hokies over the past few years. Now it is time to be selfish.
What Virginia has done this year has impressed everyone, even their arch rival. Coach Mike London has gotten big attention from the media, ESPN did a segment on him for College Gameday, reports were that Penn State called out to him to be their next football coach and Ivan Maisel admitted he had a man crush on him.
All of these things help London try to resurrect a program that has been suffering in the cellar of one of the weakest BCS conferences around.
However, nothing will help more than a victory this weekend over the No. 5 team in the BCS.
The Cavaliers know that they face a tough test. Few people are going to give them much of a chance, but that is exactly what Virginia wants to hear.
This over-achieving team has already erased some embarrassing droughts. They won a game in November for the first time since 2007, they beat Florida State for the first time since 2005 and they have won more games in the Sunshine State this year than in the entire history of their program beforehand.
The Cavaliers went from a team that won one-game last year in the ACC to potential divisional champions.
More importantly, it is how Virginia has won these games. Unlike 2007 where luck seemed to be the determining factor, the Cavaliers have been physical up front and have shown a lack of intimidation that has plagued them in the past.
They are not scared and that is why there is a chance they can finish the job against the punishing Hokie defense.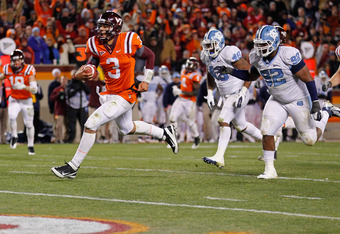 Geoff Burke/Getty Images
So that is why this game has so much meaning. If Virginia can cash in on this new found confidence and swagger, the Cavaliers could enter the offseason with the most momentum in school history.
Virginia will have defeated three (possibly four) ranked teams in one year. They will have gone 4-1 in their division and made their first bowl game in four years.
The Cavaliers had a Top 25 recruiting class last season when Virginia was 4-8, what could coach London do with young prospects across the country believing that the program had turned a corner?
Being able to knock Virginia Tech off would send a statement that the times have changed and Virginia is a contender once more. 
Of course, a loss could be equally meaningful for Virginia Tech.
Another victory for the Hokies and they will have won 12 of the last 14 games in this rivalry. They will, most likely, be going to their fourth BCS game in five years and might somehow sneak into the National Championship game with a little luck.
The difference between the Chick Fil A Bowl and the BCS National Championship could lie on one game.  That sounds like high stakes to anyone.
Virginia Tech could restore order to the ACC with a victory, proving they are still the best team in the league by far. Even with a new quarterback and an injury-depleted defense, the Hokies are the No. 5 team in the country and look to be getting better by the week. 
A victory will be a statement that the ACC is under Hokie domination.
No matter what the result, both teams have had great seasons. Both teams have shown amazing growth and both have youth to build upon in future years.
By no means would a loss in this game mean a failure to the Virginia Cavaliers. On the other hand, a victory could be one of the most meaningful in the history of the program.
These are the games fans live for and, thankfully, this holiday weekend provides a feast of opportunities for both teams.