Tennessee Football: Grading the Vols Game vs Vanderbilt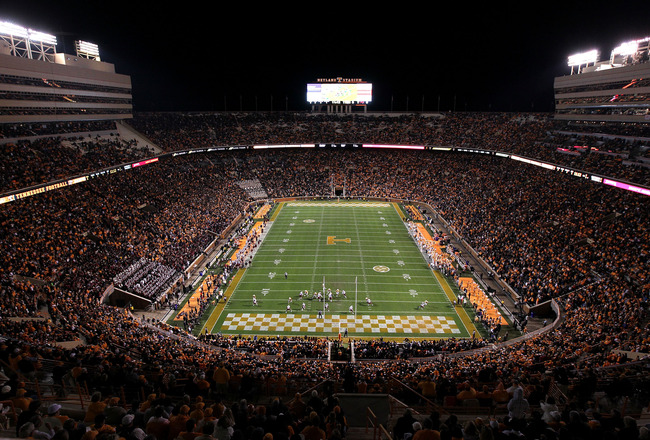 Andy Lyons/Getty Images
Vanderbilt entered the weekend a favorite at Neyland Stadium for the first time ever. Once the game was finally over, everyone realized exactly why the Commodores are almost never favored in this series, or any other series for that matter.
Tennessee and head coach Derek Dooley were in a must-win situation Saturday night. It took overtime, but the Vols got it done at home.
Now, it's report card time.
Quarterback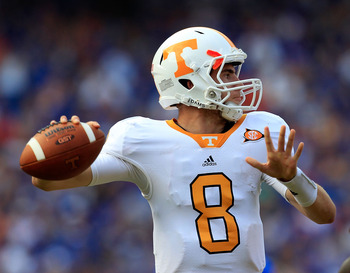 Sam Greenwood/Getty Images
Grade: C+
Tyler Bray was not his normal self. No one really expected him to be, either. The good news for the Vols, however, is 60 percent of Tyler Bray is greater than 100 percent of any other quarterback on the Tennessee roster right now.
Bray's 60 percent ultimately got the job done against the 'Dores. Two interceptions led to Vandy's first two touchdowns, including the 99-yard return that could have been a back-breaker for the Vols.
A totally healthy, rust-free Bray probably gets that one to one of his receivers and would have probably led to a drama-free ending for the Vols.
Running Back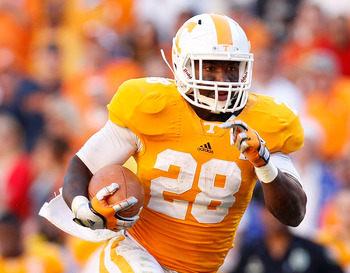 Kevin C. Cox/Getty Images
Grade: B+
Tauren Poole made the most of Senior Night at Neyland Stadium. Poole ran for 107 yards on 19 carries and scored the Vols first touchdown of the game.
Mr. Versatility Rajion Neal had a couple of nice runs and could prove to be a valuable weapon over the remainder of this season.
Wide Receiver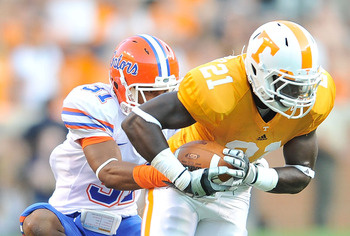 Grant Halverson/Getty Images
Grade: A-
Da'Rick Rogers is a special player. The sophomore made a highlight reel catch on the Vols fourth down try from the two-yard line to tie the game in the fourth quarter.
Rogers ended up with 116 receiving yards and two touchdowns. The reason for the minus is the fact that Rogers is pretty much the only target for the Vols right now.
Vincent Dallas, Mychal Rivera and Zach Rogers each had a catch, but none come close to the difference-making ability of Rogers. Rivera dropped a very catchable third-down pass that would have tied the game in the fourth quarter.
Offensive Line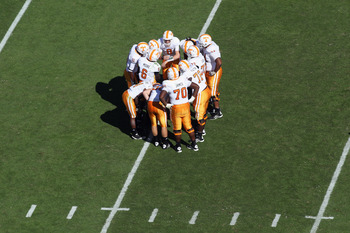 Streeter Lecka/Getty Images
Grade: C+
On the possession following the Commodores 99-yard interception return, the Vols o-line seemingly disappeared. It allowed way too much penetration, resulting in Poole being stopped for a hefty gain on one play and Bray to be sacked near his own goal line on the next play.
Bray was touched too many times, and breakdowns continue to hamper the Vols efforts to run the ball.
Defensive Line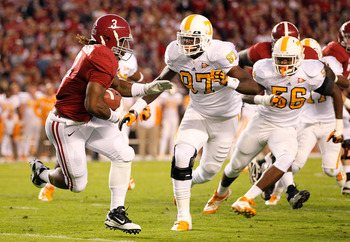 Kevin C. Cox/Getty Images
Grade: B
Tennessee d-linemen had one of their best statistical nights yet against Vandy. Although the 'Dores moved the ball well at times, the defensive line anchored what was a solid performance all the way around.
Senior Malik Jackson had another spectacular night with six tackles, 1.5 of those for a loss. He had a forced fumble and half a sack as well.
Jackson, Maurice Couch, Jacques Smith and Marlon Walls put plenty of pressure on the quarterback all night long.
Linebacker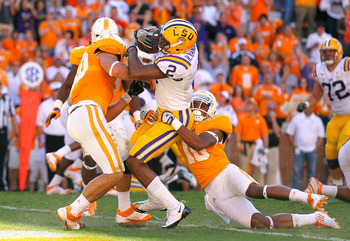 Kevin C. Cox/Getty Images
Grade: A
Austin Johnson had yet another interception to go along with a sack and a game-high nine tackles. Curt Maggitt was all over the place as well.
The linebacking corps has been the most consistent unit on the defense all season long.
Defensive Back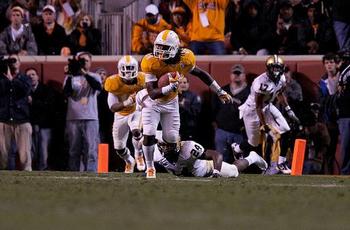 Courtesy of TNJN/Ben Ozburn
Grade: B-
If not for a boneheaded penalty that had absolutely nothing to do with the play, Tennessee's defensive backfield would have gotten beat on yet another home run pass for over 90 yards.
Considering the game saving plays and the game-ending interception, one shouldn't be too hard on the secondary after this one. Eric Gordon's 90-yard interception return is the play of the year for the Vols.
Special Teams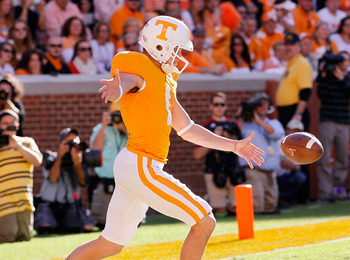 Kevin C. Cox/Getty Images
Grade: C-
Spectacularly unspectacular is about the best way to describe the Vols special teams unit. Return man Devrin Young didn't do much, and Michael Palardy had another kick that was way too low. The Vols were lucky he was run into by a different man than one who "blocked" the kick.
Matt Darr averaged only 38 yards per punt, but two of his six punts landed inside the 20-yard line.
Coaching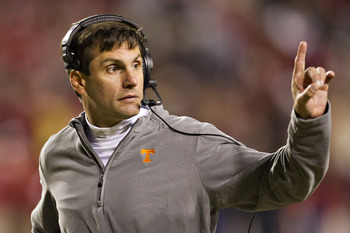 Wesley Hitt/Getty Images
Grade: B
Derek Dooley and staff get a solid grade in this one if for no other reason than having these kids ready to play in a big game.
After last week's debacle at Arkansas, it appeared these Vols were pretty much dead in the water. Tyler Bray's return certainly helped turn things around, but ultimately, playing Bray was Dooley's decision.
The decision to go for six instead of re-kicking the field goal after the block and penalty with six minutes to play was a great call. Even if the Da'Rick Rogers hadn't made an incredible catch for the touchdown, risking another kick in that situation could have proved detrimental to the Vols chances.
Overall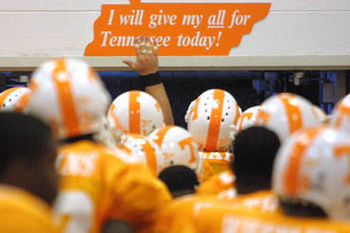 Grade: B-
It certainly wasn't a flawless performance, and the game was still fraught with many of the same issues that have plagued this team all season, but you should never take beating Vanderbilt for granted, especially with how the 'Dores have played this season.
Yes, the Vols were handed a couple of breaks to secure the victory, but don't look for sympathy from Derek Dooley or the Tennessee faithful who had to endure some of the most painful losses in Tennessee history last season due to weird circumstances at the end of ball games.
Tyler Bray was clearly not himself, but he proved that he's the best option at quarterback with or without a fully functioning right thumb.
Keep Reading

Tennessee Volunteers Football: Like this team?