BCS Rankings: Why LSU-Arkansas May Not Settle All Questions
November 20, 2011
Chris Graythen/Getty Images
Yikes, most have not been able to catch their breaths in what many are considering one of the greatest college football weekends in some time. 
There were many upsets with fourth-ranked Oregon losing to USC, fifth-ranked Oklahoma losing to Baylor and, of course, the second-ranked Oklahoma State Cowboys losing to Iowa State this past Friday. 
So, the new AP rankings are out and the SEC West has the top three ranked teams in the entire country!
It is the first time since 1971 (Big Eight: Nebraska, Oklahoma, Colorado) in which three teams from the same division have been ranked atop the polls. 
We are looking at an all-SEC BCS National Championship, but the day after Thanksgiving will tell us a ton, well, at least we think it should.
It was just in 2007 where the top ranked LSU Tigers lost in triple-overtime at home to Arkansas and they still played and won the BCS National Championship.
Will it be deja vu?
LSU vs. Arkansas should settle all questions, but the result of the game (margin of victory) could very well determine who not only plays in the SEC Championship, but more importantly the BCS National Championship.
LSU is the favorite to reach the title in most formulas even if they lose to Arkansas, assuming it is not a blowout. The Tigers would have to lose to Arkansas and then have Alabama lose to Auburn to get kicked out of the SEC Championship.
Even then, the Razorbacks would have to beat the Georgia Bulldogs to have any chance at appearing in the BCS National Championship. If Alabama were to lose to Auburn, the world would not have to endure the tiebreaker scenario.
A loss by the Crimson Tide would knock them out of the SEC race and BCS title race since it would be loss number two.
If they win, however, they would hold the tiebreaker over Arkansas (if LSU drops to third which is not likely).  That is why the margin of victory for Arkansas could play a factor in this game. 
Will the Harris Poll, Coaches Poll and BCS computer voters drop LSU to third if they lose a nail-biter at home to Arkansas?
Most say no, but we just don't know for sure since the majority of voters firmly believe LSU is the best in the game.
LSU's strength of schedule and advantage in all of the polls is staggering right now. For them to drop to third they would more than likely have to get destroyed by Arkansas at home (two-plus-touchdown loss).
Arkansas's loss to Alabama could play a huge role since they were smoked by the Crimson Tide. Arkansas is currently third, but they need to do more than just squeak by LSU. 
Alabama is waiting in the wings at No. 2, but they must be able to knock off an Auburn program that has defeated them seven of the past nine meetings.
The Crimson Tide are a mortal lock to play in the BCS National Championship with a victory over Auburn. However, there is a possibility that they will play in the SEC Championship if Arkansas were to destroy the top-ranked Tigers.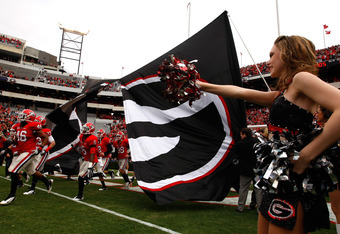 Kevin C. Cox/Getty Images
Due to the tiebreakers, there are a few scenarios that are still to be determined based on the two games remaining in the SEC West. So, here is what we do know is factual.
LSU remains atop both polls and have a fairly comfortable advantage over third-ranked Arkansas in both polls. Alabama is not too far behind for second, but that is meaningless since a loss by LSU would certainly knock them behind Alabama for No. 1 in all the polls (assuming they beat Auburn).
Arkansas is 126 points behind LSU from third to first in the Coaches Poll and it is almost safe to say barring an epic collapse and blowout to the Razorbacks and or potentially to the Georgia Bulldogs, LSU is a safe bet to play for the BCS National Championship. 
Arkansas clearly needs the Tide to lose on top of beating LSU decisively since they would then play Georgia in the SEC Championship with a chance to move up to the No. 2 spot in all of the rankings.
The Razorbacks may not automatically pass LSU if they beat them (margin of victory is unknown), but there is a decent chance they would if they end up throttling the Georgia Bulldogs for the SEC Championship (again, Alabama must lose). 
This all may sound confusing, but when all the regular season games are wrapped up by next weekend, the picture will be much more vivid to look at.
Until then, let us just enjoy some turkey and hope that the tryptophan does not kick in until after Thanksgiving weekend.