LSU vs Ole Miss: 5 Things We Learned from the Tigers' Win over the Rebels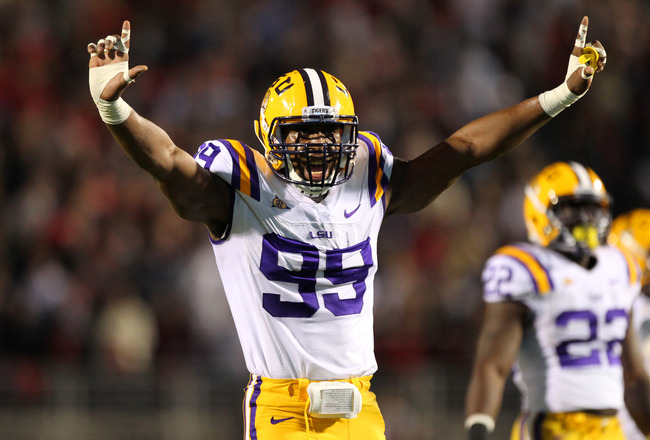 Joe Murphy/Getty Images
Introducing the LSU squad seems to be an exercise in futility. I believe they did that quite well themselves with a 40-27 victory over the Oregon Ducks in the season opener on primetime.
From game one, until today, everyone has known of LSU and Les Miles' ability to win ballgames.
For this article, the difficulty wasn't to find five things to talk about, it was finding five things we didn't already know about LSU.
However, that's what we do here, we inform. So, here are five things I believe the Ole Miss game taught us.
#1: The Rushing Game Is More Potent Than We Thought
Joe Murphy/Getty Images
LSU's rushing game has been a huge part of its strategy, as with all championship teams.
The tandem of Spencer Ware and Kenny Hilliard has been touted all year, and they have lived up to the hype week after week. We also already knew that Jordan Jefferson was a dual-threat quarterback with the ability to gain the first down if you somehow found a way to shut the rest of his team down, even for just one play.
What we didn't know was what would happen when LSU put their backups in all over the field. I certainly didn't expect to see a total of six players (other than the quarterback) turn in runs of 19-plus yards!
LSU continues to dominate, and when they get bored of dominating with their first string, they dominate with benchwarmers.
#2: No Slump in Sight for This Defense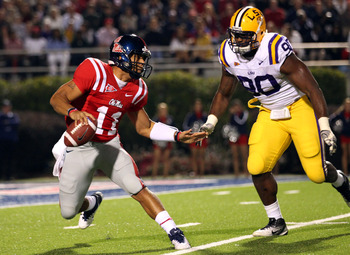 Joe Murphy/Getty Images
With a 12-game regular season, you sort of come to expect a game or two against less-than-stellar teams where your defense just doesn't "click" like usual. You expect that on at least one side of the ball at some time or another.
With a win over Ole Miss by 49 points (because Miles elected to take a knee inside the Rebel's 10 yardline, instead of putting up seven more), this defense has proved through 11 games that they have no intention of taking ANY kind of break until January 9th, immediately after the BCS National Championship's final whistle blows.
They continued to extend their turnover margin today, forcing Ole Miss into three of them while allowing none of their own.
#3: Les Miles Is Showing Himself to Be More Than a Coach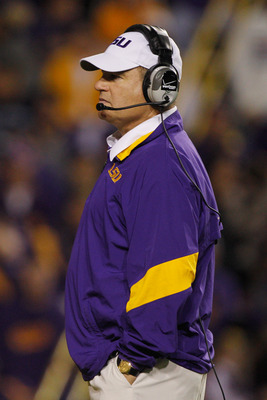 Chris Graythen/Getty Images
With a record of 11-0 this year so far, and fewer teams each week looking to be in position to challenge that, Les Miles could easily be extending his lead atop the standings by cranking up the score.
Lots of coaches do it to make their resume look better to the computers.
For the record, Les Miles has never done anything to cause me to doubt his character. However, when he was knocking on Ole Miss's door tonight at the end of the fourth quarter, he could have just walked into the end zone with any one of his talented crew.
He didn't. He went out of his way to keep the score at 52-3. He elected to take a knee on all four downs with the clock at 5:10, and give Ole Miss the ball instead of running up another TD.
That is a standard of class and character we welcome in football, and we in the SEC take pride in it. Les is showing the character of a champion, and if the team learns nothing else from him, he will have succeeded.
#4: Jordan Jefferson Is the Quarterback, and No One Is Complaining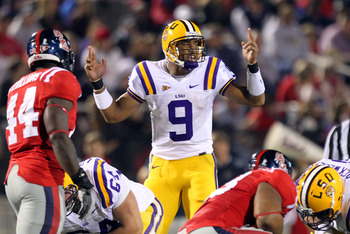 Joe Murphy/Getty Images
Though he only threw seven passes, he completed all of them for a total of 88 yards.
The LSU rushing game was so incredibly effective that he didn't need to throw.
Completion percentage: 100 Poor decisions: 0
A quarterback that makes great decisions and wins games, can LSU ask for anything more?
Can LSU ask for a better mentor for Jarrett Lee?
I don't think so, but January 9th will answer those questions.
#5: LSU Quarterbacks Are Spreading the Ball Around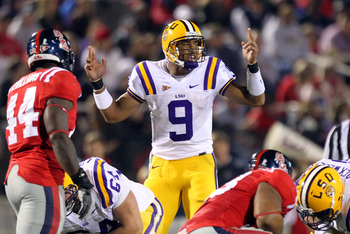 Joe Murphy/Getty Images
Spreading the ball around is a totally separate category than regular quarterback play for me.
Making good decisions involving the run game and knowing when to pass are results of a talented quarterback who learns well.
Spreading the ball around shows a completely different skill set. It shows that you are performing well physically. It shows that you are not choosing your intended receiver before the ball is snapped.
You are taking your time to find the open man, and you throw it well to him. Jefferson and Lee combined for eight completions on eight passes to six different targets, and they threw to no receiver more than twice.
That is excellent quarterback play. If this season ends like it has started, they will be ridiculously good in January against whoever goes to New Orleans to challenge them.
Keep Reading

LSU Football: Like this team?