Erin Andrews: ESPN Reporter Having a Heisman Trophy Vote Is a Complete Joke
November 19, 2011
Jason Merritt/Getty Images
ESPN College Gameday host Chris Fowler said during Saturday's show that everyone on the popular college football program has a Heisman Trophy vote, which means popular ESPN personality Erin Andrews also has a vote.
Andrews having a Heisman Trophy vote is a complete joke.
I thought the Heisman Trophy was the most prestigious award in sports, or maybe that's what the Heisman voters and past winners want you to think.
Well, if Erin Andrews has a vote then why don't we give everyone a vote? She is a sideline reporter mostly, and often attends red carpet events that real sports reporters would not attend.
Giving Andrews a vote for the Heisman is just not necessary. These awards should only be voted on by the most knowledgeable people in college football.
I think Bleacher Report's own Michael Schottey summed up the feelings of a lot of college football fans with one of his tweets this morning.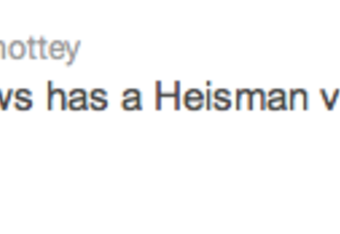 I can understand everyone else on the show College Gameday having a vote.
Lee Corso is a former coach and excellent analyst, Kirk Herbstreit is a great analyst and color commentator, Chris Fowler is a very respected voice in sports and Desmond Howard is a former Heisman winner himself.
Not only does she not deserve one, it makes the award look less valuable when people like her who do not have great knowledge of college football get to help decide the awarding of the sport's greatest award.