Tennessee Volunteers Football: A Lot Riding on Game Against Vanderbilt
November 18, 2011
Sam Greenwood/Getty Images
A new trend is starting in the state of Tennessee: The Vanderbilt-Tennessee game is beginning to matter. This Saturday's game has bowl implications for both teams, as well as a chance to prove their team's quality.
The game is going to come down to one question: Will Tyler Bray play? If he is healthy, the Tennessee Volunteers will win. If not, the Vanderbilt Commodores will win.
The Vols (4-6) have been without Bray since the end of the Georgia game on October 8th. They have played perhaps the most difficult schedule in the country since that time, with games against the No. 1, 2, 8 and 13 teams during a five-game stretch.
Except for the South Carolina game, a 14-3 loss, it's highly unlikely that Tennessee would have fared any better with Bray during October.
But this Saturday's game is a completely different story.
The upstart Commodores, bursting with confidence and pride with their 5-5 record, are bringing in the best squad they've had since 2005, when Jay Cutler's team ended the 23-game streak that Tennessee had over Vandy. New head coach James Franklin has injected excitement into the program and appears to be injecting some talent in the coming years.
That's why Bray's involvement on November 19th is so crucial.
Season Not Lost
Readers know me as a Derek Dooley apologist by now, and I'm proud to carry that tag. The man has had a perfect storm of injury and scheduling, yet is poised to return to his second straight bowl trip with the Big Orange.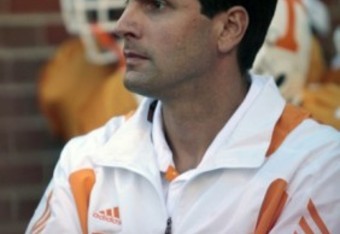 A win against Vandy would all but guarantee Tennessee the necessary six wins to become bowl eligible. Kentucky is as bad as I've ever seen them in my young college football-watching career. It seems as though their on-field prowess is negatively correlated with the more popular basketball team.
Bray is the X-Factor
In order to save this season, it all comes down to Tyler Bray. Without him, the Vols' passing attack has been anemic and the running game only occasionally effective.
Furthermore, Tennessee could use an intangible boost for the game. It's been a long, somewhat snake-bitten season, and Vandy is sure to come into the game full of energy. To match that energy, Tennessee would do well starting and supporting Bray.
Vanderbilt's Season a Mirage
The Commodores' wins this year have come against Elon, Connecticut, Ole Miss, Army and Kentucky. The combined record of those five teams is 18-31, a 37 winning percentage.
You'll have to excuse me, because I'm not impressed. Tennessee's is 19-19, a 50 winning percentage.
What Vanderbilt can boast that Tennessee cannot is its "good losses." The very existence of such losses is disputed among players, coaches and media personalities, so how much weight can you put on that?
The Commodores can prove something in Neyland Stadium on Saturday. They can prove to me that they really have turned a corner. Until then, they remain the beneficiaries of an easy schedule.
What's Going to Happen
I truly hope Bray gets to play.
If he does, fans will get a chance to watch a future NFL starter faceoff against the little brother of a current NFL starter. Who doesn't want to see that?
Yes, I'm bitter. As a Vol fan, I'm anxious and nervous. It's fun to be excited about this game again, but it also indicates a breaking point for Tennessee in the grand scheme of things.
Save the season with a win. Leave the Big Orange all blue with a loss.
Please, oh please let Bray play.