BCS Rankings: Why Controversy in College Football Makes the Sport Great
November 17, 2011
Ronald Martinez/Getty Images
What if Oklahoma State loses to Oklahoma? Who would then play LSU for the National Championship? Is it Alabama in a rematch? What about Oregon in a rematch with LSU?
It's these questions that have dominated college football discussions recently. These "what if" scenarios and debates are the best part of college football. They're the life-blood of the regular season.
So many people in favor of a playoff argue that the college football regular season would still mean as much with a playoff; a "plus one" system in which one extra game would determine the national champion after the bowls would maintain much of the integrity of college football. No argument here.
However, any other playoff format of eight or 16 teams would severely hurt the regular season. People who disagree don't love college football or completely understand its greatness.
What makes the stretch run of this college football season so enjoyable, like so many seasons before it, is the controversy.
While the system might hurt certain programs and possibly reward undeserving teams from time to time, it is a perfectly flawed system that makes the sport better.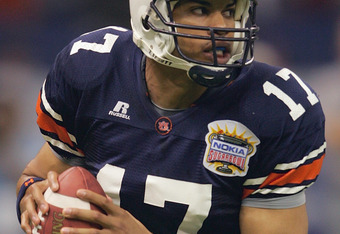 Matthew Stockman/Getty Images
How do many college football fans get through the daily grind before Saturday? Do they discuss the controversy of who's No. 1 and No. 2?
The BCS has caused many to scream, cry, and claim it to be the end of inter-collegiate athletics. While some of that sentiment may be true, it's better than the old system of bowl tie-ins and lack of a national championship game more often than not.
The BCS pits No. 1 versus No. 2. It has done a pretty good job. Some seasons, like 2004 with Auburn, have ended with No. 3 complaining. They are the exception and maybe even more fun than the norm. How many times have you heard about 2004 and how Auburn should have played for the national title?
It's great to dream about rematches or national championships between teams from the same conference. It's the controversy that people love whether they admit it or not. It's what makes college football different, unique and the best sport in America.