Georgia Bulldogs Football: The Redemption of Mark Richt
November 16, 2011
Kevin C. Cox/Getty Images
It was the second week of the 2011 college football season.  I was sitting in a south Alabama church pew when I first realized that Mark Richt's job was in real jeopardy.  The Dawgs were coming off their first game of the year, a 35-21 loss to Boise State.
Bobby Bowden was speaking.  In the course of his remarks, he hit on the subject of Mark Richt.  It was Bowden who gave Richt a job as a graduate assistant at Florida State.  And it was Bowden who led Richt—a former college party boy—down the pathway to righteousness. 
Richt's aspirations to become the starting quarterback of the Miami Hurricanes as a freshman, an All-American as a sophomore and a Heisman winner as a junior, took a slight detour.  Richt plotted his life out like a happy-ending Disney movie, replete with popcorn and Kleenex to wipe the tears of joy.  Somehow, it just didn't turn out that way.
After he graduated, the door was closed on his NFL aspirations. Although he tried out for the Denver Broncos and Miami Dolphins, names like John Elway and Dan Marino dwarfed his dreams of stardom.
Staying afloat working various odd jobs, one day Bobby Bowden called Richt and invited him to join the coaching staff at Florida State to work with quarterbacks.  Richt—who was down and out—obliged, grateful to be back in the game he loved. 
One bye weekend, a Florida State player was shot and killed at a party.  Bowden called a team meeting and Richt happened to be the only staffer in the room apart from the head coach.  His job was to call the team roll. According to Richt's account that night, his focus turned away from himself and toward the heavens.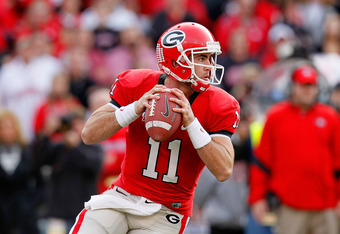 Kevin C. Cox/Getty Images
There were chairs lined up for the team and one empty chair stood out.  This was the chair normally occupied by the deceased player. According to Richt, Bowden pointed to the empty chair, "…and talked about death and his faith.  He asked every one of us in the room to look at the chair and then he asked, if that was you, do you know where you would spend eternity?"
Bowden prayed with Richt the very next day.
Back in the church pew in September, I listened intently to the stories.  Bowden—in his candid banter—alluded that Richt was keenly aware of the fragility of his job.  Richt, Bowden said, was also fully aware of the consequences of losing. I left church that day thinking about Mark Richt, the missionary, not the coach.
The road to redemption is never easy for a college football coach. But Mark Richt has found his way, back on track with eight straight wins coming off the two losses.  One might say this is a Georgia team that bought into Richt's program when threats of his departure were imminent.  
After losing to South Carolina 45-42, Richt and his staff manned up.  They refueled and regrouped.  With a schedule tailored for difficult opponents in the beginning and ease at the end, the Dawgs defeated their opponents one-by-one.  With each game and each explosive play, they've mastered Grantham's defense and Bobo's offense.  
Just last weekend, they humiliated Auburn (45-7)—their only major SEC West opponent—and with Kentucky looming this weekend, all signs are pointing to Atlanta.  It's been since 2005 that they've made this short drive to the Georgia Dome from Athens.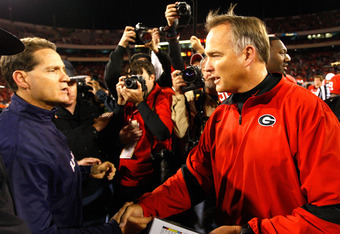 Kevin C. Cox/Getty Images
The Georgia Bulldogs are this year's biggest surprise and Mark Richt has gone back to partying.  This time, his celebrations are clean and good-hearted.
Ask Georgia quarterback Aaron Murray about the season and he'll say to hold the applause.  Just two touchdowns away from the Georgia single-season record, Murray said in an interview with ESPN, "We are understanding our game plan and we finally executed.  We've made baby steps, baby steps, all year long.  We still can't be happy.  We're still one game away."
That game is Saturday at home against Kentucky.  The Wildcats limp into Sanford Stadium for a midday kickoff, 4-6 overall, 1-5 in the SEC. Do the math.
Some who claimed it would take divine intervention to keep Richt at Georgia were right all along.  This coach is going nowhere but up.
Amen. Let the hallelujahs begin.