UCLA Football: Reasons Bruins Will Make Pac-12 Title Game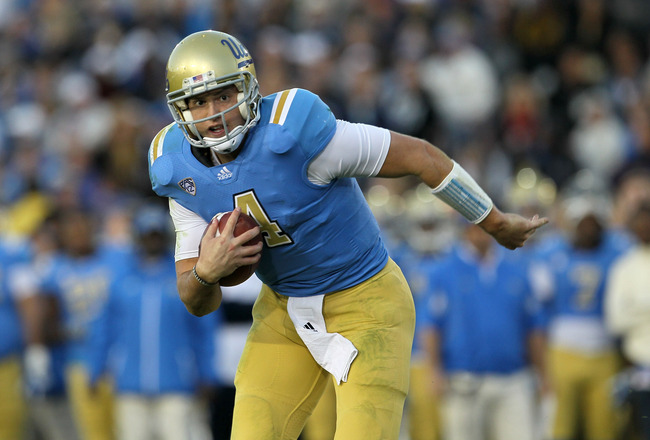 Stephen Dunn/Getty Images
The roller coaster that is UCLA football took another low dip with a 31-6 loss to Utah, but if the rest of the season is any indication, a cresting high is just around the corner.
Sure, the Bruins couldn't run, pass, defend or score touchdowns in the snow against Utah, but let's put those relatively minor problems aside. Remember, as bad as UCLA looked against Arizona in Tucson, they were able to rebound with two consecutive wins.
All the Bruins need to do now is replicate that form, and a Pac-12 title game could be in their future. Here are a handful of reasons plucked out of a basket of boundless optimism that indicate a championship game for the Sons of Westwood.
Arizona State's Loss Keeps UCLA in the Hunt
Stephen Dunn/Getty Images
In a spectacular show of generosity, the Arizona State Sun Devils unbelievably capitulated against Washington State, essentially negating the negative impact of UCLA's egg in Salt Lake City.
For the second straight week, the Sun Devils refused the Pac-12 South on a silver platter, giving up 494 yards and four touchdowns through the air to unheralded freshman quarterback Connor Halliday. Dennis Erickson should expect a nice, juicy turkey this Thanksgiving from new best friend Rick Neuheisel.
What this means for UCLA is that impossibly, improbably, they still control their own destiny. Should they manufacture wins against Colorado and USC, the Bruins will attend the inaugural Pac-12 title game representing the South Division.
It seems odd that a 5-5 team should be in the driver's seat for a possible conference championship, but that's exactly what we have this year in the Pac-12. Should UCLA finish atop the division, they will likely face an Oregon team that can't wait to test the Bruin run defense.
Kevin Prince Will Play Better Against Colorado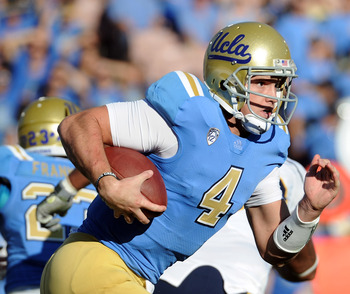 Harry How/Getty Images
While starting a QB who can't throw well might seem counter-intuitive, Kevin Prince gets away with it week after week as a function of the pistol offense. Many commentators were quick to praise Prince after a heroic performance in UCLA's upset win over Arizona State, but inclement weather against Utah might provoke reevaluations.
Prince went 12-of-24 for 146 yards through the air, and only 34 yards in 12 carries on the ground. When it became apparent that UCLA could not run the ball against one of the best rushing defenses in the nation, Prince tried to lead the Bruins back with his arm.
That didn't work either, with Prince throwing two terrible interceptions in the process. These were not tipped balls by Bruin wide outs but under throws into areas where the only possible receiver wore red. His second pick was returned 67 yards for a touchdown.
That being said, there is every indication he will retain his starting job against Colorado and have a markedly better game. Calling the Buffalo defense shambolic would be kind, and conditions at the Rose Bowl should be much better.
Despite Richard Brehaut almost fully recovered from his leg injury, expect Kevin Prince to be under center come Saturday. Hopefully he will have regained some of his positive form, which will be key if UCLA is win the division.
The Defense Will Be Healthier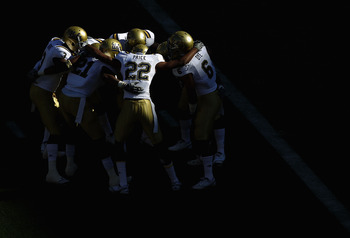 Christian Petersen/Getty Images
With veteran safety Tony Dye on the mend and linebacker Jordan Zumwalt healing expected to play against Colorado, the UCLA defense should be deeper and healthier for the remainder of the season.
Dye, one of the vocal leaders of this defense before suffering a neck injury seven weeks ago, is prepared to forgo a medical redshirt and play out the remainder of his senior campaign. His return will add depth to a position currently occupied by a pair of underclassmen.
Zumwalt has had a decent season, but hasn't been a standout. Still, Zumwalt's availability will give UCLA a better rotation at linebacker, and help keep the corps fresh.
The Bruins will need him, along with their entire front seven, to play better against the run. UCLA currently gives up 190 rushing yards per game, 95th in the country.
Despite giving up 31 points to a Utah side that only gained 67 yards through the air, UCLA's defense could have played worse. The offense routinely put them in bad positions, so as the offense improves, the defense will get the stats they deserve.
The Running Game Will Be a Factor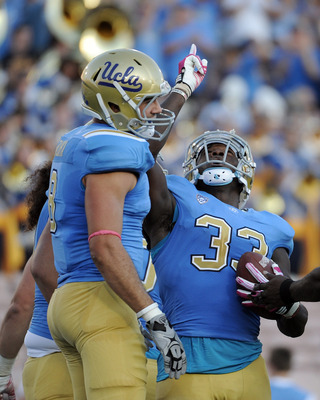 Harry How/Getty Images
Though they only managed 149 yards on the ground as a team against Utah, expect UCLA to have a more success running the ball going forward.
The Utes are ninth in the country when it comes to stopping the run, allowing only 100.8 rushing yards per game. Compare that to Colorado, which surrenders close to 180 rushing yards per game.
In the coming weeks, Johnanthan Franklin and Derrick Coleman should combine for much more than 132 yards and no touchdowns they posted against the Utes. UCLA still has one of the better rushing attacks in the Pac-12, and they should be able to rely on it as they try to hold pole position in the South.
What keys the running game is, of course, Kevin Prince's ability to execute the pistol offense. If defenses are able to stop the quarterback draws, UCLA won't be able to run consistently. Utah had the advantage with a superior run defense and Norm Chow's intimate knowledge of UCLA's pistol offense, but other teams won't.
However, USC is a concern. The Trojans rank eighth nationally in stopping the run and are without question the class of the South. How will UCLA overcome this in their season finally? Well…
Anything Can Happen in a Rivalry Game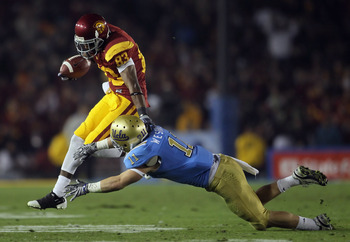 Jeff Gross/Getty Images
Exactly. USC was supposed to roll over the Bruins in 2006, yet Karl Dorrell's side upset them 13-9 and denied the Trojans an invitation to the BCS championship game. No one gave UCLA a chance that year, but they won anyway.
The emotion and passion that players compete with in a rivalry game is unmatched during the season, even in a bowl game. In a derby as hotly contested as UCLA-USC, absolutely anything goes.
The Bruins have history working against them despite their 2006 miracle. UCLA has not beaten USC in the Coliseum since 1997, losers of six in a row since their 31-24 win.
Still SC has proven beatable this year. UCLA defeated the same Arizona State team that humbled the Trojans 43-22 earlier this year. Unfortunately, the transitive property of mathematics doesn't apply in football.
If UCLA is to compete in the Pac-12 title game, they will likely have to beat SC to get there. Despite the apparently wide difference in team skill, anything goes in a rivalry game. The Bruins have a shot, but they will need to play an error-free game to come out with the positive result.
Keep Reading

UCLA Football: Like this team?