Jerry Sandusky Sex Scandal: Vandalizing Alleged Offender's House Is Useless
November 12, 2011
Jerry Sandusky allegedly did a world of wrong, but vandalizing his house at this point is just a cowardly act.
There was a time and a place for someone to act against Sandusky, but Mike McQueary missed that opportunity. Now that Sandusky is in the hands of the legal system, people should let that process take its course rather than lowering themselves to such levels.
Jake Kaplan of the Philadelphia Inquirer reported that someone threw two cinder blocks into Sandusky's window on Thursday night.
Neighbor Paul Kletchka said it best when addressing the issue.
"We have two small children, and we're concerned for the safety of everyone in the neighborhood. We ask for people to give him his day in court. We understand that people are angry, and we understand why they are angry, but bringing violence to this neighborhood isn't going to help anything."
The people who committed the vandalism can take a lesson from Kletchka, who could have easily done the same thing. Instead, he decided to put his anger aside and think of his children first.
Petty crimes like vandalism have no place in this situation—and by taking matters into their own hands, the brick-throwers are just undermining the judicial system.
Sandusky will face jail time if convicted, which seems highly likely. However, the best thing we as citizens can do now is try to control our emotions. This is the calm after the storm.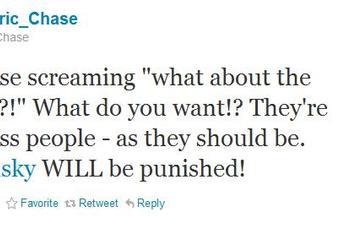 People wanted the police involved, so now that they are, let's do them a favor and stay off the police blotter so they can deal with the big issue at hand.