Penn State Sex Scandal: In Defense of Joe Paterno
November 10, 2011
Jamie Sabau/Getty Images
We all know about the recent events at Penn State.  Jerry Sandusky is a sick man who has been charged with 40 counts of sexual abuse. In the wake of this scandal, both Joe Paterno and Penn's president have been fired after a unanimous decision by the school's board of trustees. 
While Paterno, by his own admission, said he should have done more, he has been unjustly crucified, and I do not use that term lightly, by the media and the university.  First off, let us examine what Paterno did when informed of these heinous actions by Sandusky. 
Coach Mike McQueary, in a locker room on campus, saw Sandusky sodomizing a ten-year-old boy in a shower.  McQueary informed Paterno of these actions and within 24 hours, Paterno reported an account of the events as told to him by McQueary to both athletic director Tim Curley and the head of campus police. 
The problems that most seem to have with Paterno's actions are that he did not do enough to protect the victims.  This is true, but he was not negligent to the extent that he should have been fired. 
Curley is above Paterno in the chain of command. Once he was informed, he became just as culpable in the matter.  Curley recently resigned, but it is safe to say that he too would have been fired had he not. 
Furthermore, most are critical of Paterno's neglect to mention the allegations to the police but Pennsylvanian law states that campus police possess the same authority on campuses as municipal officers. Although Paterno could have informed the State College PD, it is disingenuous, if not flat out wrong, to say he didn't report Sandusky to the police.
Additionally, it is being said that in his accounts to Curley, the university police and the grand jury which investigated Sandusky's case, he was short on details and vague about what actually occurred.  Although Paterno is completely culpable here for not being completely explicit in his description of what McQueary witnessed, let's look at what the grand jury's report said: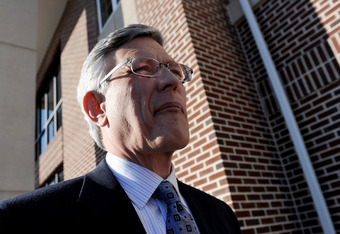 Patrick Smith/Getty Images
"Paterno testified that the graduate assistant [McQueary] was very upset. Paterno called Tim Curley ("Curley"), Penn State Athletic Director and Paterno's immediate superior, to his home the very next day, a Sunday, and reported to him that the graduate assistant had seen Jerry Sandusky in the Lasch Building showers fondling or doing something of a sexual nature to a young boy."
It goes on:
"The graduate assistant heard back from Curley a couple of weeks later. He was told that Sandusky's keys to the locker room were taken away and that the incident had been reported to The Second Mile. The graduate assistant was never questioned by University Police and no other entity conducted an investigation until he testified in Grand Jury in December, 2010. The Grand Jury finds the graduate assistant's testimony to be extremely credible."
According to the grand jury, it looks like Paterno went through all of the proper channels to report the atrocities committed by Sandusky.
After all this, we are led to ask, what else could he have done?  He could have confronted Sandusky himself, whom he considered a longtime friend.  He could have pursued the matter further and continued to prod Curley and the university police to act.  He could have gone to the city police instead of the campus police.  It is clear he certainly did not do all he could have, but it is a stretch to say he deserved to be fired for his inaction.
What is being lost in all of this is the culpability of Curley, McQueary and the campus police.  McQueary was the only eyewitness in this case, and according to the grand jury, called his father and Paterno but did not call any legal authorities. 
Yes, Paterno could have done more with what he was told, but why, at this point, does McQueary still have a job after failing to report a rape to police?  The disturbing lapse in judgement by McQueary in this instance is second only to the disgusting acts committed by Sandusky in this horrible saga. 
If Paterno reported this incident to Curley and the police, he obviously was not concerned about his reputation if this was brought to light.  The fact that Curley was quiet between 2002 and 2010 is deeply disturbing, and the fact that the police failed to follow up on the allegations is a horrible injustice.
Lastly, we must examine the professional relationship between Sandusky and Paterno in 2002.  In 1998, District Attorney Ray Gricar refused to prosecute Sandusky based on allegations of sexual abuse, which we now know had, by that point, been happening since at least 1994. 
In 1999, Sandusky retired and assumed a role as an assistant professor of physical education.  Although he continued to have access to the school's football facilities, he was not connected to the program in an official capacity.  Paterno could not have fired Sandusky, nor was he legally culpable for any failure to report any criminal action committed by him. 
Although Sandusky might have considered himself Paterno's subordinate, he would not have been accurate in such a self-description.  When Paterno was informed of the allegations, he was reporting the actions of a former employee with whom he had no official connection.
So where does the blame reside? 
Paterno is not the one who should shoulder the blame here.  Sandusky is the criminal and Curley is culpable for the cover-up.  Paterno took less than 24 hours to tell Curley what happened. Curley took eight years and a grand jury to say anything further. 
Yes, the victims deserved better than one attempt at justice from Paterno, but they certainly deserved aggressive action from the police and Curley.  Beyond that, the only witness to the atrocious act never told anyone but a football coach, and he has escaped all consequences thus far. 
McQueary and Curley both should be charged with obstruction of justice, and while Paterno certainly should receive some blame, he does not deserve to be reamed as he has been by the media or fired by phone.  The man gave his entire life to Penn State.
To close, I'd like to make it clear that the true victims here are the defenseless boys that had their lives destroyed by a monster; the media should be attacking Sandusky and reflecting on a tragedy, not engaging in a witch hunt just so they can put a face on what is one of the worst scandals in college sports history.