College Football's Top 15 Hottest Coaching Prospects
Pat Fitzgerald has Northwestern's offense clicking, but did he make our Top 15 hottest coaching prospects?
Eric Francis/Getty Images
College Football's coaching carousel has already begun with Houston Nutt's resignation at Ole Miss and Joe Paterno's likely departure from Penn State. Nutt and Paterno aren't the first ones to go, however, as Mike Stoops was already shown the door by Arizona.
It's likely this season will see as many firings as any other season of college football season. Will Rick Neuheisel be fired at UCLA? Is Georgia in the market to replace Mark Richt despite competing for the SEC East title? What will Ohio State do to replace Jim Tressel?
There are multitudes of candidates waiting at lower tier schools or in lesser positions who would love to be the next great coach. As administrations conduct their coaching searches, they won't be able to ignore the benefits of hiring the top candidates in the country.
No. 15: Larry Fedora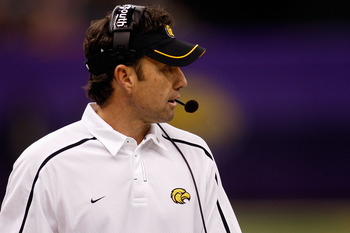 Chris Graythen/Getty Images
Larry Fedora has been a fixture at Southern Miss, gradually building his program from the ground up.
He's not only had to coach a football team, but he's had to strategize ways to make money to improve facilities. Living by the motto, "We'll play anyone, anywhere, anytime," Fedora has garnered both exposure and cash for his Golden Eagles program. Now, Southern Miss is in the Top 25 and climbing.
Will a larger program in need of rebuilding take a look a Fedora?
No. 14: Ken Niumatalolo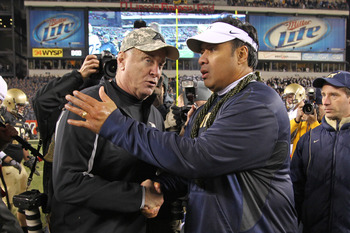 Hunter Martin/Getty Images
Like Vanderbilt, if you can win at Navy, you'll likely win everywhere.
Though the Midshipmen are down this year, Ken Niumatalolo has had this team in multiple bowls and has owned Notre Dame three out of the past five years. Additionally, his predecessor Paul Johnson has shown Navy's offense can reproduce its success on a larger scale.
Who can lure Niumatalolo away from his beloved Naval Academy position?
No. 13: Rich Rodriguez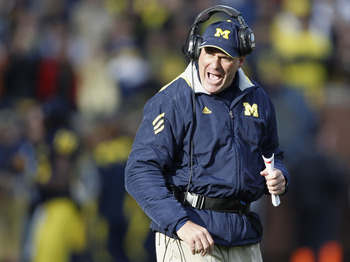 Gregory Shamus/Getty Images
Rich Rodriguez was a failure at Michigan, but how much of that was caused by the constant negativity that surrounded him from the beginning of his tenure? Michigan fans decided to hate him before he even showed up.
At West Virginia, however, Rodriguez produced some of the most electric offenses in the country. Is there a program that is ready to give him another chance to recreate the magic?
No. 12: Steve Addazio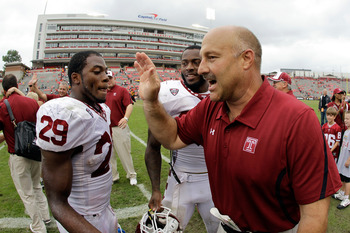 Rob Carr/Getty Images
A former assistant head coach and offensive coordinator under Urban Meyer at Florida, Steve Addazio is merely looking to prove himself worthy as a head coach at Temple before moving on to a larger institution.
He picked up where Al Golden left off, keeping Temple at the top of the MAC standings and nearly defeating one-loss Penn State. Has he already proven himself?
No. 11: Art Briles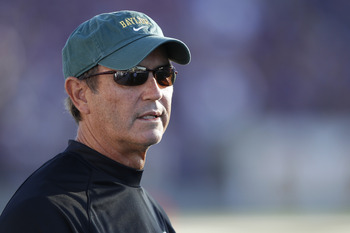 Joe Robbins/Getty Images
Art Briles brought the Houston Cougars back from the brink of obscurity after huge offensive successes with the program. He's responsible for grooming the NFL's Kevin Kolb, and now, he's grooming Robert Griffin III into a first-round NFL pick.
Currently at Baylor, Briles is likely enjoying the Big 12, but his eyes are probably yearning for a larger program outside of Texas where he can test his mettle in another conference.
No. 10: James Franklin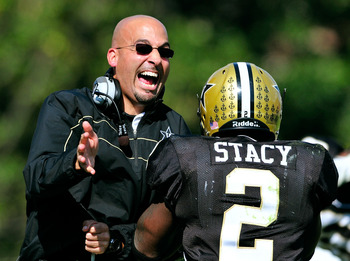 Grant Halverson/Getty Images
Anybody who can find success at Vanderbilt should be a consideration for a higher coaching position.
James Franklin is an aggressive recruiter and an emotional coach who has made Vanderbilt the best SEC program in Tennessee this year. A large school should risk hiring Franklin while he's still a relative unknown, because he'll soon be a hot commodity.
No. 9: Al Golden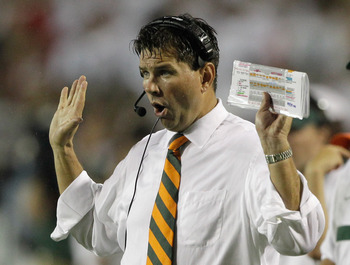 Rob Carr/Getty Images
While Al Golden has only been in charge of the Miami Hurricanes for a year, he may already be looking to leave, as huge sanctions are on the way for the Coral Gables program. If he decides to leave, he'll be a huge pickup for any program, as he was a big success at Temple.
Look for him to return to his alma mater of Penn State to save them from the media circus created by the Jerry Sandusky sex scandal.
No. 8: Dabo Sweeney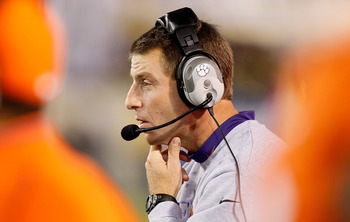 Kevin C. Cox/Getty Images
Clemson is strong and only getting stronger under the leadership of Dabo Sweeney.
Contending for the ACC title, Sweeney's team has a powerful rushing attack and a nice passing attack to complement the run game.
Clemson is a small town, so Sweeney may be looking for a bigger venue, but he hasn't been there long.
The only question is whether he can recreate and maintain the success he currently enjoys.
No. 7: Gus Malzahn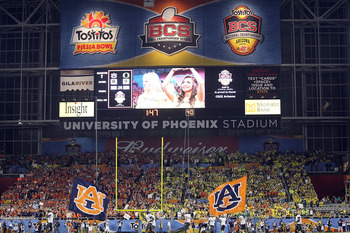 Ronald Martinez/Getty Images
Gus Malzahn has been the brains behind many offenses in college football.
A former high school coach who rode the coattails of his "Springdale Five" recruits to Arkansas, he's been responsible for high-powered offenses at Arkansas, Tulsa and Auburn.
Is he ready to take the reigns as the head coach at a college institution?
No. 6: June Jones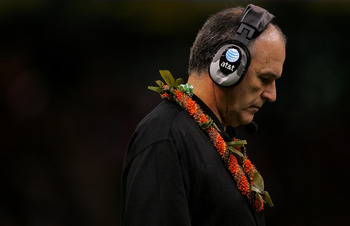 Matthew Stockman/Getty Images
He's done it at Hawaii and, now, he's doing it at SMU. June Jones is a master program-builder, but it's time for him to get his opportunity at a larger institution where he can really enjoy the fruits of his labor.
His run-and-shoot offense can score on you at any time, and it doesn't matter what level of talent he uses.
Is Jones happy in Texas or is the grass greener elsewhere?
No. 5: George O'Leary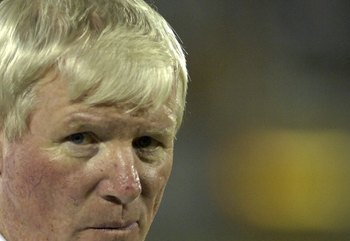 Al Messerschmidt/Getty Images
George O'Leary was once the next great coach at Notre Dame after making Georgia Tech successful.
Then, tragedy struck when his resume was reviewed.
Now, O'Leary has the Central Florida Golden Knights regularly dominating Conference USA, even defeating the SEC's Georgia Bulldogs. O'Leary's discipline would look good to any school.
No. 4: Chris Petersen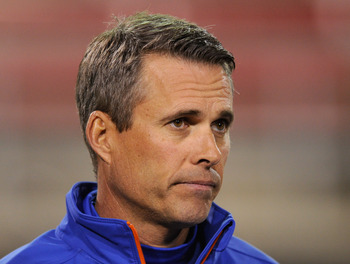 Ethan Miller/Getty Images
Boise State's perennial leader, Chris Petersen is another hot coaching prospect, but he appears wary to leave his current residence.
Is he afraid he'll be the next Dan Hawkins or does he simply love Boise, Idaho? Either way, the Broncos can't afford him.
Somebody will pony up enough cash to swipe him one day.
No. 3: Gary Patterson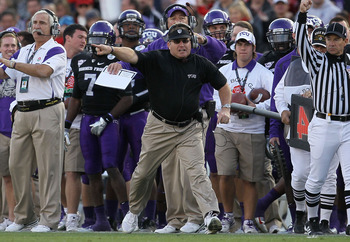 Stephen Dunn/Getty Images
Gary Patterson's TCU Horned Frogs are repeatedly feared by BCS schools.
He singlehandedly put TCU into two BCS conferences in less than a year due to his consistent success, which stems from his team's hard-nosed defensive mentality.
Like former TCU quarterback Andy Dalton, people shouldn't underestimate Patterson.
No. 2: Mike Leach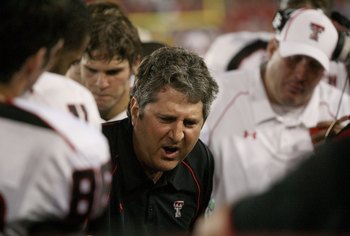 Thomas B. Shea/Getty Images
Caught in the middle of small-town Texas politics and a classic middle-school parent-coach fight, Mike Leach is a prime target for many schools despite his fight with ESPN commentator Craig James.
Leach is an offensive genius who can provide an immediate spark for any team who hires him.
No. 1: Urban Meyer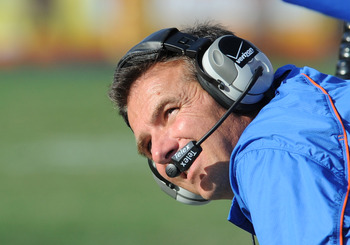 Al Messerschmidt/Getty Images
Obviously, Urban Meyer is every team's number-one choice for a new head coach.
The question is whether he's eager to leave the announcer's booth or not. If family issues were a concern at Florida, he may need more time to enjoy his current flexibility.
Will somebody win the Urban Meyer lottery this year?
Other Considerations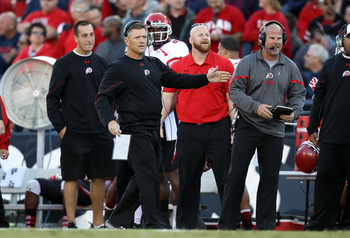 Christian Petersen/Getty Images
Pat Fitzgerald, Chris Ault, Kyle Whittingham, Dan Mullen, Mark Mangino, Greg Schiano, Hugh Freeze & Randy Edsall
Keep Reading