UCF vs. Southern Miss: TV Schedule, Live Stream, Radio, Game Time and More
November 8, 2011
Chris Graythen/Getty Images
The 22nd-ranked Southern Mississippi Golden Eagles look to stay atop the Conference USA East this weekend as they host the Central Florida Knights. 
The Golden Eagles have won seven in a row while Central Florida is coming in off a loss to Tulsa. 
Where: M.M. Roberts Stadium, Hattiesburg, Mississippi
When: Saturday, November 12, 8:00 PM ET
Watch: CBS Sports Network
Listen: Check here for Central Florida and here for Southern Mississippi. 
Betting Line: Southern Mississippi -9
Key Storyline
Southern Mississippi is in the AP Top 25 for the first time in seven years and they are looking to keep it that way against a Central Florida team that has yet to win on the road this year. 
Who Might Not Play for Central Florida
Khymest Williams (arm), Questionable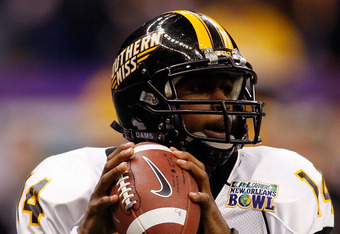 Chris Graythen/Getty Images
Who Might Not Play for Southern Mississippi
Kendrick Hardy (shoulder), Questionable
Thomas Edenfield (leg), Questionable 
BCS/Top 25 Implications
At 4-5, UCF isn't anywhere near the Top 25 polls, but if they manage to win two of their last three they can still make it to a bowl game. 
Southern Mississippi, on the other hand, is 22nd in the BCS Rankings and 25th in the AP Top 25. They have complete control of the C-USA East and look primed to meet up with Houston in the championship. 
What They're Saying
Southern Mississippi head coach Larry Fedora said he expects the UCF defense to challenge his team. Central Florida is giving up just 287 yards per game, the fifth best in the country.
Alan Hinton points out that Southern Miss is an exciting team to watch, as they make lots of big plays.
Central Florida Player to Watch
Jeff Godfrey. The sophomore quarterback does a little bit of everything, as he's thrown for over 1,600 yards and rushed for another 384 (including sacks). He's only thrown for four touchdowns, but he's managed to run in nine. 
Godfrey also loves to spread the ball around, as he's completed at least 20 passes to five different receivers but hasn't completed 30 to any of them.
Southern Miss has been terrific against the pass, so it will be interesting to see if Godfrey can get going through the air. 
Southern Mississippi Player to Watch
Austin Davis. The quarterback on the other side is also quite exciting. Davis is much more of a polished passer, as he's completed 64 percent of his throws for 18 interceptions and eight interceptions. 
He also has the ability to run. Davis has racked up 217 yards, including two touchdowns. 
Key Matchup
Davis and the USM pass attack against Central Florida's pass defense. UCF's defense is giving up a completion rate of just 53 percent and is holding opponents to 5.8 yards per pass. That is 13th and seventh best in the nation, respectively.
If Southern Miss wants to get going at home, they'll need to be able to throw the ball against this stout defense. 
On the Hotseat
George O'Leary. UCF may start getting spoiled as they went 8-5 in 2009 and 11-3 last year, including a bowl win over Georgia.
If they don't make a bowl this year, O'Leary might start sweating a little bit. 
Prediction
UCF 17, Southern Miss 27