Houston Nutt Must Rebuild His Reputation Outside SEC
November 7, 2011
Kevin C. Cox/Getty Images
When it comes to coaching changes, there are some that you can see coming miles away. Houston Nutt's pending departure from Ole Miss is one of these.
The Rebels have regressed mightily in the last two seasons, as they have won just one of their last 14 conference games and are currently burdened by a 2-7 overall record. A move had to be made, and Ole Miss AD Pete Boone announced today that it has been made. Nutt will finish out the rest of the season, at which point his days in Oxford will be over.
"Our goal is to compete for championships, and we are not making progress in that regard," Boone said. "It's time for our team to have new leadership and a new direction."
To further drive this point home, Boone revealed that he will be stepping down as the university's AD within the next year.
Nutt's tenure at Ole Miss will come to an end on Nov. 26 after he and the Rebels wrap up their regular season at Mississippi State. At that point, he will take his millions and walk away. Rick Cleveland of The Clarion-Ledger offers one idea as far as what Nutt could do next: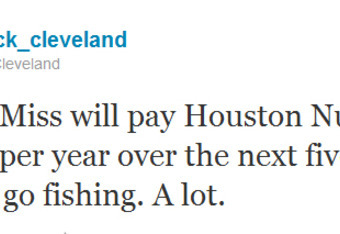 Not a bad idea. But at some point in the near or distant future, I'm going to presume that Nutt will look to find another head coaching job, if for no other reason than to salvage his reputation. Goodness knows it's not what it once was.
Wherever Nutt coaches next, it likely won't be in the SEC. It's the most competitive conference in the nation, and Nutt has done nothing in the last two years to prove that he is capable of keeping up with the pack. And because the pack is getting two new schools with impressive resumes in Missouri and Texas A&M, the competition is going to get even stiffer.
If the other schools in the SEC have any sense, they will shun Nutt.
This would not be a bad thing for Nutt. If he does decide to pursue another coaching gig, he's going to need a change of scenery. No doubt there will be interested parties in other major conferences, but it wouldn't be surprising if he even chose to pursue an opportunity with a smaller, less-heralded football program.
Essentially, Nutt needs to go someplace where he knows he can succeed. Right now, that's anywhere but the SEC. He had his chance, enjoyed some success here and there, but he will not go into the books as one of the conference's great coaches.
If he doesn't want to coach again, well, there's always fishing.
And hey, you wouldn't be able to blame him if that's the path he ends up choosing.