By the Numbers: Comparing Alabama and Oregon's Losses to LSU
November 7, 2011
The "Game of the Century" ended Saturday night in Tuscaloosa in dramatic fashion, as Drew Alleman kicked a 25-yard field goal in overtime. The question now, as we all break down the Week 11 BCS standings, is whether the Tide can meet the Tigers in New Orleans for a rematch?
But, wait a minute. What about that game back in Dallas, TX just a few short months ago between LSU and Oregon?
While the LSU and Oregon game didn't quite make overtime, if you dive into the box scores for both games, it's clear why many on the west coast argue that Oregon played equally as strong against the Tigers as did the Crimson Tide.
Yes, Alabama took LSU into overtime while Oregon lost by thirteen points. But, a factor that many fans are quick to forget is that the "neutral" field in Dallas might as well have been in Baton Rouge if you compare the day's drive from the LSU campus to the half-day air travel for Oregon fans. LSU fans dominated Cowboy Stadium, with the ratio easily reaching 3 to 1.
Oregon is sitting at No. 7 in the BCS, while Alabama is at No. 3. The real question here is: Does Oregon have a valid argument that they should be in the national title conversation?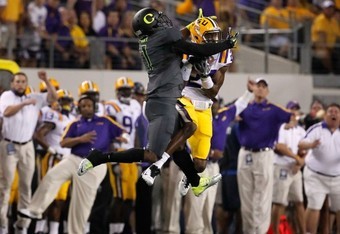 Let's break down some numbers regarding Oregon and Alabama's respective losses to LSU.
Oregon out-gained Alabama in total yards, with the Ducks accumulating 335 total yards, while Alabama gained just 295 yards of total offense. In the passing game, Oregon passed for 240 yards to Alabama's 199. Oregon rushed for 95 yards on the Tigers, while Alabama rushed for 96 yards.
Many in the college football world regard Oregon's brand of football as a lot of offense and not much defense. Many are quick to forget that Oregon's defense stuffed Heisman winner Cam Newton's running ability (he led the SEC in rushing in 2010) in the 2011 BCS Title Game (22 carries for 64 yards, which equates to 2.9 yards a carry) and held his passing game in check (20/34 for 265 yards and one interception).
If you look at each team's run defense against LSU, the numbers are fairly similar. Oregon and Alabama held LSU's offense to 3.6 yards per carry (LSU ran the ball 48 times vs. Oregon for 175 yards, while the Tigers ran the ball 41 times vs. Alabama for 148 yards).
How about turning the ball over? Oregon turned the ball over four times, two of them on special teams and two by the hands of super five-star recruit De'Anthony Thomas, who was playing his first college football snaps (one fumble led directly to a TD for LSU). Alabama turned the ball over twice against the Tigers.
On third down, Alabama converted 38 percent of their conversions against the Tigers' defense, while Oregon was able to convert 47 percent of theirs.
Oregon also had 31 pass completions to just 16 for Alabama.
In terms of defensive effort, LSU's offense gained 239 yards versus Alabama and 273 yards versus Oregon. LSU held the ball for four minutes longer against Oregon than against the Crimson Tide.
A professor in a macroeconomics class in college once told me that you can squeeze and pinch statistics in many shapes to favor your argument. I'm sure many will rebut the stats I've laid out in this article. My only point is that Oregon's crux in its national perception is they have a soft underbelly in their defense, and that their offense sputters against elite defenses. After watching every snap from the LSU and Alabama game, and reviewing Oregon's contest with LSU, I think both teams played the Tigers equally tough.
In my opinion, the difference in the game was the home field advantage that the Crimson Tide enjoyed, while LSU played a virtual home game versus Oregon.
If Oregon knocks off Stanford this coming Saturday night on national TV, with ESPN's Gameday crew on hand, who knows what could happen. If Oklahoma State stubs its toe in the annual Bedlam game, maybe the Crimson Tide slip into the title game in New Orleans? There's lots of football left, however, and that's the only thing certain in this bizarre BCS equation.