Auburn Football 2011: November Begins in Athens, Georgia
November 6, 2011
Jamie Squire/Getty Images
It is time to take a look at what might transpire in the final month of the regular season for the Auburn Tigers. 2011 has been a growing year for Auburn; the team has exceeded the vast majority of preseason prognostications at this point and there are still three games left on the schedule.
Auburn will go to a bowl this season, contrary to the vast number of prognostications to the contrary. This week, Auburn will travel to Athens, Georgia and face the Bulldogs on their home turf. In all likelihood this will be the best team Georgia has faced this season.
These two teams have faced several common opponents this season. A comparison of the average against all of these common opponents should give some insight into the game. First, there is a quick look at the last game for both teams compared.
Statistic

Auburn (v Ole Miss)

Georgia (v New Mexico State)

Rushing Offense

254 yards

258 yards

Passing Offense

160 yards

369 yards

Rushing Defense

162 yards

126 yards

Passing Defense

220 yards

276 yards

Differential

(Total Offense minus Total Defense)

32 yards

225 yards
For those that are more interested in seasonal performance against several common opponents, the following comparison is more useful. These teams have South Carolina, Ole Miss, Mississippi State and Florida as common opponents. These common opponents have spanned the entire season. The following is an average statistical performance against these teams.
| | | |
| --- | --- | --- |
| Statistic | Auburn  | Georgia  |
| Rushing Offense | 223 yards | 184 yards |
| Passing Offense | 135 yards | 211 yards |
| Rushing Defense | 187 yards | 81 yards |
| Pass Defense | 162 yards | 173 yards |
All of these statistics would lead one to believe that Georgia is the much better team in this game. There are some very deceptive nuances in those statistics that are very telling.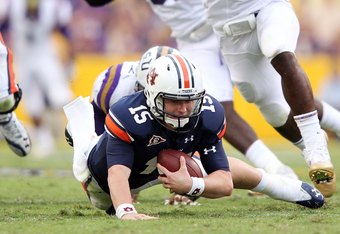 Jamie Squire/Getty Images
The first factor that should be taken into consideration is that Auburn had neither their current starting quarterback nor two most prominent receivers for half of those games. In fact, this will be the first game where Auburn will field a largely healthy receiving unit since very early in the season.
The second factor is very important as well. Georgia switched to a 3-4 defense last season. The 3-4 defense is particularly vulnerable to the option offense and perimeter speed sweeps. Auburn uses both of these rushing attacks on a very consistent basis.  
The third factor is that the Georgia defense is not very deep up front. They have been prone to fatigue and mistakes in games where the overall number of plays they have defended exceeded 65.
Prognostication
Going into this game, Auburn should have moderate success running the football inside and outside. If they have any success with the run, it should set up the play action pass for the multitude of receiving weapons available to the Auburn quarterback.
The Georgia secondary should have problems with speed and depth in their attempt to cover the Auburn passing attack. This could lead to some substantial plays on blown coverage in this game.
Georgia has no answer for Keihl Frazier and his presence will give the Auburn offense a blocking advantage that should be fruitful. Using Mike Dyer in the wildcat set should also be problematic for this Georgia defense.
Auburn matches up favorably along both lines when compared to Georgia. The Auburn offensive line will be the quickest Georgia has faced this season. Auburn should get consistent blocks on the second level of the Georgia defense.
Look for Auburn to pull off the upset in Athens and dash the SEC Championship hopes of this Georgia team.