UCLA Can Beat Arizona State If They Play a Flawless Game
November 5, 2011
Christian Petersen/Getty Images
UCLA football hasn't enjoyed a great deal of success these past few years, but today, the Bruins is in position to set up a tie for the Pac-12 South lead.
Prior to this weekend's games, Arizona State led the Pac-12 South with a conference record of 4-1, followed closely by UCLA and USC, tied at 3-2 apiece.
Though crosstown rival USC thrashed Pac-12 weakling Colorado on Friday to improve their fare to 4-2, UCLA fans can continue to rejoice in the fact that the Trojans are still under NCAA sanctions, thanks to Reggie Bush and Pete Carroll.
That leaves Arizona State.
It's simple, really. If UCLA defeats Arizona State on Saturday, both teams will possess intraconference records of 4-2.
Arizona State is ranked 19th nationally and the Sun Devils look poised to take the conference and advance to a coveted bowl game.
UCLA is not ranked, 4-4 overall and needs to produce some wonderful performances to find themselves in a bowl game—at least USC is still prohibited from bowling this year.
Can UCLA do it? Absolutely.
But it will take a lot of work—flawless work.
For UCLA to even come close to defeating Arizona State, they will have to rely on speed, physicality and—I know, I know—coaching.
Key No. 1: Man Up
Arizona State is a passing team. With an average of 294.5 yards per game through the air in 2011, Airzona State ranks 17th in the nation in passing yards.
The Sun Devils are excellent in running complex routes and picking up yards after catch. UCLA cannot afford to play a great amount of zone defense because Arizona State will find the holes. UCLA's best bet is therefore to matchup man-to-man and do their best to keep up.
Key No. 2: Coach The Team
Head coach Rick Neuheisel has been in the spotlight quite often this season, and not for his positive coaching influence.
Neuheisel has a young group of impressionable men in his locker room and he is in danger of losing their unwavering respect. He has to show something this week that proves he belongs on the sideline because if he doesn't, UCLA cannot hope to win this football game.
Key No. 3: Time to Pass
This key can be broken down into two components: More passing and getting QB Kevin Prince more time in which to pass.
Selecting more pass plays is simply a matter of coaching and coordinating, but Prince will have to be accurate in both location and timing if UCLA is to have a chance to win through the air. Routes will have to be executed flawless and the communication will have to be there. This is vital if UCLA is to win.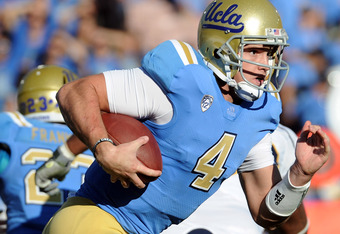 Harry How/Getty Images
Arizona State has some wonderful defenders, such as the giant Brock Osweiler who seems to be everywhere. UCLA's O-Line must find a way to give Prince more time to find the open receiver and more time for those routes to be run. The receivers themselves will have to really create some divots to juke out the Sun Devils defense, so this will be a crucial challenge.
Key No. 4: Kicking into a Corner
Though UCLA punter Jeff Locke hasn't so much as practiced kicking since his injury against California, Locke has proven himself a key talent whose services will be absolutely vital against a better-on-paper school like Arizona State.
Not only is Locke the 14th best punter in the nation in terms of distance, he has an incredible propensity for trapping teams inside their 20-yard line, completing the feat four times against Cal, two of those times backing up the Bears to within their three-yard line.
Locke is key to inducing three-and-outs by virtue of giving the Sun Devils poor field position. Who knows, we might even see a safety if Locke comes out with his A-Game.
Key No. 5: Home
Home field advantage is a real variable to be considered and playing at the Rose Bowl might just be what tips the scales in favor of UCLA late in a close game. They are 3-1 at home this season and might just be able to pull off an improbable upset in front of the Bruin faithful.
Conclusion: UCLA will have to execute
UCLA can win this game, they just can't have the turnovers, the stupid personal foul penalties and make the same mistakes that have marred their season until now.
If Neuheisel is able to rally his troops and coach a great game, UCLA might earn itself a slice of that Pac-12 South pie.