Alabama Football: 7 Bold Crystal Ball Predictions for the LSU Game
Good and Bad things are appearing in the Crystal Ball.
Larry Burton (Syndicated Writer) It's always tough to go out on a limb and make bold predictions about any game, much less when two equally talented teams take to the field.
It's just too easy for things to go either way.
So looking into the crystal ball for guidance, here are the seven bold predictions to look for in the Alabama-LSU game this Saturday at Bryant-Denny Stadium.
Begin Slideshow

»
Sam Greenwood/Getty Images
Kirkpatrick gets burned again, but just once badly.
Les Miles rarely misses seeing someone who struggles early in a game, and that has been Kirkpatrick with amazing regularity this season.
I see Miles going after Kirkpatrick early before he settles into his rhythm, and that gamble will pay off in the first quarter.
But that's the only burn and it's enough to make Kirkpatrick mad, and he shuts down the receivers for most of the rest of the night.
Some offensive star is going to need some medical attention.
Alabama takes out a running back or quarterback, and a trip to the locker room becomes a necessity for the injured LSU Tiger.
The stakes for the game are high and so is the hitting.
In total at least four players in total—some from LSU, some from Alabama—will be helped off the field during this game.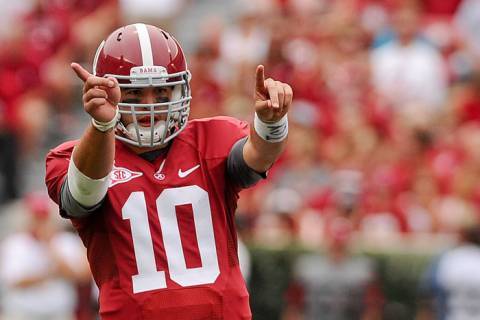 McCarron win the quarterback battle.
People have been saying all week that LSU has the edge at quarterback because of the experience both bring.
But A.J. McCarron will outdo the combined totals of both LSU quarterbacks.
He will be the reason the Tide rolls by keeping them from focusing on just stopping the run.
A non starter gets the fans and team going with a big play.
Oh, the crystal ball was oh so foggy, but I see a man in Crimson who isn't a regular starter making a big play that sparks momentum for Tide.
In a game when all the backups have to play like a star, this one player gets it done.
Saban hits Rock Star status with this win and becomes an even bigger legend.
Just when you thought he couldn't get any more adulation, this win propels Saban in the stratosphere of greatest coaches. In a era of parity that most of the old school coaches never had to deal with, Saban has proven that he can do it all
If Saban had beena guitar player, he'd make Ted Nugent cry.
If he had been a doctor, we'd already have a cure for cancer.
This man just does it better than anyone else, and this game helps cement that reputation.
Will the best running team please step forward?
Through the fog of the crystal ball, I see flashes of Crimson pouring through the LSU defensive lines over and over.
When the game is over, two misconceptions will be laid to rest.
One, that LSU can stop the Alabama rushing attack with that defensive front.
The second is that the LSU rushing attack is unstoppable. Alabama stops it.
A final score of 34-17 came clearly into view.
The last bold vision taken from the Crimson ball, uh, I mean crystal ball, was a final score that far exceeded both Las Vegas' line on the game and even most Alabama fans' hopes and expectations.
The final score of 34-17 shocks everyone but Nick Saban, who will find lots of things to complain about, but I also saw him smile broadly, once he got home, hugged Terry and got her approval of the big win.
(Larry Burton is a syndicated writer whose work appears online and in print. If you'd like to keep up with all his articles, follow him on Twitter and sign up as a fan on his Bio Page.)