Rich Rodriguez Would Put Tulane Football on the Map
October 31, 2011
Rick Dole/Getty Images
College football has quite the coaching carousel. One moment you think that you have a program that is being led by a head coach that is going to take your program to the promise land. Then the next moment your coach is losing and you want that person gone.  
It happened to Mike Stoops at Arizona earlier this year, as he was fired just a couple of weeks ago.  
It more than likely will happen to Houston Nutt at Ole Miss.  
Once the season ends, there will be a handful of coaches that will be looking for employment after they did not live up to their end of the bargain.  
It's why, when Scott Kushner, a Tulane reporter, tweeted out that the University of Tulane, is considering hiring former West Virginia and Michigan head coach, Rich Rodriguez.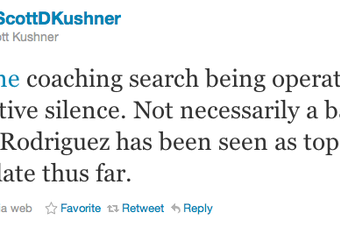 Rodriguez was one of the hottest coaching prospects just a couple of years ago, when he led the University of West Virginia to a 60-26 record in seven seasons, with six bowl games, two of those games being BCS bowls.  
But, what Rodriguez is known for, is the way he performed at the University of Michigan, where he went a disappointing 15-22 in just three years. In those three years, he did improve every year, while setting up this Michigan team for their 7-1 record they have now.  
Rodriguez did get his start with this Tulane program, as in 1997-98 he was the offensive coordinator, before moving onto Clemson.  
It will not be a homecoming, as say a coach coming back to a place that they once played at.  
But, for Rodriguez, if he is able to take over as the head coach of this Tulane program, it will give them an excellent coach, recruiter and offensive mind that the program has never seen.  
Currently, Tulane is sitting through another disappointing year, as they just lost their head coach, Bob Toledo, who resigned on Oct. 18 after a 2-5 start to the year.  
If Tulane is going to make this hire, it will turn around a program that has seen only two winning seasons, in the last 12 years.  
Tulane's best season as a program, was Rodriguez's last year with the Golden Wave, when the team went 12-0. 
Hiring Rodriguez will not bring Tulane back to 12-0 in their first year, maybe not the second year, but come year three and beyond, Rodriguez will have this program among one of the best of the non-BCS schools. 
You can follow me on Twitter as well by clicking follow: Follow @tjmcaloon