Urban Meyer Who? Can Luke Fickell Keep His Job at Ohio State?
October 31, 2011
Kirk Irwin/Getty Images
It was made crystal clear to Luke Fickell that his current gig as Ohio State Head Football coach was only temporary. His current bargain basement contract is only good through January 31st, 2012. Has he done enough to warrant Athletic Director, Gene Smith, and OSU President Gordon Gee making him a full time offer?
Fickell was initially hired on a temporary basis to keep the seat warm for Jim Tressel, but when Tressel's suspension became permanent, OSU gave Fickell the job for the balance of the year.
Starting QB Terelle Pryor, along with four other prominent Buckeye players were given five game suspensions at the start of the 2011 season. Pryor eventually jumped ship and ran to the NFL. An additional suspension to the only experienced receiver, DeVier Posey further complicated the situation. Why would anyone want the job?
In addition, Terelle Pryor's back up at quarterback, Joe Bauserman proved to be ineffective so highly touted and recruited freshman Braxton Miller was thrust into the starting QB role. Miller is a future star who is quick on his feet, but can't throw a pass that anyone can catch, and definitely was not prepared for the rigors of big time college football. 
All this added up to a somewhat less than stellar 3-3 start including losses to Michigan State and Nebraska making the Bucks 0-2 in the Big Ten. Not exactly the type of winning football to which Ohio State fans have become accustomed. The media, as well as the OSU faithful, were counting the days until Urban Meyer or some other big name coach would sweep in and lead them out of the darkness and back to the promise land of prime time TV coverage and BCS Bowls.   
One of Fickell's first acts was convincing his old friend and teammate Mike Vrabel, an NFL veteran, to join the coaching staff and run the defense. Even with young and inexperienced players OSU's defense has performed well.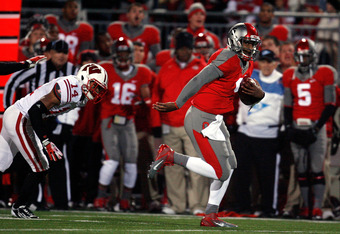 Kirk Irwin/Getty Images
Among all of the commotion, Fickell has ignored the media speculation and has righted the ship.  The Buckeyes have evened their record in the Big Ten at 2-2 and 5-3 overall. Yes, he has looked a bit befuddled and bewildered on the sidelines at times, and there has been some mismanagement of the clock in critical situations, but after wins over Illinois and Wisconsin he has the Buckeyes playing winning football again. There has been definite improvement to the Buckeye offense and Freshman Braxton Miller in particular. 
The remaining four games on the Buckeye schedule include Indiana, Purdue, Penn State and the nemesis from the north, Michigan. If the Bucks can win three of the four and finish 8-4, will that be enough to keep Fickell around?
Ohio State fans should feel very fortunate to eke out an 8-4 season after the tumultuous spring and summer of coaching and player suspensions, as well as, constant pounding in the press. Ohio State was forced to play with inexperienced freshman and sophomores in key slots. 
Coach Fickell has done a more than adequate job in a very undesirable situation.
There are, however, two remaining questions that will need to be answered: can he recruit the top notch high school talent that a school like Ohio State needs to maintain its high standards and can he keep the NCAA police happy and run a spotless program free from future NCAA infractions?