Big 12 Expansion: 2 Reasons to Choose West Virginia over Louisville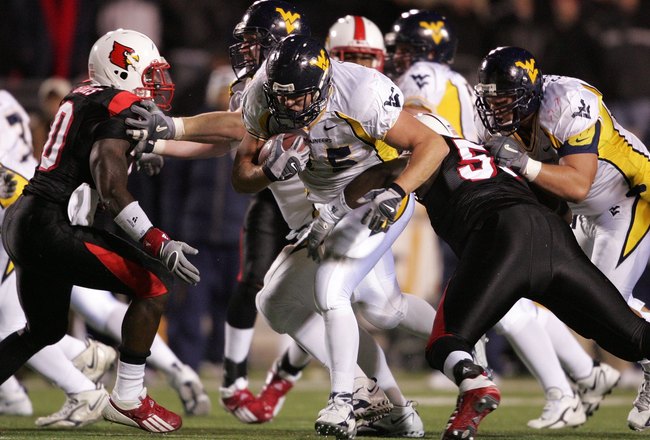 Andy Lyons/Getty Images
As the college football conference realignment continues to play out, there seems to be breaking news every day. First, it's one team that's supposed to go here, and then tomorrow, that team will be rumored to go somewhere completely different.
Yesterday, West Virginia was the frontrunner to join the Big 12 and either replace Missouri (who wants to join the SEC) or become the 11th member of the conference. Now, it appears Louisville is the favorite to join the Big 12 over West Virginia.
Here are the reasons that West Virginia is a better fit over Louisville.

Randy Chambers is a B/R Featured Columnist that covers College Football and the NFL. You can contact him @Randy_Chambers or Randy.Chambers7@yahoo.com

Bleacher Report is your home for college football for the 2011 season. From scores, news, analysis, live blogs and updates on your favorite teams and the big national games every week, keep it on Bleacher Report for the very latest in college football news.
Better Football Program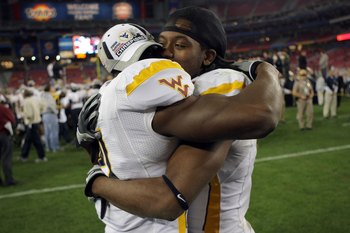 Doug Pensinger/Getty Images
Louisville has been struggling to get its football program back on its feet ever since head coach Bobby Petrino left. Since 2007, they've only won one bowl game, and that was the only bowl game they've played in since that year.
West Virginia had a better football program then and has a better program now. Since 2005, the Mountaineers have won more bowl games than the Louisville Cardinals have even participated in.
The Mountaineers have also won two BCS bowl games compared to Louisville's one.
Let's also remember that West Virginia has been ranked every year since 2002, while Louisville hasn't been ranked since 2007.
West Virginia is by far the better football program, and at the end of the day, that's all that really matters.
Better Fanbase
Jared Wickerham/Getty Images
The fans in this picture may not be a good example of West Virginia fans, but the fans in Morgantown get crazy.
West Virginia draws a much bigger crowd and has a stadium that holds 5,000 more fans than Louisville's does. The Mountaineers have a huge fanbase and a strong following that could be compared to any in all of college football.
The West Virginia fanbase and stadium is as good as it gets and will fit in well in the Big 12. Louisville, not so much.
Keep Reading