Upset Watch: 3 Keys for Purdue to Upset Michigan Saturday
October 26, 2011
Justin K. Aller/Getty Images
Quickly looking over this weekend's games, there doesn't seem to be any trendy upset picks. Odds are Ohio State doesn't have the offense to hang with Wisconsin, Illinois has too much Zook to hang with Penn State and Minnesota is just Minnesota—beating the spread would be considered an upset at this point.
However, there is one Big Ten matchup that could fall in the underdog's favor, and it happens at noon in Ann Arbor, Michigan.
Purdue pays a visit to Brady Hoke's Wolverines this Saturday. The way the Boilermakers are playing, it could be a bad day for the home team.  This is the same Purdue team that won two straight in 2008 and 2009—including the first Purdue win in the Big House since the '60s.
Michigan has been a front runner for most of the season while Purdue has been an afterthought. But there are three keys to the game that could push Purdue over the top in this one. 
Rush Offense
The Michigan defensive revival of 2011 has been startlingly quick.  Michigan had one of the worst defenses of any BCS conference team last fall. Under the tutelage of new defensive coordinator Greg Mattison, the Michigan total defense rank is now 36th nationally.
The scoring defense is amazingly in the top 10, allowing just 15 points per game (eighth in the nation).
While the defensive turnaround of the past year has been nothing short of amazing, it has also been short of complete.  Michigan's rush defense has not kept up with the vast improvements across the board.
Michigan stands at 62nd in the nation allowing 153 yards per game—an improvement of some 30 yards and 30 places in the rank (95th, 188 YPG in 2010).  
The lag in the numbers is due in part to an underperforming front seven.  The Wolverines are 101st in tackles for loss, averaging less than five per game.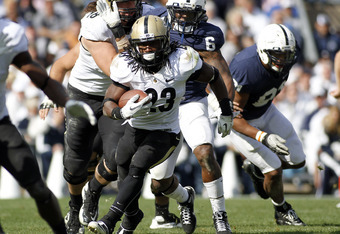 Justin K. Aller/Getty Images
This singular weakness on defense could be a big issue against a team that is focused on the run.  Purdue currently ranks 26th in the nation in rush defense with an average of 195 yards per game.
They're rushing the ball on 57 percent of their possessions.  Against Penn State, a team only allowing around 100 yards per game, Purdue was able to run for 162 yards at almost five yards per carry.
Furthermore, Purdue doesn't rely on just one weapon.  Four Purdue players are over 140 yards rushing and two are over 300 yards.  While the Boilermakers don't have a go-to guy, they have shown the ability and willingness to run with everyone.
Purdue should have some success on the ground against the Michigan front seven.  How much success Purdue has will go a long way determining who wins and who loses.
Pass Defense
It is no secret that Michigan has struggled passing the ball this year.  Even in Denard Robinson's two best games (Notre Dame and Northwestern), the quarterback threw for better than 300 yards but also three interceptions.
For the year, Robinson has thrown 10 interceptions to 11 touchdowns. Michigan hasn't even relied on Robinson to shoulder all the passing load.  In recent games, backup Devin Gardner has come in on some passing downs while moving Robinson to different positions on the field.
All of this has combined to really hurt Michigan's overall passing numbers.  This year Michigan is 81st in pass offense with 212 yards per game, and just 46th in pass efficiency rating.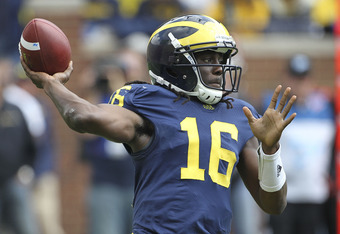 Leon Halip/Getty Images
On the other side of the ball, Purdue is having a good year defending the pass.  Purdue ranks 27th in the nation in pass efficiency defense and 38th overall in pass yards allowed.  
The Boilermakers have five interceptions on the year and three of them were by Ricardo Allen. What's more, Purdue has only given up seven touchdowns through the air and other teams are completing just 56 percent of their passes on Purdue.
If Purdue can make life hard on Denard Robinson in the passing game it will be possible to force turnovers and turn the Wolverines into a one-dimensional offense.
Special Teams
Perhaps the one area of the team that was in more disarray than the defense a year ago was the special teams unit.  
Michigan was so bad at kicking field goals that the team all but abandoned even trying field goals midway through the 2010 season.  Kickoffs routinely went out of bounds and returners had a nasty habit of fumbling.
While the Michigan special teams units have seen an improvement this year, Purdue holds a significant advantage.
In the punt game, Michigan is a very poor 112th nationally in net punting—most of which can be attributed to the starting punter missing four games with a suspension.  On the other hand, Purdue is currently fourth in net punting.
While both teams currently rank in the 50s for punt returns, Purdue will have a prime opportunity to win the field position battle in the punting game. Another way for Purdue to gain an advantage is in kickoff returns.  Purdue is averaging seven more yards per kick return than Michigan.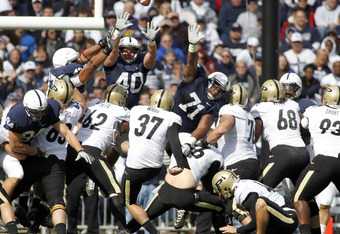 Justin K. Aller/Getty Images
Between the advantage Purdue can gain in field position from the kicking game and the untested nature of Michigan's field goal kicker, the Boilermakers will have plenty of opportunities to turn the tables on Saturday.
There are legitimate reasons that Michigan is favored in this game.  The Wolverines are 6-1, playing above average defense and are led on offense by one of the most dangerous players in college football.
However, no game is a guarantee. If Purdue takes advantage of a few of Michigan's weaknesses, there isn't any reason the Boilermakers can't push their winning streak in Ann Arbor to two.