BCS Rankings: Why Wisconsin Got Screwed in Week 9 Standings
October 24, 2011
Mark Cunningham/Getty Images
The Wisconsin Badgers lost in dramatic fashion Saturday night and I believe they were punished too severely in the season's second BCS poll.
In case you somehow missed it, Wisconsin lost to Michigan State 37-31 after Spartans QB Kirk Cousins converted a miracle Hail Mary pass as time expired. 
Wisconsin plummeted in the standings after their loss, dropping from No. 6 to No. 15. This drop-off is a bit excessive given the nature of the loss and the Badgers' prior success.
Simply put, the Badgers got screwed over by the computer rankings.
How They Lost
How a team lost doesn't factor into the computers' decision-making, so it's easy to see why Wisconsin was unjustly punished.
The computers can't tell that the second quarter was the most disastrous and uncharacteristic 15 minutes of the Badgers' season.
The computers can't tell that they made a 14-point comeback in the fourth quarter, tying the game up with 1:26 left.
And the computers can't tell that Wisconsin lost because of a fluke Hail Mary pass that was batted around before eventually being caught.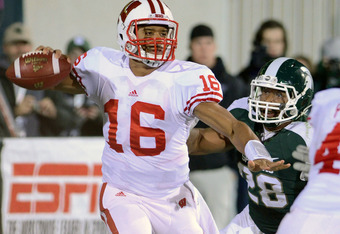 Mark Cunningham/Getty Images
Who They Lost To
If the Badgers had stumbled against someone like UNLV or South Dakota, this drop-off would be completely justified.
But they lost to a quality Michigan State team, who are now ranked 11th overall. Given how evenly matched they were, Wisconsin shouldn't be four spots lower than the Spartans.
Prior Success
Even with the loss, Wisconsin is still fifth in the nation in points per game (47.4), sixth in points allowed per game (13.6) and eighth in rushing yards per game (252.1).
There are definitely not 14 teams in college football that are better than the Badgers.
The biggest travesty in all of this is that Wisconsin is ranked behind Nebraska. The two teams have identical 6-1 records, and the Badgers destroyed the Cornhuskers 48-17 earlier this season.
In every BCS poll, one team gets shafted by the system. This week, it was the Wisconsin Badgers.