Tennessee Vols Football: Report Card Grades Following the Alabama Game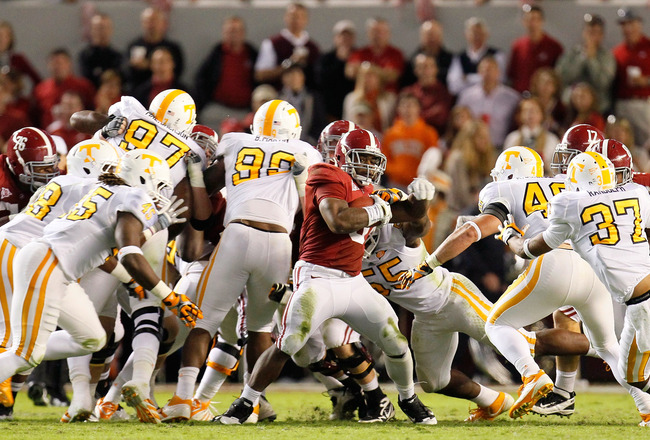 Kevin C. Cox/Getty Images
Grading this outmanned Tennessee team is getting harder and harder every week. It's almost as if you have to grade on a curve to account for the amazing lack of depth and the overwhelming abundance of youth on this team.
Comparatively speaking, certain parts of this team are actually performing well enough for the Vols to win on a regular basis if it weren't for the gigantic holes that almost always show up in the third quarter.
The tale of the tape from the Saturday night massacre in Tuscaloosa may not be as bad as you think. But there's no doubting that some key aspects of this team will keep it from winning any kind of big game in the near future.
Quarterback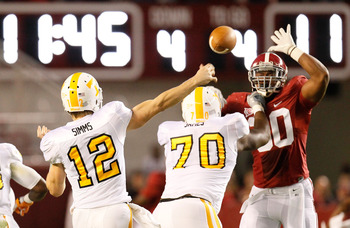 Kevin C. Cox/Getty Images
Grade: D
Yeah, Matt Simms performed well enough to move the chains a couple of times in the first half. And yes, you have to admire the toughness he continually shows by bouncing right back up after an NFL-caliber tackler knocks him into next week.
But there's no debate between Simms' ability and that of Tyler Bray. Simms holds onto the ball way too long, takes too many sacks and routinely throws into coverage. Not to mention his inability to find the largest target on the field in tight end Mychal Rivera.
Simms was pulled in favor of presumed 2011 redshirt Justin Worley late in the fourth quarter after the game had already been decided.
Nothing official has been announced, but we might see Worley as the new starter until Bray is back.
It's hard to believe Dooley would burn a redshirt for a kid to hand-off a couple of times in a 37-6 game.
Running Back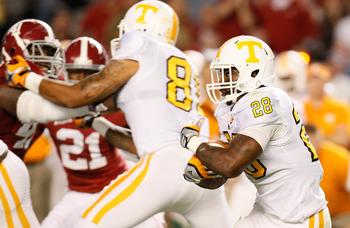 Kevin C. Cox/Getty Images
Grade: B+
Tauren Poole is showing the fans and media who doubted him a thing or two about his ability. Poole was the only positive aspect of the Vols offense against the mighty Crimson Tide offense.
The senior ran for 67 yards on 19 carries to post 137 yards in two weeks against two of the best teams in the country at stopping the run.
Dooley probably should have stuck with Poole more in the second half, but Alabama limited the Vols opportunities offense greatly once the team woke up.
Wide Receiver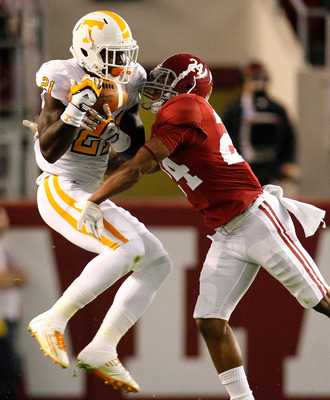 Kevin C. Cox/Getty Images
Grade: C
There wasn't much to grade about the wide receivers. Only one true receiver, Da'Rick Rogers, caught a pass Saturday, and tight end Mychal Rivera was miraculously found once for a 13-yard reception.
Rogers continues to prove he has star potential as one of the strongest receivers in the league.
Offensive Line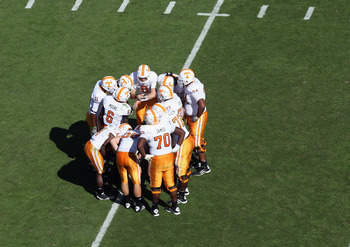 Streeter Lecka/Getty Images
Grade: C
The Vols improvement in the running game is largely due to the offensive line playing a more physical brand of football. Sure, plenty of credit goes to a senior quarterback who understands defensive looks a little better as well, but it's up to the big boys up front to deliver.
There were no issues with the center/quarterback exchange for the first time in weeks thanks to Alex Bullard being moved to the position. There were a few false starts, and Alabama ended up with a couple of sacks and a handful of hurries, but the O-line did a pretty good job limiting the damage against the best defense in the country.
Defensive Line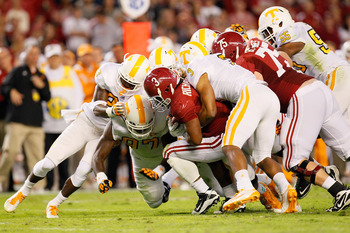 Kevin C. Cox/Getty Images
Grade: C+
Anchored by future NFL draft pick Malik Jackson, Tennessee's defensive line is improving. It obviously needs depth in the worst way, but early on, this group did an excellent job of holding Trent Richardson in check.
Repeated encounters with a guy who runs a 4.4-40 and benches 400 pounds eventually wore the front line down, but Jackson, Mo Couch and Marlon Walls all had at least one tackle for loss on the evening.
Jackson had a sack and a tackle for loss.
Linebacker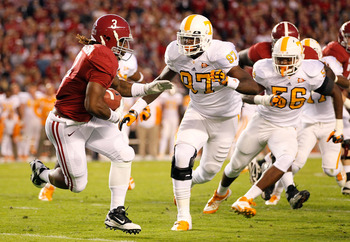 Kevin C. Cox/Getty Images
Grade: C+
Get used to seeing AJ Johnson's name at the top of the tackles list. This kid is one of the best defenders on Tennessee's young defense, and he gets after it every single down.
Curt Maggitt had a tackle for loss, but he got lost on a couple of plays.
Senior Austin Johnson caught the first Tennessee interception since the Montana game.
Secondary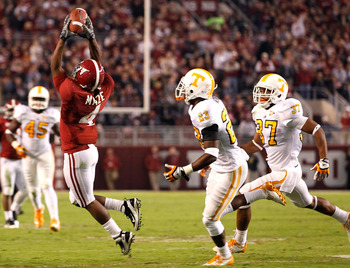 Kevin C. Cox/Getty Images
Grade: D-
This unit continues to regress. Marsalis Teague was beat deep for the third straight game, and Alabama receiver Kenny Bell got behind everybody with little problem on the play of the game when the Tide scored on the first play after a Vols failed fourth down attempt to go up 20-6.
'Bama quarterback AJ McCarron was 17-of-26 for a season high 284 yards against the Vols.
Special Teams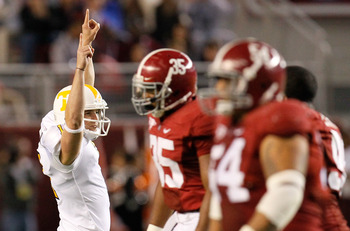 Kevin C. Cox/Getty Images
Grade: A
Outside of Tauren Poole and the Vols running game, Tennessee's special teams is the most improved unit from the beginning of the season.
Michael Palardy did it all on Saturday. The sophomore kicker got a need confidence boost with two field goals, one of which was a 52-yarder. Palardy averaged 40 yards per punt on five punts. His fake punt pass attempt was completed to extend a Vols offensive drive in the first half.
Coaching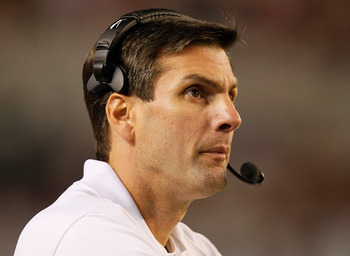 Kevin C. Cox/Getty Images
Grade: C
You have to admire Dooley's risk-taking on fourth down attempts and the fake punt. You're playing the No. 2 team in the nation as a 30-point underdog. Leave it all out on the table. Dooley did just that.
It would have been preferable to see Poole running more in the second half, but Alabama was going to stop Tennessee at some point anyway. Top ranked teams eventually figure it out against 30-point underdogs.
Dooley has caught some heat for burning Justin Worley's redshirt to put him in a game to handoff with less than 10 minutes remaining, but it's highly likely Worley will be used plenty down the stretch until Bray is healthy enough to return.
Contrary to popular opinion following the game, the Vols did not lack intensity coming out for the second half. The Vols first drive went three and out, and Alabama finally realized who the No. 2 team in the nation actually was. After the failed fourth down attempt on the next Vols drive, that was all she wrote.
Once the Vols depth improves, the third quarter issues will probably dissipate.
Overall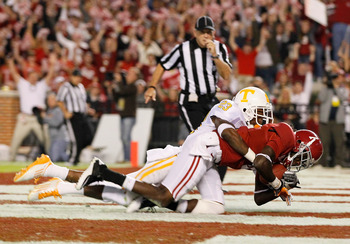 Kevin C. Cox/Getty Images
Grade: C-
What did you expect from a 3-3 team full of freshmen and sophomores at the No. 2 team in the country? You really shouldn't have expected much from them to begin with, but the first half fooled the Vols faithful into thinking Tennessee actually had a shot in this game.
News flash: It didn't.
Yes, the Vols' third quarter issues are maddening, but there's not really much the Vols can do about it against incredibly talented SEC teams.
The good news is, the Vols will not play a No.1 or No. 2 team again this season. It will face a top ten team in Arkansas in a few weeks, but the toughest two-game stretch for Tennessee is now over with. Luckily, not one Vol was maimed in the process.
Keep Reading

Tennessee Volunteers Football: Like this team?