Alabama vs. LSU: Why This Is the Premiere Game of the NCAA Football Season
October 22, 2011
Kevin C. Cox/Getty Images
LSU and Alabama are the nation's unanimous top two, regardless of how many AP poll votes would like to prove the contrary.
The nation has made up their mind via Twitterverse and spoken high volumes as to how important this matchup means to college football. There are many reasons the game is being so hyped up, and here are a few.
Tyrann Mathieu For Heisman
This idea is far-fetched, especially due to the flattering play of a handful of unbeaten quarterbacks and a college running back in a bear's body.
But it sounds nice.
He would be the second ever defensive player to win a Heisman at a position that is so undervalued in both amateur and professional leagues.
Mathieu makes people pay attention to him with his speed, vision, agility and instincts. Not to mention his platinum blond-colored hair and occasional menacing stare at the cameras.
LSU's star defensive back may not be the guy you want to catch after a loss, but he is definitely the man you want in your secondary to win.
Like I said, it would be pretty cool if Mathieu were to win the Heisman. Apparently, the free world feels so as well. Have you seen the Honey Badger paraphernalia?
Trent Richardson : Heisman Front-runner
Running backs have kind of become the second option in football. The sport is so overcrowded with statuesque, stats-don't-lie receivers that backs are just ways for teams to function properly in 3rd-and-short situations.
Obviously, many teams do not have Trent Richardson on their roster.
Richardson is the epitome of a power back that should be drafted in the first round for three reasons.
He has a first and second gauge scale of speed. When the ball is first handed off, he takes his time and allows his blocks to develop.
This level of confidence in his own burst of speed and precision usually results in Richardson finding a hole in the defense or sprinting to the outside for the first down.
He can change direction immediately without losing his balance, and his ability to switch gears makes tacklers miss.
Space-runners are succeeding exceptionally well in the present-day NFL.
Take backs like Darren Sproles and Jahvid Best, for instance. Both are incredibly dangerous in open space and have contributed mightily to their teams' success.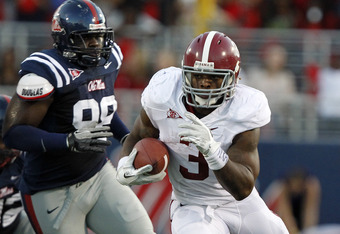 Butch Dill/Getty Images
Sproles has adequately filled the void Reggie Bush failed to fill himself, and Best worked his way into an offense that was in dire need of rushing yards.
Richardson's vision on the field allows him to find breaks in the defense, and in open space the Alabama back is dangerous beyond all others.
Alabama's success relies heavily on how Richardson performs. High-impact players are always the first scouted and graded for the draft, and Richardson's importance to Alabama's total offense is undeniable.
He is responsible for 15 of Alabama's 36 touchdowns this season.
Richardson behaves like a one-man wrecking crew and defenses cannot prepare for him. No matter how long Alabama continues to use him as their street sweeper, opponents do not have a front line strong enough to stop him initially or safeties that can break his second-hand strides.
Morris Claibourne and Courtney Upshaw
When talking about LSU, there are probably two players that strike the casual football fan's mind. Those two names are Tyrann Mathieu and Jordan Jefferson.
I hate to keep mentioning his name (I'd much rather refer to him by his famed nickname), but both of these young men have become the faces of an amateur franchise.
What everyone needs to recognize is that there is another influential player on this squad from the defensive side.
Claibourne is the most effective corner in next year's draft class, ahead of Oregon's Cliff Harris. There was a play in the Tennessee game where Tyler Bray's backup, Matt Simms, threw a pass to Rajion Neal for 38 yards and a first down.
Neal was covered by Mathieu, who also went up for the pass but could not get a finger on it. Simms and the coaching staff began feeling a swing of momentum as well, because on the very next play, the backup QB attempted another long pass that was subsequently intercepted by Claibourne.
Lesson learned.
After you escape the jaws of a beast, it is unfair to your well-being to continue to poke at it. Sooner or later, you get bitten.
Claibourne's bite was worth a return of 89 yards to Tennessee's 5-yard line as the quarter closed. There is no such thing as momentum when playing against Claibourne. You might burn him or a teammate once, but do not expect it to happen twice.
And back-to-back is even more unlikely.
His numbers may have decreased, but that should be attributed as one of his strengths. Quarterbacks are avoiding passing to anyone he is covering consistently and his statistics suffer as a result.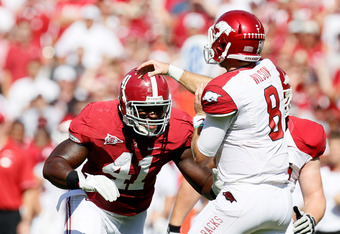 Kevin C. Cox/Getty Images
But, his ability to lock down receivers as well as get into the lane and defend the pass propels him in LSU's defense.
On the flip side, Alabama's defense is a force. But Courtney Upshaw stands strong as the lining in the belly of the beast.
Upshaw has enjoyed two SEC Outstanding Performances—in Week 3 versus North Texas and in Week 5 against Florida.
Upshaw's ability to force quarterback hurries is what is most impressive. He created three alone against North Texas.
He is great at reading plays as they develop and adjusting his approach effectively. His burst surprises most blockers.
With his versatility at outside linebacker, Upshaw could be a high first round pick in the 2012 NFL draft.
But for now, he is lethal for any QB at the line of scrimmage.
Dre Kirkpatrick vs. Rueben Randle
Kirkpatrick credits the emergence of Alabama's secondary to the fact they all have confidence in each other and are able to focus on their own assignments.
Maybe it is simply Kirkpatrick coming into his own. He has helped Alabama shut down teams' passing games and continues to force the issue.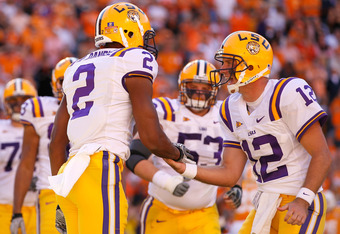 Kevin C. Cox/Getty Images
Alabama leads the FBS in total defense, three spots ahead of conference rivals LSU. They are holding opponents to a measly 4.54 yards per play.
Kirkpatrick? He is going to make his money by being a more physical corner and finishing open field tackles. This is a problem corners experience at all levels of the game.
The speed and agility may be there, but if the DB is unable to finish the tackle in open space, a receiver's quickness can immediately take advantage of the mismatch and result in extra yardage. 
Kirkpatrick is allowed solace at his position because of the talented players running beside him, but there is no doubt he is the standout.
He will have his hands full with LSU's go-to receiver, Rueben Randle.
Randle's comeuppance in such short time is impeccable, to say the least. With a little over half the season down the drain (excuse the Debbie Dower metaphor), Randle is on pace to bypass last season's statistics by the end of Saturday's contest against Auburn.
LSU is dominated by rushers Spencer Ware, Alfred Blue and Michael Ford. But when the ball is thrown deep, Randle is usually on the receiving end.
He does not have to have the most stellar receiving season in college football to make an impact on LSU's offense. Being as involved as he is forces defenses to alternate approaches and affects how LSU is defended. 
While defenses attempt to close gaps and dare Jefferson or Jarrett Lee to throw, Randle is halfway down the field with man coverage. Opposing sidelines can only hope LSU's quarterbacks have an off day.
The matchup between Kirkpatrick and Randle will be an aggressive one. Randle's ability to get into open space to make the big catch will be heavily challenged by Kirkpatrick's ability to get into the open field and defend the pass.
Article Featured On LeagueJunkie.com
Follow Klaibourne on Twitter @nyhlaablack