Maryland vs. Florida State: Live Score, Highlights and Analysis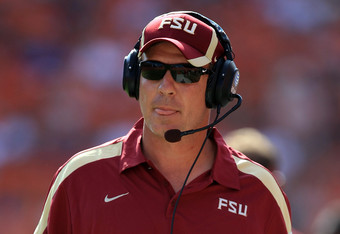 Jimbo Fisher and the 'Noles return to Doak Campbell Stadium for the first time in over a month to host the Maryland Terrapins on Saturday
Streeter Lecka/Getty Images
Maryland 16, Florida State 41, Final
Maryland will try to shake off their heartbreaking loss to Clemson by traveling to face Florida State in an ACC Atlantic division contest.
The Seminoles ended a three-game losing streak by dismantling Duke 41-16 to even their record at 3-3.
The Terps jumped all over Atlantic pole-sitting Tigers last weekend, leading by 18 points in the third quarter before Clemson mounted a furious rally to keep their dream season alive.
Meanwhile, the Seminoles got back on the winning track in their rout of the Blue Devils, by finally mounting a rushing attack for what seemed like the first time this season with true freshman running back Devonta Freeman becoming the first Seminole to top the century mark this season.
Both teams come into this game without several key starters due to injury.
Maryland's linebacker and offensive line units, in particular, have been ravaged with injuries.
Florida State is hoping to get leading receiver Rashad Greene back from an ankle injury, but they will be without the services of several linemen on both sides of the ball.
Can the Seminoles slow down the Terps' lethal rushing attack spearheaded by RB Davin Meggett and QB C.J. Brown?
Can Maryland win in Tallahassee for the first time in school history?
This matchup between the Terps and 'Noles is set to get underway at 3:30 EST.
Stay tuned to this blog for updates live from Doak Campbell Stadium!
Devonta Freeman puts the exclamation point on this game with a long TD run.
The 'Noles notch their sixth sack of the game on a 3rd and 2, which forces the Terps to a three and out and a punt.
FSU is firmly in control with possession and a 17 point lead.
Heading down to the field now to take in the last part of the game, before Coach Fisher's post-game presser.
Maryland does indeed punt, and FSU takes over on its own 31-yard line.
FSU may try to milk some clock by running the ball this drive.
As I say that, they run the ball out of the shotgun two straight plays with Freeman that gets them to midfield.
A new wrinkle for FSU as they line up Thomas and Freeman in the shotgun flanking Manuel on each side.
They keep it on the ground for the next three plays before calling timeout to talk about a 3rd and 2 from the Maryland 35-yard line.
Wow.
What looked like a false start turned out to be another timeout called by FSU.
It would be quite comical if FSU doesn't convert this play.
But Thomas gets five on a run up the middle, which I'm sure was precisely planned.
Thomas looks like he's hungry to regain his starting job back, as he bursts for 25 more yards to set the 'Noles up with a first and goal at the 5.
FSU can put the game away here with a TD.
A false start on 2nd and goal will not help their cause.
FSU's execution on these plays has not been a pretty picture.
Manuel misfires on 3rd and goal, and Maryland holds for a FG attempt, which Hopkins boots through from 24 yards out.
A TD would have been the clincher, but the FG puts the 'Noles up three possessions and that should be enough with just over 10 minutes left to play.
FSU gets a great return to their own 45-yard line to start their next drive.
Two quick incompletions and a sack of Manuel on 3rd down results in a three and out, with the Terps having a chance to seize momentum with a score.
After a first down, FSU CB Xavier Rhodes makes a great open-field tackle to force a 4th and 5 on the Maryland 36.
FSU should be leery of the fake on this fourth down play, which will be the opening play of the fourth quarter.
O'Brien is still the man under center for the Terps, as they must try and answer if they are going to remain in the game.
FSU's defense has done a great job halting the Maryland ground game.
This is danger time for Maryland.
A converted third and short gets wiped away with a holding penalty and the crowd is roaring on top of O'Brien, but the 'Noles give them back five yards by jumping offsides.
O'Brien somehow completes a bomb to Quinton McCree, who outfought Reid for a jump ball, and the Terps have a first and goal at the five.
The next play, the Terps fumble but somehow recover it after what seemed like minutes the ball was loose for.
O'Brien executes a nice fake on a zone read play, and keeps it for a five-yard TD run.
Doak Campbell Stadium got quiet in a hurry.
The drive took four minutes off the clock, going six plays in 80 yards and the Terps are hanging around.
After a false start penalty, O'Brien tests FSU CB Greg Reid on deep balls on consecutive plays, but Reid played both well.
Then he hits WR Quinton McCree on a 10-yard pass that Reid dove and missed picking off, then McCree drags a few 'Noles until he gets a first down.
O'Brien hits McCree for 15 more yards and the Terps are driving, now in FSU territory.
O'Brien threatens FSU more in the passing game, which looks like a better way to try and attack their defense.
FSU peppers O'Brien with an all-out blitz that results in an intentional grounding penalty that loses 20 yards and forces them to punt.
FSU takes over at their own 28-yard line.
The Seminoles running game has gone missing once again, as most of their damage has come off the arm of Manuel.
Kenny Shaw makes an acrobatic catch on a deflected pass on a slant route, and the 'Noles are driving.
Jermaine Thomas reappears with a 35-yard touchdown run that looked like he was shot out of a cannon, and the 'Noles go up 24-3.
The 'Noles strike quickly going 72 yards in five plays and the drive took less than two minutes.
Announced attendance at today's game is 72,697.
That would leave about 10,000 empty seats here at Doak Campbell Stadium.
FSU DE Bjoern Werner sacks C.J. Brown, and the 'Noles front four continue to harass the Terps QB.
On 3rd and long, Brown scrambles and gets obliterated by FSU LB Nigel Bradham, which results in a personal foul penalty that gives the Terps a first down.
But Brown is still down from a vicious hit.
The hit got oohs and ahhs from the crowd, but it is exactly the type of undisciplined penalty that has plagued the 'Noles this season.
Maryland will have a first down at their own 35 when play resumes.
Brown walks off under his own power, and this should signal the return of Danny O'Brien as the Maryland QB, at least temporarily.
Maryland quickly goes three and out after a short return.
Ferrara gets a nice high punt off that Reid is unable to do anything with, and FSU will begin its first possession of the second half at its own 35-yard line.
Another item of note: FSU true freshman Rashad Greene, their leading WR coming into this game, has not made an appearance today.
He's nursing an ankle injury suffered late in the Wake Forest game, and he missed last week's win over Duke.
FSU begins their drive with a false start penalty.
Maryland stops FSU on a 3rd and 5 to force a punt and the two teams begin the second half by trading three and outs.
Maryland will take possession at their own 20.
Some halftime observations:
Florida State's offense came out on fire with two quick touchdowns.
Maryland struggled to get any kind of rhythm going due to an aggressive FSU defense, and terrible field position for the most part of the first half.
However, Florida State blew several chances to extend their lead to 21 points, which would have forced Maryland to climb out of a huge hole.
Now, if the Terps can score with their first possession in the second half, they are right back in the game.
This game feels like FSU should be ahead by 21 points or better.
Florida State is still in control of this game, but the Terps are slyly hanging around trying to get into the fourth quarter within striking distance.
The FSU defense, aside from their last possession, was ferocious.
Maryland's defense recovered nicely from a horrific start.
EJ Manuel went 14-of-19 for 226 yards with 2 touchdowns (1 rushing) and one interception, but he was sacked three times.
Hopkins boots a touchback, and Maryland starts from their own 20-yard line.
Brown gets the Terps moving in their two-minute offense.
After a pair of first downs, a holding call puts them back at their own 32-yard line.
Brown hits TE Matt Furstenburg for a 23-yard gain to get into 'Noles territory, and then fires a 12-yard pass to WR Marcus Leak.
After a short run, they are setup with a 2nd and 9 at the FSU 32-yard line with a 22 seconds left until halftime.
After a Meggett run gets them to the 20, Brown hits Leak for 10 and the Terps will attempt to get on the board before half with a chip shot FG attempt.
FSU's defense played very soft that series and the Terps took advantage.
Reid blocks the attempt, but was blatantly offsides.
The rare FG attempt with no time on the clock goes through for Ferrara and the 'Noles will take a 17-3 lead into the break.
Terps will have the ball to start the second half.
After a 25-yard flare route to Jermaine Thomas put FSU into Maryland territory, the Terps sacked Manuel to push them back on their side of the field.
On a 3rd and 14 from midfield, Manuel throws a beautiful strike to Bert Reed that the speedy WR takes 31 yards into the red zone.
Maryland stays home a naked bootleg play, and sacks Manuel to force a 3rd and 19 from the Maryland 27.
Manuel avoids pressure on 3rd down, but can only manage to scramble for seven yards to force a FG attempt.
Hopkins atones for his earlier miss by knocking one in from 38 yards out to put FSU up 17-0 just a few minutes before halftime.
Maryland starts their first possession of the second quarter on their own 20-yard line.
FSU is not fooled on a rollout play, and LB Telvin Smith made a great play streaking in to sack Brown for the 'Noles third sack of the game.
FSU jumps offside on 3rd and 20 after a short Maryland completion, which gives the Terps another crack at it with a 3rd and 15 from their own 25.
FSU stays at home on an option play and forces Maryland to punt.
Nick Ferrara, Maryland's punter, shanks one that only travels 14 yards and FSU takes over on Maryland's side of the field at the 43-yard line.
Maryland's Dexter McDougle picks off Manuel on the Maryland 5-yard line, and the Terps have hung around after being dangerously close to being down for the count.
Manuel underthrew the pass, and McDougle did a great job of gaining leveraging his body to make the play.
Maryland gets one first down before being forced to punt.
Reid calls for a clear fair catch, and yet FSU still gets flagged for holding.
Go figure.
The 'Noles will begin their drive at their own 28-yard line.
Florida State looked impressive on both sides of the ball in the first quarter.
Greg Reid returns the punt for a TD, but the officials blow the play dead saying Reid made an illegal fair catch motion.
The ball was bouncing and Reid moved his arms in a sideways motion to get his guys away from it.
This looks like a terrible call by the referees point blank period.
The crowd is in a frenzy.
Manuel hits Rodney Smith for a 31-yard gain into Maryland territory, and then gets apparently horse-collared, but no call.
Jimbo Fisher, in a rather hilarious scene, runs full sprint to get in the referee's grill for two straight bad calls on the 'Noles.
Manuel gets sacked, but recovers to convert a third down on a nice toss to Freeman out of the backfield.
Freeman draws a late-hit personal foul call, much to the delight of the crowd, which puts FSU in the red zone at the 19-yard line.
On a 3rd and 6 from the Maryland 15-yard line, Manuel hits Rodney Smith in the end zone, but his foot was out of bounds.
Then Dustin Hopkins, who hasn't missed a kick all season long, hooks a 32-yarder for his first miss and FSU gets nothing out of the drive.
If Maryland can mount a drive here and make this a game, remember this sequence.
I'm sure it is already burning in the back of Seminoles fans' minds.
FSU's defense has turned up the heat since the first drive.
After a Maryland first down, the 'Noles force a 3rd and long and sack Brown again.
DE Brandon Jenkins was a terror off the edge on that series.
The second quarter will begin with Maryland punting from their own 40-yard line.
Maryland starts their second possession on their own 24-yard line.
FSU's defense is swarming on Maryland's short passing attempts.
Their DL is wreaking havoc, as DE Brandon Jenkins sacks Brown on 3rd and 7.
A three and out has Maryland on the ropes.
Greg Reid calls for a fair catch at the FSU 30-yard line.
The 'Noles offense can deliver a knockout blow with a touchdown on this drive.
They begin with a false start penalty and a dropped pass to a wide open tailback in the flats.
A crucial 3rd and 11 for Maryland to get a stop here.
After a Terps DE jumps offsides, the 'Noles allow him to go back then Manuel proceeds to get sacked.
Maryland returns the punt to their own 35, and they clearly dodged a huge bullet.
With Maryland still playing off the receivers, Manuel keeps throwing hitches to the wide side of the field, and hits Rodney Smith for 14 to get them out of a hole.
Manuel just doesn't look comfortable running the zone read.
It seems like he needs an extra second to make a decision.
Christian Green is a nice looking receiver for FSU.
He's a big target, who has some wiggle to him, evidenced by the big gainers he continues to pop on short swing routes.
Manuel seems to be most comfortable on the move, and he does a nice job eluding pressure to scramble into Terps territory.
The 'Noles offense is in a nice rhythm and they are moving the ball with very little resistance from the Terps.
Manuel hits Kenny Shaw for a 26-yard touchdown strike and FSU has come out firing on all cylinders.
The FSU receiving unit is impressive in person, with Manuel hitting four different targets already.
FSU went 90 yards on 8 plays in a little over three and a half minutes.
Maryland begins their first drive at their own 19-yard line.
The Terps, like seemingly every opponent FSU has played this season, run a hurry-up attack.
Meggett almost popped a quick hitter inside, so watch for them to run that often.
So far, the Terps have ran the ball effectively using the zone read, which could open up the running lanes for QB C.J. Brown.
A pair of first downs has the Terps in FSU territory just past midfield.
The crowd noise helps induce a Maryland false start on 3rd and long.
Brown steps up and runs up the middle to avoid pressure, but is three yards short of the first.
Maryland punts from the FSU 44, and pins the 'Noles at their own 10-yard line where they will begin their second drive.
Maryland moved the ball effectively on the ground but a key penalty derailed their drive.
It will be interesting to see how both teams adjust when Maryland gets the ball back.
Kenny Tate is one of Maryland's captains during the coin toss, but he is in sweats and will not be playing.
Maryland wins the toss and defers, so FSU will be on offense to start the game.
FSU starts true freshman Devonta Freeman at running back.
After a nice kickoff return by Karlos Williams, EJ Manuel hits passes to Christian Green and Bert Reed to get the 'Noles to the Terps 30-yard line.
Maryland is playing off the FSU WR's and Manuel is just playing pitch and catch so far.
After a drop, and a short run, Manuel nicely eludes pressure for a 7-yard TD run and the 'Noles strike first taking only 2:12 to go seven plays and 62 yards.
The teams have went back into the locker rooms, and kickoff is just minutes away.
Some final thoughts before Chief Osceola plants the spear: both teams desperately need a victory in order to march towards bowl eligibility.
For Maryland, it is important to get off to a fast start.
If they can jump ahead of FSU, the pressure shifts squarely onto the Seminoles.
The Terps defense has been an opportunistic unit all year long, and the Seminoles offense has been turnover prone, especially in its three losses this season.
That will be the formula for the Terps to follow if they will pull the upset.
For Florida State, its simply about not making the silly mistakes that have plagued them this season.
If they can limit penalties, and take care of the ball, they should take home a victory.
Both teams are out warming up now.
The stadium clock just went under 30 minutes until kickoff.
Military personnel are gathered along the south end zone taking in the pre-game warm ups.
FSU QB EJ Manuel still has some extra padding on his left shoulder, the same limb he injured against Oklahoma and forced him to miss the Clemson game plus the first half against Wake Forest.
I haven't been able to spot Maryland LB Kenny Tate, who is questionable for this game due to injury.
Tate is arguably the Terps best defender, and he's missed their last two games.
Freshman Mario Rowson is listed ahead of Tate on the pre-game depth chart, and he looks to be taking reps with the first team defense in warm ups.
Florida State WR Bert Reed looks to be healthy again, and it looks like he will play today after missing two games earlier this season.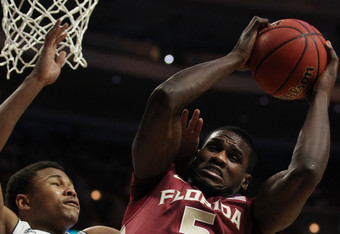 Rob Carr/Getty Images
Bernard James, a senior forward on the Seminoles basketball team, will take part in the pre-game coin toss as part of the Seminoles efforts to honor our military on Armed Forces Appreciation Day.
James was a member of the Air Force prior to arriving to FSU.
FSU's coaches will also be wearing special camo-inspired hats as a part of today's festivities.
Maryland's special teams units have sauntered out onto the Doak Campbell turf, which gives me the first chance to observe their newest uniform combo.
I must say that I was not a fan of any of the ones they have worn this season, but the turtle shell helmets with the white tops and black bottoms looks sharp from the press box.
Danny O'Brien, the Terps starting QB at the beginning of the season, is out early getting some work in.
Good afternoon Terrapins and Seminoles fans!
Greetings from a beautiful day in the capital city of the Sunshine State.
There's not a cloud in the sky, and it is a crisp 70 degrees approximately an hour before game time.
Right now, there's only a few players warming up, mainly the Seminoles skill players.
A unique fun fact I just ran across: FSU's legendary play-by-play announcer Gene Deckerhoff, also the voice of the Tampa Bay Buccaneers, will leave today's game at halftime to catch a flight to London in time to call the Bucs game against the Bears in Wembley Stadium tomorrow.
It will be the first time in his career that he will miss a sign-off.
Feel free to fire any questions you may have, as we are approximately an hour until kickoff!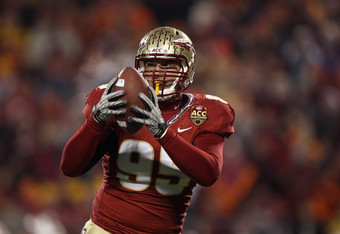 Rob Carr/Getty Images
Florida State leads the all-time series with Maryland 19-2, including a perfect 10-0 record in Doak Campbell Stadium.
There will be some interesting plots to watch unfold in today's game.
Maryland QB C.J. Brown is averaging 9.5 yards per carry, including going over 100 yards the last two weeks against top 25 opponents Georgia Tech and Clemson.
Today he will be going against a Seminoles defense that has been stout against the run all season, ranking 2nd in the ACC for fewest rush yards allowed per game.
Florida State's offense has moved the ball consistently all year, but has struggled with turnovers and penalties.
Maryland's defense has forced 15 turnovers this season, returning three of them for touchdowns.
If Brown can consistently move the chains on the ground, the Terrapins will stand a better chance at gaining the upset.
If Seminoles QB E.J. Manuel can avoid turnovers like he did a week ago, Florida State should be able to light up the scoreboard on a defense that gave up 56 points to Clemson last weekend.
This blog will get cranked up one hour from kickoff live from Doak Campbell Stadium, so feel free to join in with any comments or observations.
This article is
What is the duplicate article?
Why is this article offensive?
Where is this article plagiarized from?
Why is this article poorly edited?

Florida State Football: Like this team?