Kenny Stills Revives the Spirit of Brian Bosworth, Gives Sooners Edge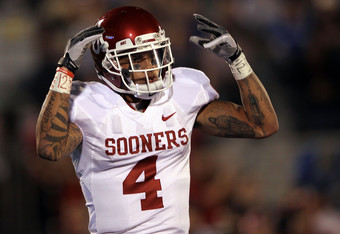 Jamie Squire/Getty Images
Here's a sentence you've never heard: Kenny Stills is a throwback.
The hair, the flash, the attitude, the swagger... did I mention the hair? While unique amongst his peers, Stills is cut in the same mold as another Oklahoma Sooner great. By now, surely you know where this is headed.
Brian Bosworth exemplified edge from the day that he set foot in Norman. Loud hairstyles became the trademark of a loud player that repeatedly referred to the NCAA as the "National Communists Against Athletes," was twice suspended for steroid use, and was eventually expelled from the Oklahoma football team by the notoriously lenient Barry Switzer.
Kenny Stills landed in the middle of Sooner Nation via San Diego, Calif. Even before the hair and the tattoos, Stills brought West Coast flavor to a program in desperate need of some spice. But, as the hair has grown and the tattoos have increased in number, Stills has morphed into something more than we all bargained for.
Adron Tennell couldn't pull off the blonde mohawk. The vivacious tenor with which Stills carries himself would be scoffed at and cast aside by the masses inside of Oklahoma Memorial Stadium, were it coming from Brandon Caleb.
By the same token, Bosworth's antics would have been frowned upon had they been duplicated by Brandon Crow. His mohawk and headband would have been received with derisive contempt had they adorned the head of, say, me.
We loved and embraced The Boz because he delivered. A three-time All-Big Eight performer and two-time All-American, Bosworth saved his biggest and baddest performances for the biggest and brightest stages. Sooner Nation reveres him, because he could be counted upon.
Wesley Hitt/Getty Images
We love Kenny Stills for all of the same reasons.
The hair has its own Twitter page. The pierced lower lip does not. But each serves as a microcosm of the attitude behind the between-the-legs spike versus Texas Tech last November.
"Somebody told me I wouldn't do it," Stills said, "So I did. I'm big on doing stuff that people tell me I can't do."
Unlike those Switzer-coached teams of the mid-80's, however, the Bob Stoops administration has always run a skin-tight ship. For years after Torrance Marshall made good on his vow to "get his boy's trophy back," Sooner football went flat.
Jason White and Sam Bradford were All-World caliber college quarterbacks. But, my goodness are they boring.
Mark Clayton, Malcolm Kelly and even Ryan Broyles have all been pro-level talents capable of changing the game. But each of them have gone about their business in such buttoned-up fashion that you'd have thought they were playing outfield for the New York Yankees.
Don't get me wrong. I'd rather have a boring team that performs well and stays out of trouble than a group of characters that lay eggs on Saturday, and make their way into the news for all of the wrong reasons on Sunday. But, a lack of personality, fire and excitement had begun to plague Stoops' program.
The Sooners have won more than any team in the country since 2000. However, Oklahoma has tripped on a sleepy Saturday afternoon against an unranked Texas Tech or Colorado, when a spark was desperately needed but nowhere to be found. Too often the team has stumbled under the weight of the BCS, or the enormity of the National Championship, without an outlet with which to exude its exhaust and impose its presence.
Stills has bucked that trend.
His immersion into something of a larger-than-life persona has played a role, but such evolution has only been made possible by the quality of his on-field theatrics while the game clock is moving.
61 receptions and 786 yards broke Ryan Broyles' freshly-set freshman receiving records a season ago.
7 catches, 125 yards and the go-ahead touchdown in the Sooners' prime-time showdown with Florida State announced his return from suspension, and provided the difference in a 23-13 triumph in Tallahassee.
After Texas showed life with a kickoff return for a score, Stills ripped the football from over the top of a helpless Longhorn defender, pushing the Sooner lead back to 24 and providing an emphatic 'eff you' to anyone wearing burnt orange.
Stills makes the big play. He reels in the impossible catch. And he does so in manner that leaves the opposition curling into the fetal position.
Ryan Broyles is the best wide receiver in the history of Oklahoma football. The colorful character split opposite of him has a chance to be even better, and he just may be the x-factor that helps stamp "2011" on the north end of the Owen Field press box.
This article is
What is the duplicate article?
Why is this article offensive?
Where is this article plagiarized from?
Why is this article poorly edited?

Oklahoma Sooners Football: Like this team?