Arizona vs. UCLA Football: Bench-Clearing Brawl Ends Record First Half
October 21, 2011
Christian Petersen/Getty Images
Need to spice up an ESPN-televised Thursday night football game between a 1-5 Arizona squad that just fired its coach (Mike Stoops) and a usually-mediocre, completely-pathetic-tonight UCLA Bruins crew with a a lame-duck head coach in Rick Neuheisel?
Start with the highest-scoring first half ever for the Wildcats as a member of the Pac-12. 
Mix in a referee-suited streaker who distracted the early stages of a melee.
And top it off with a full-on bench-clearing brawl replete with two ejections—Arizona corner Shaquille Richardson and UCLA receiver Taylor Embree—and an assortment of future suspendees after the tape is reviewed by the Pac-12 offices.
With four seconds left in the second quarter and UCLA in possession of the ball near midfield, the play was blown dead before the snap due to a Bruins false start. As the umpire takes the ball from Kevin Prince after blowing the play dead, a streaker runs into the officiating huddle suited up in ref stripes, before taking off and stripping down.
The officials were so distracted by that mess, they fail to shut down the beginnings of verbal sparring that quickly turned physical.
Two of the main instigators—Richardson, a former UCLA recruit who left the team after a theft charge, and Embree—were ejected from the contest.
Before that entertaining nonsense, Arizona—that's right, Arizona, which consistently got its teeth kicked in against its last 10 Division-I (FBS) opponents—was nearly freaking perfect.
How close to perfect? 
Quarterback Nick Foles was automatic, completing right around 80 percent of his throws.
Star receiver Juron Criner looked the part, scoring three touchdowns in the opening 30 minutes, pulling down eight receptions.
The Arizona rushing game completely dominated the Bruins defense in that span, for 174 yards including 77 on six carries from Keola Antolin and four for 41 from freshman sensation Ka'Deem Carey.
Even lightly used walk-on Gino Crump had eight catches for 87 yards in the first half.
And Arizona was doing all this just over a week after Mike Stoops was let go by athletic director Greg Byrne, leaving Tim Kish in his first ever head-coaching gig after 36 years as an assistant. Maybe they waited too long.
Although he is the most extreme of long shots to get the job long term—he was formerly the defensive coordinator of a unit allowing nearly 37 points per game before the night—Kish can always claim one dominating performance.
Arizona seemed more creative offensively, particularly in its running schemes.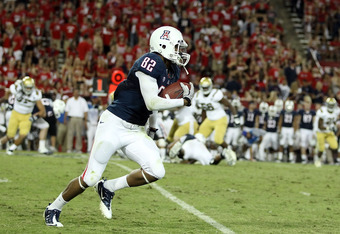 Christian Petersen/Getty Images
The players were loose and aggressive.
The defense was even willing to freaking blitz.
And John Bonano, in his first-ever start as the placekicker, was perfect on extra points (6-for-6) and field goals (2-for-2), a breath of fresh air after the cringe-worthy combo of Alex Zendejas and Jaime Salazar.
As weak as the Pac-12 South is, with the exception of Arizona State and USC—which is ineligible for the Pac-12 championship due to NCAA sanctions—the left-for-dead Arizona Wildcats appeared on Thursday night to be able to make some noise over the second-half of the season.
Oh, and consider Rick Neuheisel this week's Mike Stoops.
Between the blowout, the emotional meltdown and an 18-26 record in Westwood, it would be shocking if he is still the coach of his alma mater at this time next week, especially after seeing firsthand what a coaching shakeup can do in Tucson.