USC vs. Notre Dame: Who's the Better Receiver, Robert Woods or Michael Floyd?
October 21, 2011
Jonathan Daniel/Getty Images
When Michael Floyd leads his Notre Dame Fighting Irish against Robert Woods' USC Trojans, all eyes will be on two of the best receivers in the nation.
Though they'll never be on the field at the same time, the battle between these two wideouts will be one of the more interesting individual matchups in Saturday night's game. Both are supplied by solid quarterbacks, and neither faces a particularly daunting defensive backfield. The ND-USC game is shaping up to be a shootout, with Woods and Floyd manning the front lines.
So, which wideout has the advantage?
Speed
In terms of straight line track speed, Woods has a huge edge here. However, speed within the context of a football game is a bit different.
Anyone who's watched Notre Dame over the past couple of years knows that Michael Floyd is plenty fast. Woods can accelerate to his top speed much quicker than Floyd, but once both players get about 25 yards downfield, Floyd's quicks start to show. He's a long-strider who may not be capable of burning a corner right off the line of scrimmage, but has the ability to pull away when the ball is in the air.
Woods' advantage in acceleration gets him the edge here, but it's closer than the experts think.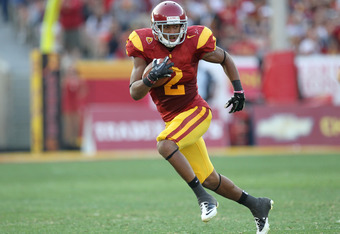 Stephen Dunn/Getty Images
EDGE: Woods
Size
More so than any other area on this list, size is a total mismatch.
Floyd is listed at 6'3", 224 pounds. Woods is listed at 6'1", 180. Floyd is a physically mature senior; Woods is a sophomore still growing into his body. In every way, Michael Floyd is the more physically imposing player.
That said, both Woods and Floyd do a great job of playing to the physical hand they've been dealt. Woods uses his skinny frame to slither into tight windows in the defense. Floyd, on the other hand, prefers to use brute strength to bull his way into space.
EDGE: Floyd
Hands
This is a tough one to call. Both Floyd and Woods have shown the ability to make spectacular catches, and neither has ever shown much of a tendency for drops.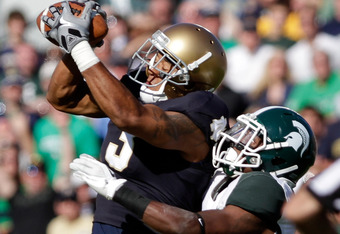 John Gress/Getty Images
Both players rank in the top 10 of the FBS in catches per game. Floyd reels in nearly nine balls per game; Woods bests his mark with an even 10.
EDGE: Even
Explosiveness
This is where the comparison gets difficult. Both Michael Floyd and Robert Woods are game-breakers, but they accomplish it in very different ways.
Woods has the capability to turn a simple slant pattern into a touchdown by outrunning a defense. Floyd can accomplish the same thing, but he's more likely to break a few tackles along the way. In terms of turning a short pass into a long touchdown, the matchup is a push.
Floyd separates himself with his leaping ability. He is a weapon in a red zone in a way that the smaller Woods is not. Floyd's size and strength allows him to go up in a crowd and secure the football. Woods has excellent leaping ability, but he can be overpowered by bigger defenders.
EDGE: Floyd
Route-Running
Even as just a sophomore, Woods shows incredible polish. His routes are precise, and he accelerates well out of his breaks. Floyd is capable of being an elite route-runner, but he has a tendency to round off the corners of his routes instead of making perfectly square cuts. Floyd's height also makes it a bit more difficult for him to break down and change direction quickly.
EDGE: Woods
Overall
As divergent as their styles may be, it's very difficult to separate these two stars. Both balance reliable consistency with game-breaking athleticism.
On aggregate, I give a slight edge to Floyd because of his ability in the red zone. In a game likely to be a high-scoring affair, the team that can convert touchdowns in tight quarters will come out on top. Floyd's size and strength gives him the edge over Woods, and it might just give the Irish a win over the Trojans.
OVERALL EDGE: Michael Floyd