North Carolina vs. Clemson: Spread Info, BCS Impact, Line and Predictions
October 20, 2011
Rob Carr/Getty Images
The North Carolina Tar Heels' quest for respect in the ACC will take them to South Carolina this Saturday to challenge the best team in the conference, the seventh-ranked Clemson Tigers.
This game will be the equivalent of a BCS or national championship game for North Carolina. This team is 1-2 in the ACC, 5-2 overall, and another loss would put them three games behind Clemson and end any hopes they have of winning the conference.
The Tar Heels are led by their defense, though they have not been consistent on either side of the ball. They play hard and give opponents fits. Even though they don't have the most talent, they always give you everything they have. They nearly upset Georgia Tech four weeks ago.
Clemson has been a pleasant surprise up to this point. After years of failing to live up to expectations, Dabo Swinney finally has his players believing in what he preaches. Quarterback Tajh Boyd has had the best season that no one seems to be talking about, with 2012 passing yards, 19 touchdowns and just three interceptions.
Where: Memorial Stadium in Clemson, South Carolina
When: Saturday, Oct. 22 at 12:00 p.m. ET
Watch: ESPN; ESPN3.com
Spread: Clemson (-11)
That spread strikes me as a little low. I know that Clemson does not have the most explosive offense in the country, but it's been a very good one. While North Carolina has a good enough defense to contain any team in the ACC on the right day, an undefeated team at home should get more respect than that.
Part of the problem could be Tajh Boyd, who is still nursing a hip injury. He was able to play through it last week, but until he is completely healthy, the oddsmakers will be cautious.
Over/Under: 58
While neither team is unquestionably great on offense, Clemson does have some playmakers that have the ability to put up a lot of points in a hurry.
Boyd and running back Andre Ellington, who has been heating up in the last two weeks with 329 yards, will not go nuts in this game but will be able to use their speed to break through the Carolina defense.
I think 58 points is about right for this game, though I do think when all is said and done they will go over that total.
North Carolina Injuries
Questionable: PK Casey Barth (groin), S Jonathan Smith (ankle), CB Terry Shankle (knee), C Cam Holland (back), RB A.J. Blue (undisclosed), T T.J. Leifheit (ankle)
Clemson Injuries
Out: PK Spencer Benton (shoulder)
BCS/Top 25 Poll Implications
North Carolina's Top 25 hopes took a hit with a loss last week. It will be difficult, if not impossible to get into the BCS with a loss in this game. With five wins already, they only need one more to become bowl-eligible.
Clemson has been slowly climbing the ranks each week. This team started the season unranked in both major polls and is now eighth in the AP and Coaches Polls and seventh in the BCS. They will need some help to get into the national championship game, but the path is clear to an ACC title and an automatic berth in the Sugar Bowl.
Keys to North Carolina Win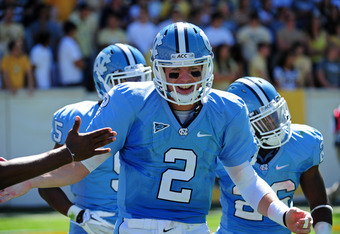 Scott Cunningham/Getty Images
Quarterback Bryn Renner has had a very good season to date, with a 75.3 completion percentage and 1,593 yards. His numbers are solid, but not really spectacular. The offense needs to find some consistency in this game in order to win, and he has been the best player for them.
The defense has only given up 30 or more points in two games, but those are the two games that they have lost. They need to contain Tajh Boyd and the Clemson offense long enough to give the offense a chance to win at the end.
Keys to Clemson Win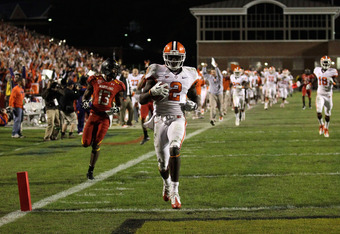 Rob Carr/Getty Images
This Clemson team is different from so many of the other top teams in the country. They don't have that one area where they put up great stats, but overall they are as consistent as any team in the country.
The difference-maker will likely be wide receiver Sammy Watkins, who has been the home run hitter on the outside with eight touchdowns. He has had over 100 yards receiving in four of the last five games and two touchdown catches in three of the last five games.
Prediction
Clemson 34, North Carolina 20