Cal Football: 4 Realistic Goals for the Rest of 2011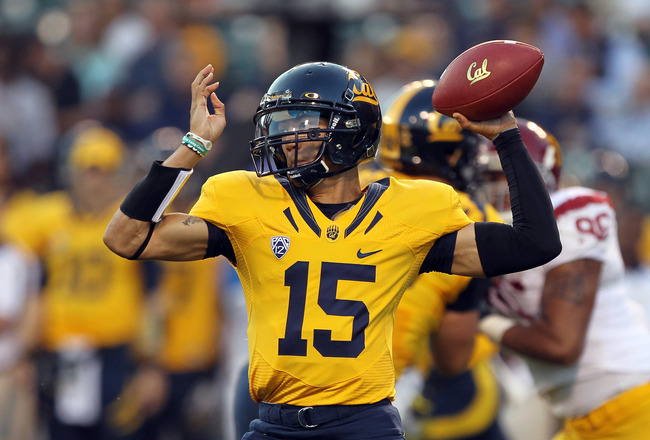 Ezra Shaw/Getty Images
After being gutted 30-9 by USC last week on national television, the 3-3 Cal Golden Bears are in need of some positive thinking.
Yes, their defense played atrociously. Yes, they turned the ball over five times and scored only one touchdown despite outgaining the Trojans in total offense. Yes, their only point after was blocked.
Berkeley boosters know things look bad now. Unfortunately, they don't play in the Pac-12 South, where a division title would still be in reach.
But look on the bright side: Soon, they'll do it all in a new stadium (barring protest).
I know some Cal fans can't wait that long, so for the immediate future here are four realistic goals the Golden Bears can meet in 2011.
Finish 7-6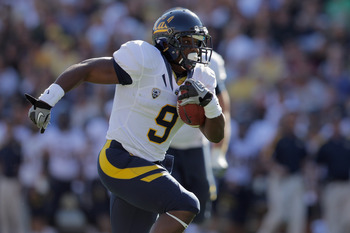 Doug Pensinger/Getty Images
A 6-6 regular season finish with a bowl victory isn't out of the question for Cal; in fact, it's quite possible.
The fact that Cal is 0-3 in conference is a little misleading, having played at Washington and Oregon before their USC debacle. This trinity is easily three of the conference's best, and while Cal was able to compete, road wins in Seattle and Eugene will always be difficult to come by.
The Bears are actually near the middle of the conference in every offensive category, and boast the third-stingiest defense in the Pac-12. Unfortunately, they chose to play their worst game of the season with everyone watching.
Despite shaming themselves on ESPN, Cal's fortunes look to improve substantially. A quick look at the schedule shows a winnable game against Utah followed by UCLA, Washington State and Oregon State. Of those last three they get Wazzu and the Beavers at home. Despite contending for a spot in the inaugural Pac-12 title game, the Bruins are beatable even in Pasadena this year. With all that in mind, it isn't a stretch to think that the Golden Bears could take the next three out of four.
Getting through that portion of the schedule at 6-4 or even 7-3 will be crucial considering their final two games are against Stanford and Arizona State on the road. Both the Cardinals and Sun Devils look too good at this point for Cal to have much of a chance, and will still have a lot to play for.
As USC is still ineligible for postseason play, Arizona State looks to be in a tight battle for placement in the conference title game with UCLA. Not only will Stanford undoubtedly show up for a passion-filled rivalry game at the Farm, but they will need to go undefeated if they expect to get a shot at a national title.
If Cal can cut the mistakes that plagued them against SC, they will most likely finish the season on a positive note. The Kraft Fight Hunger Bowl, played in their temporary home stadium, is a probable destination.
Average 300 Passing Yards Per Game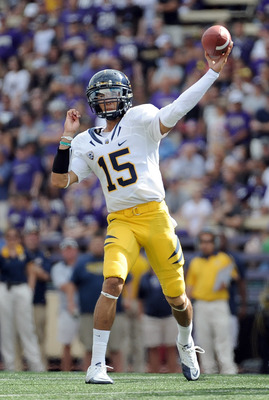 Harry How/Getty Images
With Cal averaging 299.3 yards through the air per game in 2011, this is without question a reasonable goal. The Golden Bears rank fourth in the Pac-12 and 16th in the country in passing offense, thanks in large part to Zach Maynard's play under center.
Through six games Maynard has thrown for 1585 yards and 11 touchdowns with only six picks, three of which he threw last Thursday against USC. Still a junior, Maynard has kept the Cal offense effective even when the running game hasn't been there.
Again, the SC game is perfect example. Usually the Bears are able to gain over 100 yards on the ground, but against the Trojans starting tailback Isi Sofele only scraped together 44. Despite becoming one-dimensional on offense, Maynard still went 25-of-43 for 294 yards, not bad considering the defense anticipated a throw on almost every play.
If Sofele and Co. can keep defenses honest by running the ball consistently, look for Maynard to decide games with his arm and average over 300 yards doing so.
Re-Evaluate Jeff Tedford as the Head Coach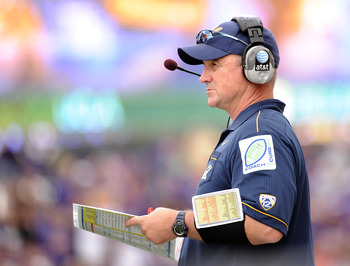 Harry How/Getty Images
Notice I didn't say "Fire Jeff Tedford." That would be an overreaction.
After nine seasons at the helm of California football, Tedford has amassed a 72-42 record and is 5-2 in bowl games. In 2006 his Golden Bears went 10-3, won a share of the Pac-10 title and destroyed Texas A&M 45-10 in the Holiday Bowl.
How quickly the faithful forget. In going 5-7 last season, Cal's first losing season since 2001, the calls for Tedford to be axed have slowly but surely trickled in. If the Bears can't finish above .500 this year, those calls will only grow louder. I can't say that I agree with them yet.
This what-have-you-done-for-me-lately mentality when it comes to coaches is a sad reality of college football. Coaches should be given at least three to four years of consistent mediocrity (Rick Neuheisel) before sending them to the headsman.
What fans are actually upset about is the program's U-turn from national contender to average West Coast team in the past four years. Ever since their Holiday Bowl triumph, Cal hasn't finished higher than fourth in conference. Once ranked as high as 14th in the country, the Golden Bears have not troubled the top-25 since being ranked 25th in 2008.
In light of this, athletic director Sandy Barbour should consider re-evaluating Tedford as the head man. Firing is a bit extreme at this point, because whatever coach the cash-strapped UC school could afford would be unlikely to produce the kind of winning Tedford has proven he can.
All I expect is that Tedford should be made aware that his job will be on the line should Cal continue their stretch of lackluster seasons. Most likely he already can feel it, but a formal discussion with the AD would be nice. The Bears faithful hold him to too high of a standard for 7-6 finishes to cut it.
Continue Developing Keenan Allen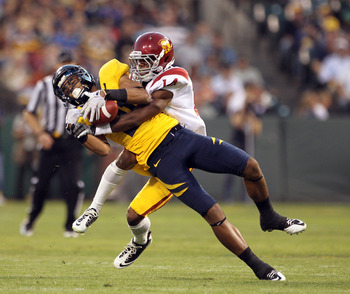 Ezra Shaw/Getty Images
One of the keys to quarterback Zach Maynard's aerial success this year has been the inspired play of wideout Keenan Allen.
The sophomore has made a cosmic jump from his freshman days, already grabbing 52 receptions for 828 yards and 4 touchdowns. In only one game this season has Allen finished with less than 100 yards receiving, whilst almost cracking 200 against Washington.
Considering he caught only 46 balls for 490 yards and 5 touchdowns a year ago, it's been a banner year for Allen. Among Pac-12 receivers, only USC's own phenom in Robert Woods comes close to matching those numbers.
With six games left plus a possible bowl game, Allen is well on his way to surpassing the 1000 yard, even 1500 yard mark this season. It would behoove Maynard to keep throwing his way, not only for Allen's own development but for the overall success of the team.
In terms of Allen's future development, another year in school would do him good. Cal isn't going to finish much better than .500 this season and is largely out of the national discussion. With a lot of starters coming back in 2012, the Bears have a real shot at contending for a Pac-12 title and an national ranking, which would only serve to bring more attention to Allen and raising his draft stock.
He does need to get a little better in the air and cut some dropped balls, but what receiver doesn't at his age?
Allen's future and Cal's success are intertwined tightly at the moment, so look for the young man to continue developing in a positive way.
Keep Reading

Cal Bears Football: Like this team?