Army AD Boo Corrigan, "We Are Really Comfortable Being an Independent."
October 20, 2011
We had the chance to this week on our West Point Football Report radio show on New Rochelle, NY-based WVOX to discuss the Army football program with the Director of Athletics at the U.S. Military Academy Boo Corrigan, who came aboard early this year.
There has been much speculation in the media over the last week about the potential of Navy and Air Force being invited to join the Big East conference, but not Army. John Chuhran and I were pleased to speak exclusively with the Army Athletic Director on Tuesday night.
Q. Army has had great home games this year against San Diego State, Northwestern, the big win over Tulane and we understand you have a sellout for Fordham in 10 days?
A. We are very excited about the crowds we have had this year, about the football team led by Coach Ellerson, and we are also excited to be going to Vanderbilt this weekend. But then the week after that to be playing (Fordham) at home, there are a limited number of tickets still available. Very, very limited. But we were able to find a couple hundred more tickets the other day when we were checking through everything, to make sure we have a big house and a sellout, when we play Fordham.
Q. You have had a number of distinguished alumni visit West Point recently and speak to the athletic teams, including Chairman of the Joint Chiefs General Martin E. Dempsey '74 and Army Chief of Staff General Raymond T. Odierno '76. What is it like when these senior military leaders visit the Academy and speak to the cadets?
A. First of all it is a thrill, is what it is, beyond everything else. I got a chill when you were just talking about that. The chance to see and spend time with General Dempsey or General Odierno, and to see the affection they have for the cadets at West Point. Their understanding of West Point and the 47-month journey, as well as where our cadets are going for the next five years. It is really humbling to see that interaction, and see the affection they have for our cadets.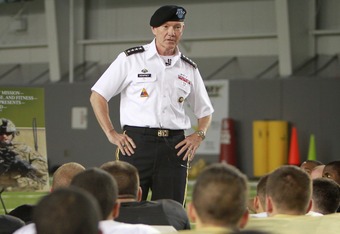 Q. You have a tremendous background in college sports, you have worked at some of most outstanding places in college athletics Notre Dame, Navy and Duke before coming to Army earlier this year. What do you see driving the fury of college conference realignment we hear so much about?
A. A lot of it has to do with being a part of one of the BCS (Bowl Championship Series) conferences, the automatic qualifier into the bowl game. Whether it is the television dollars that are associated with these conferences, the dollars have grown so significantly from teams in conferences receiving 8-10 million dollars, to the new Pac-10 deal with 20 to 25 million dollars per school.
In a time of declining resources, which I am sure everyone is familiar with, right now if you can find an additional five, 10, 15 million dollars by joining a conference, you kind of owe it to yourself to at least look at it, and if it is a fit for you to move forward with it.
Q. What are your thoughts about the service academies, how they fit into conferences, and what you would like to see Army do going forward?
A. Let me start by talking about West Point, because that is my lane, if you will. We are very happy where we are right now as an independent. We are happy with the ability to schedule teams all around the country. We are happy with the flexibility that gives us. 
Our goal at the end of the day is to develop leaders of character for the United States Army.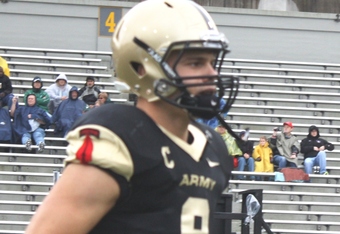 Where we are right now gives us the best opportunity; gives us the opportunity for our football team to go out there and play on a weekly basis with a chance to compete; to win the game and then move on to a bowl.
Q. Tell us about the documentary being made on football at the academies?
A. We are working with Showtime, and our friends at CBS, on "Game of Honor." What they have been doing is they are following both teams starting this summer. They were part of plebe summer, showing what that is. They show what happens out at Buckner. They have been following a couple of cadets here and midshipmen down there as well. I saw a preview of it, you have the great line,
"You now have 90 seconds to say goodbye."
You can see the emotion, what people are going through when they turn over their child to West Point knowing that they are going to be safe; that they are going to be protected. But also knowing they are really going to come out a different person after 47 months. 
http://www.cbssports.com/video/player/game-of-honor
And it is really something to see. The access has been great for CBS and Showtime, and they really have done a great job telling an unbelievable story.
Q. We see the discussion about conferences involves different factors of recruiting, television, you mentioned financial before, and scheduling. What are some of the factors pro and con about conference alignment?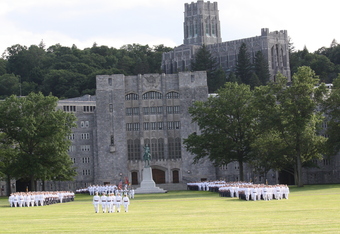 A. Again where we fit right now, we are really comfortable being an independent. Again I can not speak at what other people are looking at. I know where we are, and kind of what we are thinking; talking with Coach Ellerson, (Superintendent) General (David H.) Huntoon, General Odierno, the people around here, we feel really good about where we are, who we are playing.
Playing people that look and feel a little bit like us—be it a Tulane, be a Miami of Ohio, schools were they value the double major if you will of academics and athletics and again making sure at the end of the day, that we have a chance to compete, we have a chance to win, and we are creating a great environment for our cadets athletes to come here to West Point.
Q. How much does the need to provide for other sports come into a decision about conference affiliation?
A. Again, you need to keep in mind, we are affiliated with a conference for the balance of our sports in the Patriot League. Again, talk about a conference which is really looking at things a little bit different, from making sure the academics are paramount, from the academic index which is part of the admissions process at the schools, to not red-shirting, to everything the Patriot League stands for. 
We are really comfortable in the Patriot League.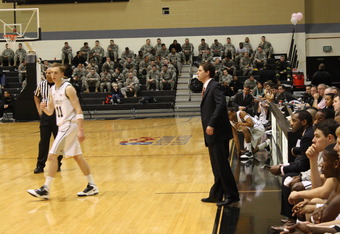 I have a have a great deal of respect our commissioner Carolyn Femovich and what she does. We look at that as a chance for us to compete. We had four teams go to the NCAAs last year from the Patriot League. That is a chance for us to compete; creates a great atmosphere for our cadet athletes.
Q. How do you see the balance of the football season and the Commanders in Chief games.
A. I see us playing in Nashville at 6 PM Central Time on Saturday, is what I see brother. Beyond that, the rest of that will happen after we play Vanderbilt this weekend. We are excited to go there. They have had a couple of tough games, with Alabama and Georgia the last couple of weeks, and we are going to go there and give it our best shot.
Thank you Boo.
The entire interview as well as many of our other Army football interviews and shows can be heard on http://www.legionpost50ny.com/Radio_SAL_111018_WP_Boo_Corrigan_AD_USMA.html.
Sons of the American Legion Radio from Squadron 50 Pelham, NY produces the West Point Football Report Tuesday nights during the college football season on WVOX 1460 AM and worldwide on WVOX.com. Reach Ken on KGK914@aol.com.