SEC College Football Preview: Can Ole Miss Beat No. 10 Arkansas?
October 19, 2011
Butch Dill/Getty Images
The 2011 college football season has not been kind to Houston Nutt. The Rebels are 2-4 overall, and 0-3 in the Southeast Conference, with three ranked teams left to play on their schedule and the annual Egg Bowl showdown.
Coming off a lopsided 52-7 loss to No. 2-ranked Alabama, Ole Miss must host No. 10 Arkansas this weekend. Can Mississippi beat the Razorbacks?
Through all of the difficulty Houston Nutt and his team have endured during the 2011 season, they still have a chance to beat Arkansas because Nutt likes coaching against the Razorbacks. Additionally, there is talent on campus, and a win against the 10th-ranked team in the country could salvage their season.
Ole Miss has had their share of suspensions, injuries and shuffling of quarterbacks, causing the offense to lack continuity. More importantly, they have lacked production. The Rebels rank 117th in the nation in total offense, out of 120 FBS teams, by averaging 251.83 yards per game.
Senior running back Brandon Bolden has underperformed due to injuries and playing behind an offensive line that has not been the force Mississippi fans expected in the beginning of the season. Bolden has rushed 23 times for 105 yards on the season after posting 976 total rushing yards in 2010 and an average of 6.0 yards per carry.
The rushing duties have been left mostly to sophomore scat back Jeff Scott. Scott leads the team in rushing yards, compiling 361 yards with six touchdowns.
Entering the Arkansas game, the Rebel rushing attack is 11th in the SEC, with 606 total yards in six games; barely averaging 100 rushing yards per game.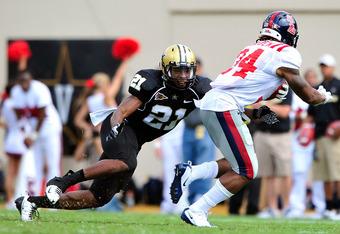 Grant Halverson/Getty Images
Neither Barry Brunetti, Zack Stoudt or Randall Mackey has been productive under center for Mississippi. Ole Miss is 10th in the SEC in total passing yards, with 905. Their combined four passing touchdowns ranks last in the SEC. Their touchdown to interception ratio is 1:2, having thrown eight interceptions this season.
The Alabama game proved to be more than a loss on the scoreboard for Ole Miss. Two of their players, senior defensive end Wayne Dorsey and senior corner back Marcus Temple, were lost to season-ending injuries. Temple fractured his ankle during the first half and Dorsey broke his arm in the fourth quarter. Both players were team captains for the Rebels.
Safety Charles Sawyer left the game with a back injury against Alabama and did not return. He is not expected to miss game time and could see action at a corner position against Arkansas on Saturday.
To make matters more difficult for the already short-handed Ole Miss squad, they cut ties with troubled junior wide receiver Melvin Harris on Monday. The dismissal comes a couple of days after Nutt suspended running back Brandon Bolden, wide receiver Philander Moore, center A.J. Hawkins and guard Alex Washington for violation of team rules for the Alabama game.
Reasons for Ole Miss Fans to Believe
During Nutt's 10 years as head coach at Arkansas, his must win game was beating his old college coach and mentor Lou Holtz, while Holtz was the head coach at South Carolina. Nutt was 7-3 against the Gamecocks while at Arkansas. Now his must win game is beating the Razorbacks, a team he currently holds a 2-1 record against.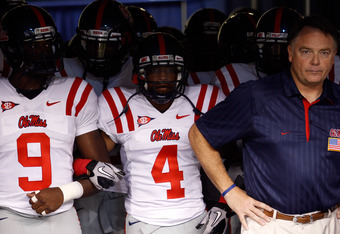 Chris Graythen/Getty Images
Nutt has proven to be a great motivator throughout his coaching career. He routinely wins games when his team is not favored to win. Most famously, in 2007, when Arkansas beat top ranked LSU in three overtimes, 50-48. With Ole Miss, Nutt's unranked 2008 team beat the eventual national champion Florida Gators in the Swamp 31-30.
In 2008, Nutt knew the strengths and weaknesses of his former players and used that knowledge to his advantage. Struggling with a 2-4 overall record, much like this season, he took the Rebels into Fayetteville and won 23-21. The win ignited Ole Miss, eventually leading to a 9-4 season that culminated in a Cotton Bowl victory.
In 2009, Nutt waited until the seventh game of the season to unleash running back Dexter McCluster against the Hogs. McCluster finished the game with career-highs in rushing yards, 123, and receiving yards, 137, and had one touchdown.
During the game the rested McCluster appeared to be a step ahead of everyone else on the field, as he was rarely used before the Razorback matchup.
Former Mississippi quarterback Jevan Snead also set a career high in passing yards against the Razorbacks with 332 in 2009.
The game was not without controversy after the officiating crew was suspended due to several bad calls that went against the Razorbacks.
In 2010, Arkansas head coach Bobby Petrino held the wild card with running back Knile Davis. Davis slowly asserted himself as the Razorback's leading rusher three games prior to the Arkansas versus Ole Miss showdown. Davis finished the game with the first 100-yard rushing game of the 2010 season for the Razorbacks. He rushed for 176 yards and three touchdowns.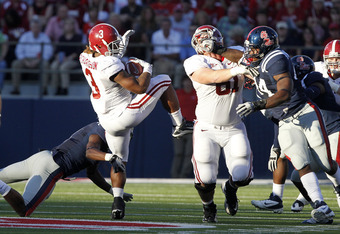 Butch Dill/Getty Images
Which Ole Miss Players Could Break Out Against the Hogs This Season?
The Rebels have had three consecutive recruiting classes ranked in the top-20, as per Rivals.com. The 2008 class was ranked a respectable 29th. The talent is there to play against the Razorbacks.
True freshman Nickolas Brassell (Batesville, Mississippi) could make a difference for the Rebels. Nickolas played a reported 30 snaps on offense and 30 on defense for Ole Miss against Bama. He finished the game with four catches for 104 yards and five tackles.
Another true freshman, Tobias Singleton (Madison, Mississippi), is starting to make a name for himself as a kick returner. Against the Tide he had five returns for 131 total yards.
Also, watch out for the four previously suspended Rebel players: Bolden, Moore, Hawkins and Washington. The timing of their suspensions could not have been better for those players.
Nutt's decision to rest or suspend key players before a personal game against Arkansas is not out of the realm of questioning.
Key In-Game Matchups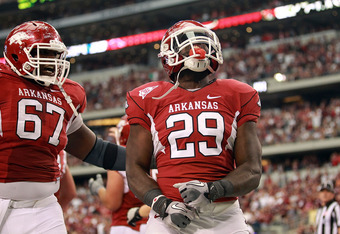 Ronald Martinez/Getty Images
Ole Miss running attack versus Arkansas run defense
Look for Ole Miss to run their version of the Wildcat offense, the Wild Rebel, early and often. Arkansas will have to limit big play opportunities on the corners.
The Hogs gave true freshman Tevin Mitchell (Mansfield, Texas) his first start at corner against Auburn. Greg Gatson got his second career start at corner against Auburn.
Mitchell was out of position against Auburn in what led to a 55-yard Michael Dyer touchdown run. Ole Miss will look to exploit their inexperience if possible.
The Razorback defense could benefit from the bye week, with the return of starting cornerbacks Isaac Madison, Darius Winston and defensive lineman Robert Thomas from injuries. Arkansas defensive coordinator Willy Robinson may rest his banged up players if the game dictates that scenario.
The Razorback rushing attack versus the Rebels' rush defense
Look for the Hogs to establish a running game against Ole Miss in order to set up their play action passing attack. Ever since the second quarter of the Arkansas versus Texas A&M game, the Hogs have run the ball effectively. Against Auburn they ran for 171 yards.
Bobby Petrino's running game came to life about this time last year. If the Hogs can find balance between their established passing game and their budding running game, they will be tough to beat for the rest of the season.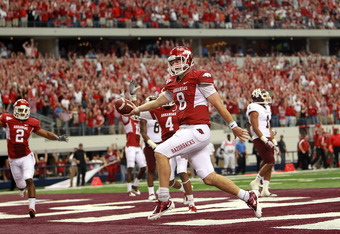 Ronald Martinez/Getty Images
Arkansas wide receiver Joe Adams could receive a couple more carries against the Rebels. Adams broke a 92-yard touchdown run against Auburn. His speed and ability in the open field gives the Razorbacks an added dimension to their running game.
Inside the Numbers
Arkansas offense: 39.17 points per game, 17th in the nation
Ole Miss offense: 20 points per game, 103rd in the nation
Arkansas total offense: 466.17 yards per game, 23rd in the nation
Ole Miss total offense: 251.83 yards per game, 117th in the nation
Arkansas scoring defense: 21.33 points per game, 34th in the nation
Ole Miss scoring defense: 29.17, 80th in the nation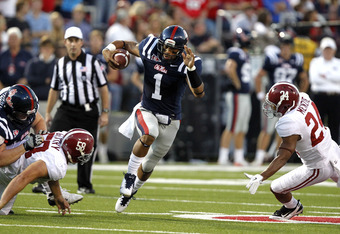 Butch Dill/Getty Images
Arkansas total defense: 389.50 per game, 64th in the nation
Ole Miss total defense: 442.83 per game, 106th in the nation
Arkansas rush defense: 188.67 yards per game, 95th in the nation
Ole Miss rush defense: 225.67 rushing yards per game, 115th in the nation
Arkansas pass defense: 200.83 yards per game, 33rd in the nation
Ole Miss pass defense: 217.17 yards per game, 56th in the nation
3rd down conversion defense
Arkansas: 34.41 percent, 37th best in the nation
Ole Miss: 46.34 percent, 101st worst in the nation
Analysis
Houston Nutt will throw everything at Arkansas, including the kitchen sink, to try and win this game. Nutt's back is up against the wall, and a victory over Arkansas could take some heat off of his seat and change the season around in Oxford, as it did in 2008.
Ole Miss offensive coordinator David Lee will have a couple of trick plays or misdirection plays ready for the Hogs.
Nutt will have his team fired up for this game.
Ole Miss came out of the gate against Bama scoring first. The 72-yard drive was highlighted by a 59-yard pass from Mackey to Brassell, with Jeff Scott scoring on a one-yard run. After that, six possessions against the Tide went three-and-out or less.
The Rebels did not have sustaining drives until the second half, when the Tide had removed their starting units.
Arkansas better be ready to stop the Wildcat. The Hogs' defense saw Auburn's version of the Wildcat before their bye. Can they stop the Rebels' version?
Ole Miss is short handed on defense, with two starters out and a weak pass defense. The Rebels will have to improve upon their 10 total sacks on the season to keep Arkansas quarterback Tyler Wilson out of rhythm if possible.
Arkansas has been short handed with injuries. Coming off a bye week, with no ranked opponent looming overhead, the Razorbacks will be fresh and ready for Ole Miss. This is no trap game for the Hogs.
The Hogs will rely on the pass to help the running game and put pressure on Ole Miss as needed. The Hogs lead the SEC in passing yards and are ranked eighth in the nation in passing offense, with 2,021 total yards.
Ole Miss packed the stadium last week, with 61,792 in attendance, when Alabama came to town. That was the fourth-largest crowd at Vaught-Hemingway Stadium for an Ole Miss football game.
By proximity, Oxford is the closest SEC school to Fayetteville. The Razorback nation travels well. Look for another sell-out crowd this weekend.
All-Time Series History
Arkansas 31 wins, Ole Miss 25, 1 Tie.
Last Meeting: October 23, 2010
Arkansas 38, Ole Miss 24
Outcome
Ole Miss will try to make it interesting with their rushing option attack. Arkansas has been susceptible to trick plays.
Ole Miss will keep it close initially, but the Razorback passing attack will be too much for the Rebels.
The Rebels will score one special teams touchdown on a return.
Petrino has been embarrassed twice by Nutt in 2008 and 2009. Don't look for it to happen again with a top 10 ranking on the line, a possible share of the SEC West title and a possible BCS bowl berth at stake.
The only thing that keeps the score close is if Petrino chooses to abandon the pass in the second half in order to further develop the running game, as he did against Auburn.
Final Score
Petrino proves a point, as Arkansas wins 52-23.