College Football 2011: 25 Things To Watch for on Saturday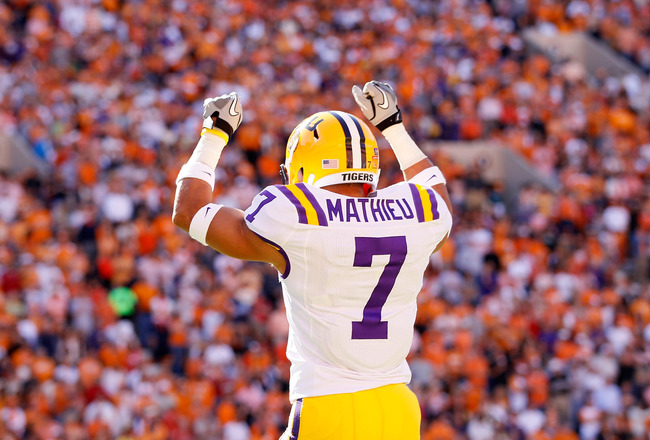 Kevin C. Cox/Getty Images
We've passed the halfway point of the college football season and there's still a lot of debate over who is the nation's top team thanks to the new BCS standings. However, that will fortunately work itself out later in the year.
Week 8 doesn't provide us with a ton of huge matchups, but there are a few that have a chance to alter the standings in a big way.
Here's a look at 25 things to watch for in college football this Saturday.
SEC Battle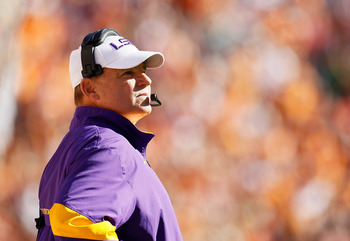 Kevin C. Cox/Getty Images
Auburn has been surprisingly good after losing a number of players to graduation and the NFL Draft, but do they have enough to beat the nation's top-ranked team?
Maybe, but if they do it will have to be on the road. LSU is not a huge offensive threat, but thanks to one of the greatest defenses to bless college football in recent history they don't need a high-powered offense.
This game was a no doubter for LSU, but now two players have been suspended including star cornerback Tryann Mathieu. Running back Spencer Ware is the other.
The LSU school newspaper says it's due to a failed drug test and the suspension is for one game. If the Tigers are vulnerable it's this week.
Aggies' Defense Is Offensive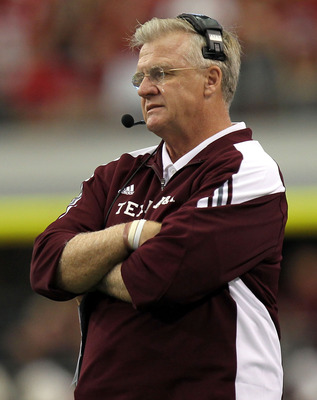 Ronald Martinez/Getty Images
On the other side of the spectrum we have soon-to-be SEC foe Texas A&M. The Aggies have a very good offense, but their defense is offensive.
They rank last in the nation in passing defense. Baylor's Robert Griffin III threw for well over 400 yards on this group last week setting a school record.
That being said, the Aggies' offense gained nearly 700 yards. Iowa State shouldn't be a huge battle, but you never know when a defense is this bad.
Sooners at Home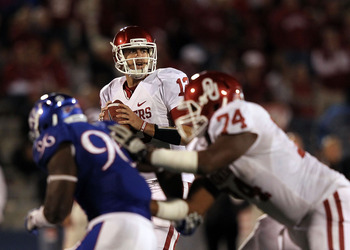 Jamie Squire/Getty Images
Oklahoma was only up seven on Kansas late in the third quarter, but ended up blowing the game wide open in the fourth quarter.
The Sooners have let a few teams stay in the game for much longer than many would have expected going in. The Red Raiders aren't half the team Oklahoma is, but the Sooners need to play a game with the proverbial pedal-to-the-medal the entire time.
Can the Spartans Slay the Badgers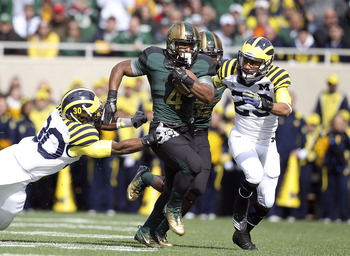 Leon Halip/Getty Images
Michigan State is coming off their win against the overrated Michigan Wolverines and they will look to continue their winning ways against Wisconsin.
That's unlikely to happen as the Badgers are rolling. After six straight wins, Russell Wilson and company will be looking for their seventh straight.
Not so Fast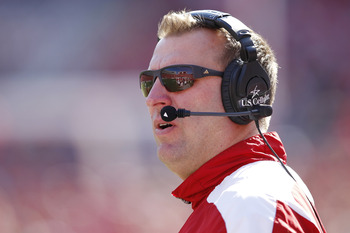 Joe Robbins/Getty Images
Okay, it's still likely Wisconsin wins this game by two touchdowns, but it's hard to believe this is their first game on the road of the 2011 season.
Wilson has led the Badgers to the nation's top scoring offense and the defense allows the third fewest in the country. That's impressive whether you've been home or away, but with four of their next five games on the road Wisconsin needs to take care of business against the Spartans.
Rock Chalk?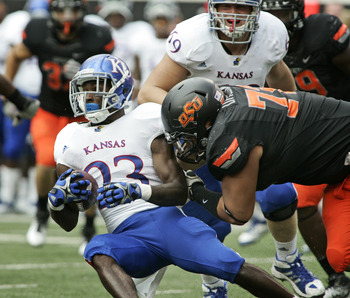 Brett Deering/Getty Images
Kansas was stunningly close to Oklahoma in the third quarter of last week's game, but soon came back to reality.
The Jayhawks are giving up an unbelievable 49 points per game this season. That ranks dead last in college football. That and the fact that they've lost four in a row and are hosting their undefeated rival Kansas State probably means the Jayhawks will be on the wrong side of the stick again.
K-State Letdown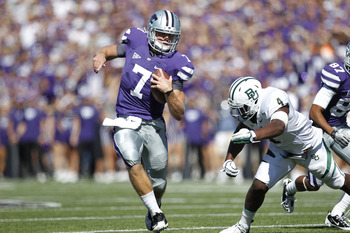 Joe Robbins/Getty Images
Yes the Wildcats are 6-0 and facing a terrible 2-4 Kansas team on the road. Going 7-0 is likely to happen. However, the Wildcats host Oklahoma next week.
This could be a classic case of looking ahead, but even if they do it may not matter. The Wildcats are solid in every facet of their game except passing.
Averaging only 130 yards through the air a game, the Wildcats rank 114th in the nation. That will have to get better moving forward.
Mizzou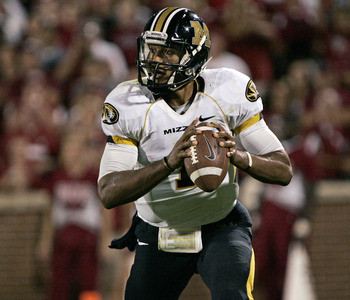 Brett Deering/Getty Images
If there's going to be a massive upset this weekend it's likely to happen here. Fourth ranked Oklahoma State travels to Missouri who is 3-3 this season.
The Tigers lost to Arizona State in overtime, Oklahoma by 10 and Kansas State by seven. All games were close and all of Missouri's wins have been by double figures.
The Cowboys better not sleep on the Tigers, because if they do their national championship hopes will be put to rest.
Don't Sleep on Syracuse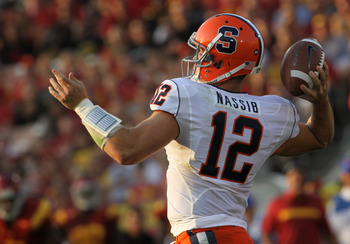 Stephen Dunn/Getty Images
Every single game the Orange have been in this year has been decided by a touchdown or less, except for their cross country trip to Southern California. Syracuse is 4-2 and looking for their first Big East win after losing to Rutgers in double overtime.
They'll have to do it against 15th ranked West Virginia, but a home crowd and a close game could give the Orange an advantage late in the game if it remains close.
Clemson Keeps Rolling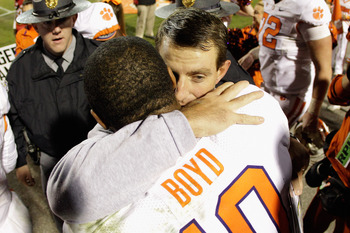 Rob Carr/Getty Images
After a near upset on the road at College Park, the Clemson Tigers are ranked seventh in the nation and are now the favorite to win the ACC.
With 5-2 North Carolina coming to town the Tigers will look to continue their winning streak. With four conference games left, the Tigers are in control of their own destiny.
Dabo Swinney just needs to make sure they don't get caught looking ahead to next week's matchup against Georgia Tech.
Yellow Jackets Still Feeling the Sting?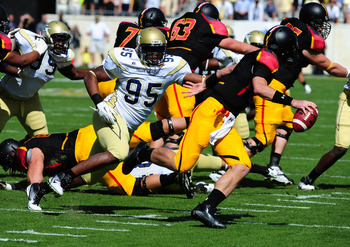 Scott Cunningham/Getty Images
Last week the Yellow Jackets made their season a whole lot tougher. You can't lose games to UVA and expect to gain respect.
Georgia Tech was rated 12th heading into Charlottesville last week and looked like the front-runner to win the Coastal Division in the ACC.
Now there are huge questions facing Paul Johnson's squad with a Miami team that's desperate to win out and is coming off a win against North Carolina. The Yellow Jackets could be in trouble, again.
Can Miami Keep It Up?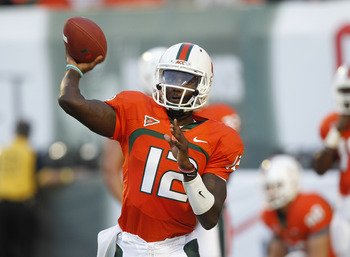 Joel Auerbach/Getty Images
Miami has played well offensively the last two weeks. The Hurricanes almost stole a win in Blacksburg, but were unable to stop the Hokies on their final drive.
But a win against North Carolina on the road could be what the doctor ordered for the 'Canes.
Georgia Tech is no easy out, but Miami scores points in bunches and that may be enough in Week 8 for another upset.
Hokie, Hokie, Hokie Hi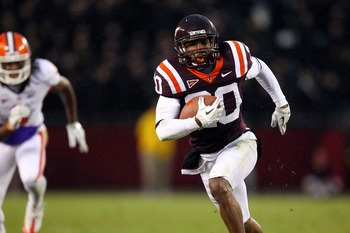 Ned Dishman/Getty Images
After a cupcake start to the season and an embarrassing loss to Clemson at home, the Virginia Tech Hokies look like they're figuring it out. Their problem right now is injuries on defense.
Every team deals with injuries, but the Hokies are without two starting defensive lineman, two starting linebackers and now an injured All-American cornerback in Jayron Hosley.
However, quarterback Logan Thomas has stepped up nicely and running back David Wilson has continued to run the ball effectively.
Boston College should be no match for the 12th-ranked Hokies at home.
Seminoles Go for 2 in a Row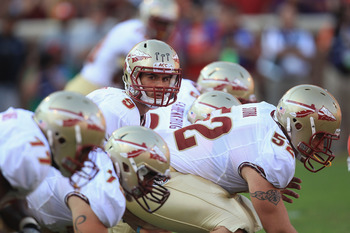 Streeter Lecka/Getty Images
After starting the season ranked fifth in the nation, Florida State finds themselves out of the Top 25 with a 3-3 record.
The Seminoles dropped three straight, but rebounded last week with a win against the mighty Duke Blue Devils. Florida State has next to no shot of getting to an ACC Championship game like they were expected, but they can still salvage what's left of their season.
They should be able to handle Maryland at home in Week 8.
Another Illinois Letdown?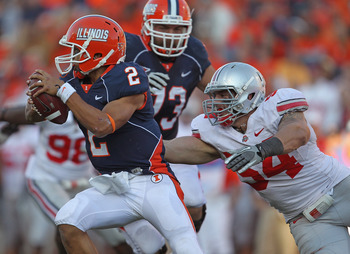 Jonathan Daniel/Getty Images
After starting 6-0, the Fighting Illini looked like they were headed to a possible Big Ten championship. That's until Ohio State came to town and gave them their first loss of the season.
Purdue is 3-3 and nearly upset Penn State on the road last week. Illinois is the better football team, but if they're not focused they'll be handed their second straight loss.
Irish vs. Trojans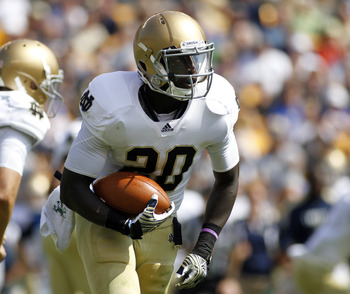 Justin K. Aller/Getty Images
This game doesn't have the luster it used to, but it's still very interesting. Notre Dame looks like the team that everyone was expecting at the beginning of the season.
USC has Matt Barkley leading the way, so the Trojans always have a chance to win. However, the tide is turning this rivalry in the direction of the Fighting Irish.
The game's in South Bend, Notre Dame has better defense and as long as they don't turn the ball over they should win the game.
Can Stanford Pass the Test?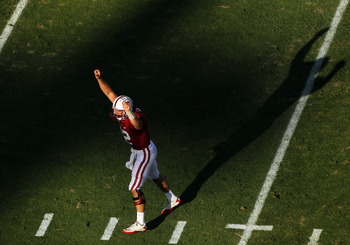 Ezra Shaw/Getty Images
This is the first big test for Stanford this season as Washington is set to come to town. The Huskies are 5-1 with their loss coming to Nebraska on the road.
The 25th ranked Huskies will be a tough out, but it's nothing Stanford can't handle. As long as Luck is on the field, Stanford has the advantage in every game they play.
6 in a Row for the Nittany Lions
Justin K. Aller/Getty Images
Penn State hasn't lost since Week 2 against Alabama. The Nittany Lions have survived some close calls against teams they probably should have beaten by double figures, and it's a lack of offense that's to blame.
Defensively, Penn State is a juggernaut. Traveling to Northwestern shouldn't be a problem for Penn State, but if they want a shot at a Big Ten title they need to find their offense. Maybe it's hiding in Illinois.
Nation's Top-Ranked Passing Offense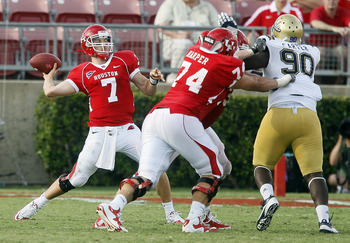 Bob Levey/Getty Images
Houston is likely to jump ship and join the Big East (at least that's what's expected). It would be a good acquisition for the Big East as Houston is consistently ranked among the nation's top passing teams.
This year is no different as the Cougars rank first in the nation. Now ranked 19th, the Cougars are 6-0 and will host Marshall.
It's likely Houston will run the table up until their matchup with Southern Methodist on November 19th. The Mustangs appear to be their biggest threat remaining.
Big East Expansion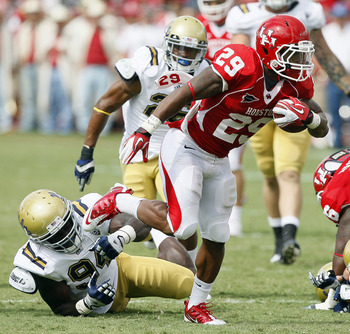 Bob Levey/Getty Images
The Big East has announced that it plans to expand to 12 teams. The only team they've formally invited is Houston.
Boise State remains the wild card. Will they be invited? Do they want to be part of the Big East for football when they play in Idaho? (that's way far west in case you didn't know)
It remains to be seen, but it will be interesting to watch as the week and season progresses.
Speaking of Boise...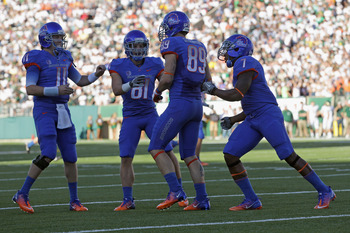 Doug Pensinger/Getty Images
Air Force, also a candidate to join the Big East for football, will travel to Boise this week to take on the Broncos.
It's unlikely this game will be close at halftime, but it was also unlikely Florida State would drop three games in a row after being ranked in the Top Five. Anything can happen; just ask Boise State about last season.
Huge Pac-12 Matchup, but Not Really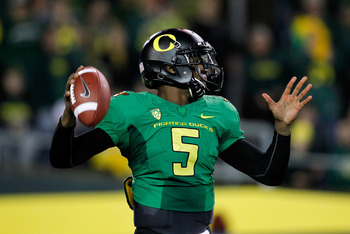 Jonathan Ferrey/Getty Images
Why in the world did the Pac-12 accept Colorado of all schools into their conference? They're weak in the conferences two biggest moneymakers, which are football and basketball.
Colorado is 1-6 and 0-3 in conference play. They get to host Oregon in Week 8, which means their team should be left with even more confidence after this week's battle.
Oregon just needs to make sure they keep everyone healthy and move on to next week with another 40-plus point victory under their belt.
Thursday Night Football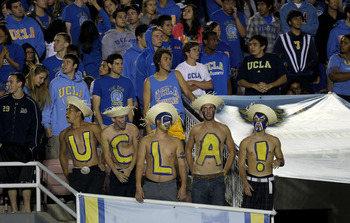 Stephen Dunn/Getty Images
UCLA travels to Arizona to take on the Wildcats. Mike Stoops has been fired, and the Wildcats are off to a 1-5 start with a very good quarterback they're letting go to waste in Nick Foles.
The Bruins are 3-3 and are on their way to another average season. Rick Neuheisel is definitely on the hot seat and a loss here could set that seat on fire.
Heisman Watch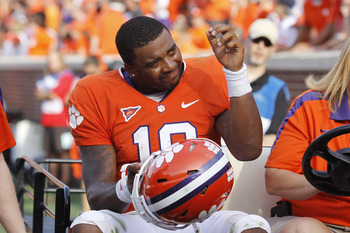 Joe Robbins/Getty Images
This year's Heisman race is anyone's for the taking. Russell Wilson, Trent Richardson and Andrew Luck have been mentioned.
Marcus Lattimore and LaMichael James are out, and Denard Robinson's chances are all but over.
There is still time for a dark horse candidate. How about Clemson quarterback Tajh Boyd?
Roll Tide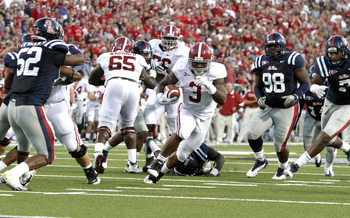 Butch Dill/Getty Images
Alabama will look to run, run and run some more against Tennessee. Trent Richardson has more than 900 yards rushing and 15 touchdowns. Eddie Lacy isn't a fun changeup to face either.
A.J. McCarron is playing better and Alabama's defense is formidable. Tennessee will try to keep their head above water with a win, but that's unlikely to happen.
Keep Reading