Alabama Recruiting: Top Prospect De-Commits from USC, Crimson Tide Look to Claim
October 18, 2011
The top-ranked offensive tackle in the 2012 class, Arik Armstead, has suddenly de-committed from USC, according to The Los Angeles Times. The prototypical left tackle is now a possible recruit for the Crimson Tide.
Armstead is a massive prospect, at 6'8", 280 lbs. He may seem undersized, but he's a very lean player with a huge frame capable of adding muscle provided from a Division I weight training program. 
Armstead committed to USC shortly after his sophomore year in high school. Quite an early commitment, one might say. How in the world does a school lose a prospect after so long?
First off, USC has been drowned in NCAA sanctions due to the Reggie Bush scandal. Having their wings clipped, recruiting-wise, and ineligibility for bowl games has really taken the luster out of the historic program. Does this have anything to do with it?
Surprisingly, I don't believe so. Despite the sanctions, USC has been hauling in excellent prospects, including last year's No. 1 receiver prospect, George Farmer. The bottom line is that California is a recruiting hotbed, and USC usually gets first-dibs on highly touted California prospects such as Armstead.
There are several reasons that seem to stand out as to why Armstead de-committed, if you look close enough.  
First, there is the fact that Lane Kiffin is the coach. Kiffin's reputation has been stained recently. It was not so much the fact that he was the offensive coordinator for USC during the Bush scandal days. The big reason seems to be that he coached at Tennessee for one single season (and nearly upset the future national champions, the Crimson Tide, in Tuscaloosa).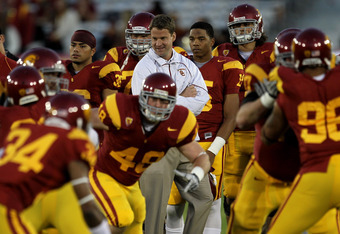 Stephen Dunn/Getty Images
That year, the Tennessee Volunteers' offensive power increased dramatically with Kiffin calling the shots. They lost six games that year, but had a winning record. Tennessee was a promising job for him, but he left abruptly when USC offered him the head coaching position.  
Program stability is an underrated quality that many young recruits really take into consideration. Lack of stability was the reason Ryan Mallett didn't play for Arkansas to begin with.  
USC's future has been scrutinized with Kiffin holding the reigns.  
Then, there is Arik Armstead's brother, Armond. Armond is a senior defensive end at USC this year. When an older brother goes to play football at a big school, there is a very good chance the younger brother will follow, especially if they play different positions.  
Armond has had medical problems lately, but even with that aside, he is not expected to ever be in the NFL. He simply has not developed into the player his physical body provided the potential for.
Has Armond told his younger brother anything that could have swayed Arik's decision?
The odds of his brother nudging him towards the Crimson Tide, where he is certain to learn more and be better prepared for the next level, seem pretty high.  
What are the chances of Nick Saban landing this recruit? Very high, and here's why.
Arik Armstead is projected to be a left tackle, and a very good one. The Crimson Tide, however, already have a better left tackle prospect, true freshman Cyrus Kouandjio. This is bad, right?  Wrong!
Redshirt sophomore right tackle D.J. Fluker will be eligible for the 2012 NFL Draft at the end of this year.  He is not likely to go, but it would be a huge surprise if he doesn't declare early for the 2013 NFL Draft.  
Arik would be eligible for the starting right tackle spot as a redshirt freshman in the 2013 season with the Crimson Tide. There is nothing wrong with an elite offensive tackle playing on the right side of the line, and Cyrus would be a junior in 2013, which is likely to be his last year with the Tide.  
Arik could easily become the starting left tackle as a redshirt sophomore.  
Arik is also visiting Alabama on Nov. 5, 2011.  That's right, the home game against LSU, the de facto national championship.  If Nick Saban and the Tide show their prowess against LSU, the young and impressionable Arik's eyes may light up.  
Could the likes of Barrett Jones, D.J. Fluker, Cyrus Kouandjio and the rest of the Crimson Tide players have a big influence on Arik's decision?
Arik de-committing from USC just before he visits Alabama for the biggest game of the entire college football season seems too much of a coincidence, especially since Alabama is a perennial national championship contender with Nick Saban at the helm.  
Saban is always pulling strings behind closed doors, and now seems to be back in the hunt for this highly-touted recruit.