Missouri, Houston Jump on College Football Realignment Bandwagon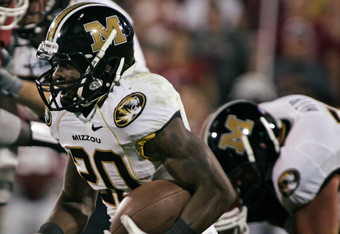 Brett Deering/Getty Images
Conference realignment talks continue to dominate the scene in college football like never before.
We're roughly halfway through a season in which 10 teams are still sporting unblemished records, yet one of those terrific 10, Houston, only seems to be able to make headlines when it is among the schools being bandied about for possible inclusion in the never-ending game of musical chairs between the conferences.
Last week, of course, TCU got the ball rolling again by accepting an invitation to join the Big 12. This came a little more than a year after the school accepted an invitation to join the Big East. The sum total of the equation is that the Horned Frogs will not decidedly not be in the Mountain West Conference at the end of the 2011-12 academic year.
The Big East, for its part, wants $5 million from TCU as an exit fee, which begs the question: If a tree in another forest falls, does it owe $5 million because it thought about being part of a different stand of trees?
The TCU move was going to allow the Big 12 to remain a 10-school conference after Texas A&M departs for the Southeastern Conference this summer.
But that number—10 teams—appears to be soft after The New York Times reported Monday night that Missouri's decision to apply for membership in the SEC is "inevitable and imminent."
A source told ESPN.com's Andy Katz that if Missouri leaves, the Big 12 would likely look at Louisville or West Virginia from the Big East to replace it.
Also last week, Conference USA and the Mountain West Conference announced plans to merge their leagues into one giant, coast-to-coast football league of 22 schools because, hey, nothing screams "regional rivalry" quite as much as a conference that stretches from San Diego, Calif., to Greenville, N.C., right? But that conglomeration could be threatened by the Big East's strategy, which reportedly is to invite five members of the CUSAMWCOMGWTF (my new acronym for the merged conference) to join.
The Big East, already rocked by the pending departures of Pittsburgh and Syracuse, decided to shore up its defensive perimeter Monday night, doubling the exit fee for football members to $10 million.
The Big East is planning to replace Pittsburgh and Syracuse, as well as never-really-arrived TCU, with Houston and SMU in all sports as well as extending football-only invitations to Air Force and Boise State, while Central Florida is still in the mix for an all-sports invitation as well, according to multiple sources. The Houston Chronicle was reporting Monday night that Houston had, in fact, been extended an official invitation.
I'd like to give those of you with a passing knowledge of geography a minute to ponder this one—Air Force and Boise State ... in the Big ... East.
The Air Force Academy is located in Colorado Springs, Colo., and the only thing it will ever be Big East of is Boise, Idaho.
According the ESPN.com, the Big East's strategy behind the increased exit fee is to show its prospective new members that the conference is on solid ground, even as the ground continues to open up in large fissures on all sides. Connecticut has made noises about wishing to follow Pittsburgh and Syracuse to the ACC.
A wild-card in all of this is Rutgers, which continues to keep its cards close to the vest even as it is courted by any conference interested in gaining entry into the lucrative New York television market.
Of course, this is without taking into consideration the general apathy New York has toward college football—I mean, if Rutgers is your big-time representative in a sport, there can't exactly be a huge fan base waiting to be tapped into, can there?
What all this will do, provided the Big East can hang onto its coveted BCS automatic-qualifying status, is increase the number of schools at the top of college football's food chain, those with automatic access to the multimillion-dollar paydays of the elite bowl games.
Utah joined that fraternity this year by joining the Pac-12. TCU is set to break through that glass ceiling next year, now in the Big 12 rather than the Big East. Now Air Force, Boise State, Central Florida, Houston and SMU are all in the mix to make the leap from have-nots to haves.
Fascinating stuff, really, but it sure does take the focus away from what the kids are, you know, doing on the field.
This article is
What is the duplicate article?
Why is this article offensive?
Where is this article plagiarized from?
Why is this article poorly edited?