Notre Dame Recruiting: Top Recruits Flocking to South Bend for USC Weekend
October 18, 2011
Win or lose, Brian Kelly won't be getting much sleep this weekend.
Saturday night's rivalry matchup with USC is also turning out to be the most anticipated recruiting weekend in the history of Notre Dame. The Irish, playing their first night game in South Bend in 21 years, will play host to an influx of four and five-star talent this weekend.
To headline the list of visitors, five-star Arik Armstead (Rivals' No. 26 overall player) will be on hand to watch Notre Dame take on the team he recently pulled his verbal from. The 6'7" 280-pound lineman, who also holds a basketball scholarship from Notre Dame, will be a huge focus for Kelly and his staff this weekend. Pulling in a talent such as Armstead would push the current recruiting class into the "elite" description.
However, Armstead is by no means the only top commodity making his way to South Bend this weekend. 
Shaq Thompson (No. 12 overall) is the No. 1 safety left on Kelly's wish list and will also make the trip Saturday. With safety being a big concern in the future, landing this five-star talent would put plenty of optimism in the position for the future. If the Irish can impress the five-star defender, they will also have solidified the most impressive defensive back haul in the nation.
Another recruiting focus to close this class will be adding a game-changing running back. Already having landed four-star Will Mahone, Kelly has a few big name backs visiting this weekend as well.
Byron (No. 108 overall) and Keith Marshall (No. 65 overall)—two of the first backs offered by Kelly in this year's class—will be a major focus for the staff this weekend. The Irish will need to make a big splash in order to land either of the Marshall's services.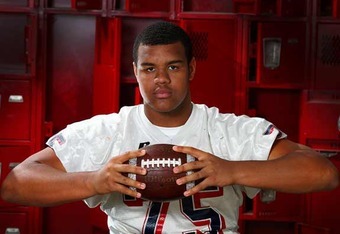 If those names weren't enough for you, other highly-rated visitors will include:
John Theus, OL—No. 9 overall
Zach Banner, OL—No. 38 overall
Jordan Payton, WR—No. 118 overall
KeiVarae Russell, R—No. 112 overall
Ifeadi Odenigbo, LB—No. 61 overall
Bryce Treggs, WR/DB—No. 100 overall
Plenty of other Irish verbals will also be at the game, making unofficial visits: Sheldon Day, Mark Harrell, Jarron Jones, Will Mahone, Romeo Okwara, David Perkins, John Turner and Scott Daly will all help sell the Blue and Gold this weekend.
So what's the impact of a win Saturday night? Considering most of these top recruits have both the Irish and USC in their final group of schools, winning is the first step in making a good impression.
A win would also speak volumes to the recruiting world that Notre Dame is no longer USC's "younger brother" on the trail. Kelly has shown he can recruit with the best—including Lane Kiffin.
If he can translate that recruiting success on to the field, prospects will continue to flock to South Bend even after Saturday night.