Nebraska Football: Reasons for Optimism in the 2nd Half of the Season
October 17, 2011
Eric Francis/Getty Images
The Huskers are off to a 5-1 start.  Speaking purely in terms of wins and losses, they are pretty much where everyone thought they would be.
Before the 2011 season kicked off, the general feeling in and around Lincoln centered around a probable loss to either Wisconsin or Ohio State.  The Huskers lost to Wisconsin and nearly started off their first Big Ten campaign 0-2—needing a record-breaking rally to beat the Buckeyes.
That being said, Big Red is a Top 25 team and that one, ugly loss in Madison is starting to drift further into the rear-view mirror.  Sure, it stung but the wound is healing.
And with the second half of the season moving into view, there are more reasons for hope than fear. Here are some optimistic tidbits to help you look forward to the next six games (or should I say eight):
Minnesota
With apologies to the Golden Gophers, seeing this game on the schedule for the upcoming weekend is more than enough reason to celebrate.  The Huskers should roll and should get to six wins with relative ease. 
While the news of DT Jared Crick's season-ending injury is tragic, for both Jared and the team, a bye week heading into the matchup in Minneapolis bodes well for Nebraska.  If the Huskers come to play with their hair on fire, this one could get ugly and provide a much-needed boost of confidence.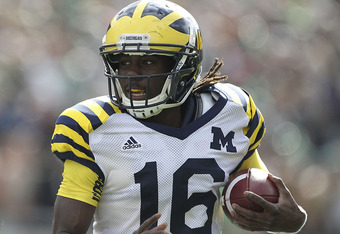 Leon Halip/Getty Images
Fewer Dual-Threat Quarterbacks
Of all the seemingly glaring issues attributed to this year's Huskers, none may be a bigger Achilles heel than defending dual-threat quarterbacks.  Is there a Nebraska fan out there who doesn't shutter, gasp, cover their eyes, etc. whenever a mobile quarterback rolls out against the Blackshirts (yes, I know they aren't technically worthy of that name yet)?
Luckily for Carl Pelini and his defensive unit, the only scary dual-threat quarterback left to face is Denard Robinson.  Yes, he may seem like the best running quarterback in the Big Ten, and possibly the nation, but Michigan State helped uncover some obvious weaknesses in his game.
There should be considerably less to worry about with every other quarterback on the remaining schedule, and hopefully the D-line can actually start applying pressure.  But, when Nebraska rolls into the Big House next month, let's hope Pelini and Co. studied the Spartans' effort against "Shoelace" Robinson...
...and for God's sake, BLITZ!
Remaining Schedule
OK, non-conference games are over and Nebraska is only 1-1 in the Big Ten so far, with six more conference foes to face, but hear me out.
Defense has been a problem thus far, in nearly every game.  Looking at the remaining schedule, the highest-rated scoring offense is Michigan's, which ranks 31st nationally.  The Wolverines, coming off their first loss of the season, boast the nation's 14th-best rushing attack.  Their passing offense?  Far less potent, coming in at 92nd. 
Iowa is the next highest-rated scoring offense at 34th nationally.  But the Hawkeyes have yet to play anyone of substance, outside of Penn State.
After that, the remaining teams on the schedule are no higher than 65th in scoring offense.  This may not paint the entire picture, nor pave an easy path to certain victories, but it helps when considering the lumps this Nebraska defense has taken all year.
Offense Is Clicking
For a unit that has been criticized all season, the Husker offense has been fairly strong.  We all know they can run the ball, and Taylor Martinez is coming off arguably his best performance as a Husker in the victory over Ohio State.
But the thing that really points to this unit's growth is the way they handled the second half in the Ohio State game.  Sure, it was one half of football, but they were facing an improbable comeback and were up against a defense that had knocked them back countless times in the first half.
Then, Tim Beck opened up his playbook a bit more.  He let Martinez and Rex Burkhead do their collective thing.  He stopped trying to force plays that weren't the right fit.  He brought in a new personnel called the "Bone package."  The rest is history.
The second-half offensive explosion that Nebraska put into play resembled those old "pound 'em" offenses that Tom Osborne used to run.  Eventually the Buckeyes got tired and couldn't stop any running play that came their way.
By the way, Ohio State completely shut down a potent Illinois offense this past weekend.  What the Huskers did to them two weeks ago is looking more and more impressive.
Young Talent Continues To Grow
How exciting has this crop of Nebraska freshmen been?  True freshmen Ameer Abdullah, Jamal Turner, Aaron Green and Braylon Heard have all been revelations.  It is amazing to think that this core of offensive playmakers could be together for another three years.
Add redshirt freshman Kenny Bell and sophomore Quincy Enunwa to the mix and the youth movement in Lincoln is scary good.
As the season goes on, these youngsters will continue to gain valuable experience and confidence.  The Minnesota game might be a shining point for one of their young careers.
And let's not forget, for all the doubts and criticism piled onto the shoulders of our starting quarterback—Taylor Martinez is only a sophomore.