Oklahoma State Football: Winners and Losers from the Cowboys' Win vs. Texas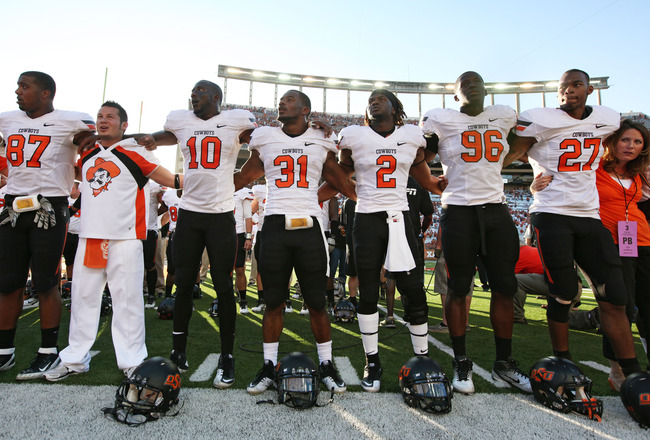 Erich Schlegel/Getty Images
The Oklahoma State Cowboys left Austin with a big 38-26 win over their conference rivals, the Texas Longhorns, on Saturday. While the victory may have been by less than what was predicted by many experts, Cowboys fans have to be thrilled that their team's perfect season is alive and well for another week.
Of course, even in victory, there are facets of the game Mike Gundy's team will need to work on as the competition amps up. Here are some winners and losers from Oklahoma State's victory.
Loser: Brandon Weeden's Heisman Hopes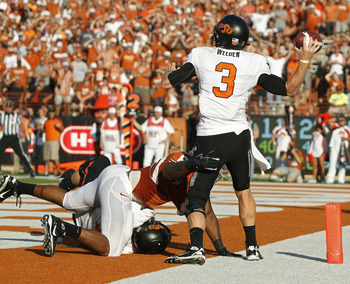 Erich Schlegel/Getty Images
Coming into the weekend, Weeden was considered a Heisman trophy candidate in the eyes of many, albeit a fringe one at that. After Weeden struggled to put up big offensive numbers against a young Texas secondary, his Heisman chances suffered a serious blow.
Weeden was quite pedestrian against the Longhorns, going 23 of 41 for 218 yards and a touchdown. Fair or not, statistics are a major component in voting for a Heisman winner.
There's still plenty of time left for Weeden to throw his way back into the conversation, but after a mediocre day statistically, he's currently on the outside looking in regarding the Heisman race.
Winner: Brandon Weeden's Overall Game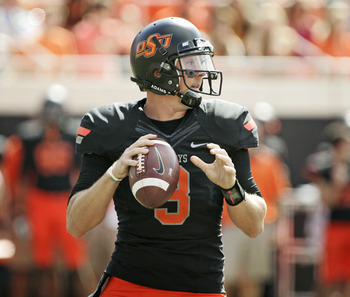 Brett Deering/Getty Images
While Weeden's stats weren't Heisman-worthy, the way he handled himself in a big road win will pay high dividends as the remainder of the regular season unfolds. College football can have a video-game feel most times, with high-octane offenses often lighting up scoreboards with ease.
But many championship quarterbacks can attest that there will be times in a given year where they'll have to overcome sluggish outings in leading the way to a big victory. Weeden's performance against Texas was more telling than any game where he threw for 400 yards or five touchdowns.
Despite struggling with both his accuracy and solving Longhorns coordinator Manny Diaz's defense, Weeden persevered and made enough plays when he had to in escaping Austin with a critical road win. It's no secret that championship teams—and quarterbacks—must win ugly when necessary, and Weeden proved Saturday that he's now capable of doing so himself.
Winner: Justin Blackmon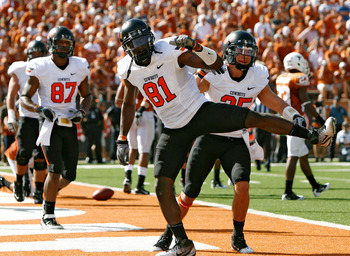 Erich Schlegel/Getty Images
This one's pretty obvious, isn't it? Label Blackmon a winner not simply because he's considered the best receiver in the nation, but because he's staying perched atop the wide receiver totem pole despite being the focal point of opposing defenses every week.
Texas was determined to contain Blackmon; nevertheless, he was still able to haul in seven catches for 74 yards and a touchdown. That's what makes Blackmon so great. While other elite receivers, like Michael Floyd and Alshon Jeffery, have struggled at times against heightened secondary pressure, Blackmon still gets his fill in the face of myriad defensive looks and constant double teams.
And he proved against Texas that he's not a one-trick pony. Blackmon is obviously known as a deep threat, but he also has tremendous presence outside of the numbers. Plus, Blackmon can haul in intermediate passes over the middle and gain gritty yards after the catch, which he demonstrated on his 15-yard touchdown.
Winner: Oklahoma State's Other Skill Players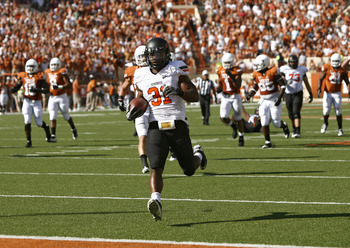 Erich Schlegel/Getty Images
If Oklahoma State's offense proved anything against Texas, it's that they're much more than the Brandon Weeden to Justin Blackmon show. When the Cowboys needed someone other than those two players to step up, Mike Gundy's team got tremendous performances from the likes of Jeremy Smith, Josh Cooper, Joseph Randle and Justin Gilbert.
Smith had a monster day, breaking two long touchdown runs (30 and 78 yards) against the Longhorns. Cooper caught six passes for 57 yards. Randle had 68 rushing yards and a touchdown. And Gilbert had an electric 100-yard kick return for a score to begin the second half.
For the Cowboys to win the Big 12 and possibly sneak into the national championship game, they're going to need superb efforts from several players, especially when Weeden or Blackmon aren't their superhuman selves. They got that against Texas, which is a good sign.
Winner: Fozzy Whittaker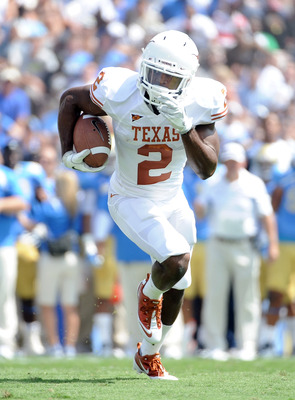 Harry How/Getty Images
It would be easy to label Oklahoma State's kickoff coverage team losers for surrendering a big return touchdown to Foswhitt Whittaker. But let's give credit where credit is due.
Whittaker has suddenly become a force as a kick returner. A week after springing a 100-yard kick return touchdown against Oklahoma, Whittaker followed it up with the same result against the Cowboys.
Whittaker's season hasn't been that rosy. He's one of the few seniors on a team mired in growing pains with many youngsters, and he has seen his playing time dwindle thanks to the arrival of freshman Malcolm Brown.
Despite this, Whittaker has still found ways to positively contribute to his team, and just may have a future in the NFL as a third-down back and kick returner. Obviously, the Cowboys will need to shore up its kickoff coverage, but they're not the first—and probably not the last—unit to fall victim to Fozzy.
Winner: Oklahoma State's Road Trips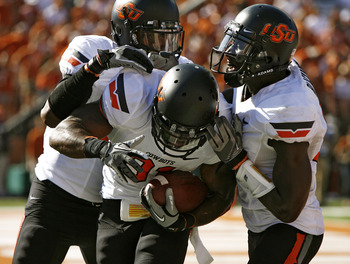 Erich Schlegel/Getty Images
In case you haven't noticed, the Cowboys have now won eight straight on the road. That bodes well, as Oklahoma State is on the road again next week against Missouri.
Fans have to be encouraged by the manner in which the Cowboys have won their past two road games. First, they completed a stirring comeback against Texas A&M at Kyle Field—arguably the toughest stadium to visit and win. Then, they overcame an underwhelming game from quarterback Brandon Weeden to emerge with a double-digit win in front of 100,000 Longhorn fans.
The Cowboys will need to continue its road magic against Missouri. Faurot Field can be a tough place to play, as Oklahoma found out the hard way last year. That's when the Sooners—who were top-ranked at the time—left Columbia on the wrong side of a 36-27 defeat.
In order for the Cowboys to avoid a similar fate, they can't look past the Tigers and will need to keep embracing their new roles as road warriors.
Winner (barely): Oklahoma State's National Title Hopes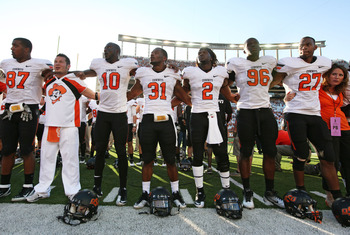 Erich Schlegel/Getty Images
While the Cowboys could've played better against Texas, they still came away with their perfect season intact. Consequently, the Cowboys sit behind Oklahoma, Alabama and LSU in the first BCS rankings.
The Cowboys struggled to put away the Longhorns, while the rival Sooners had no problem crushing Texas. For OK State to be taken seriously in the BCS title scene, not only are they going to have to run the table, they'll need to record some blowout wins in the process.
Of course, little can be drawn from the very first BCS rankings; there's still much to be decided in the 2011 college football season. That said, it's important for the Cowboys to find some style points down the stretch if they want to win over the dreaded computers in their BCS title chase.
Keep Reading

Oklahoma State Football: Like this team?